February 29, 2016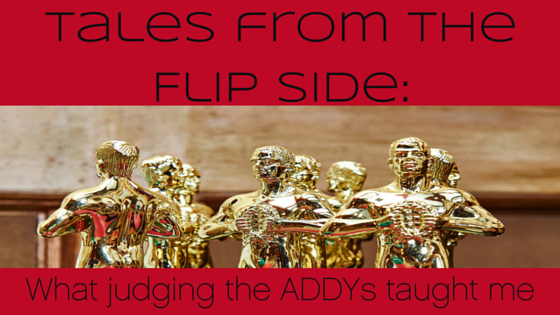 Oscars weekend I had the pleasure (and honor) of serving as a judge for the Little Rock Advertising Federation's American Advertising Awards (ADDYs) competition. As someone who has entered creative work into the ADDYs in multiple districts throughout the course of my career, including our first-ever entry here at Rep Ink, it was eye-opening to be on the other side of the table.
And since I can't say anything specific about the work or the winners (who will be announced later in March), here are a few things I wanted to share about the experience:
1. The ad industry is a real community, and it's smaller than you think. One of the other judges, Robert Manley, and I had some (almost freakish) resume similarities, including three cities (Little Rock, Los Angeles and Jacksonville) and two advertising agencies (RAPP and Stone Ward). I was a bit intimidated to meet the other judge, Jean Robaire, founder of Stein Robaire Helm and advertising legend. But he was so down to earth and kind, that quickly went away. As we exchanged stories with our gracious hosts about previous work lives and our favorite "Mad Men" moments, it was really great to feel like a part of something big.
2. It's hard to judge someone else's work. As anyone creative already knows, it's difficult to put yourself out there for criticism—especially when your work is judged on a scale of 1-100. And that empathy made the job that much more of a challenge in some cases. Although we don't all come from the same background or discipline, as judges we were unanimous in our votes for the "Best of Show" category, proving the old adage that the cream always rises to the top.

3. The process was unbiased. And in this case, seamless. The judging panel is comprised of three industry pros who don't live in the district to eliminate bias. As an entrant in other ADDYs competitions, I really appreciated that. We also weren't allowed to even discuss the work when judging, as not to influence each other's scores. Thanks to a group of well-organized hosts, the whole judging process was seamless, too. I'd heard horror stories of other ADDYs judging experiences that went long and hard (12+ hours), but was still willing to take on the assignment. Fortunately, that wasn't the case in Little Rock.

4. We took our jobs as judges seriously. Even though we had amazing hosts who wanted to show us a good time (and they did), we all wanted to make an early night of it after flying in so we would be 100-percent focused on scoring those entries sans hangover.

5. Enter everything you're proud of into the competition. If you and your team think the work is ADDY-worthy, enter it. And explore the less-crowded categories such as elements of advertising, photography, illustration and even web interface design/UX if it makes sense.

6. Fried black-eyed peas are a thing. So now my delay in those fitness and diet resolutions all makes sense. I was waiting until after this trip where I indulged in everything from fried black-eyed peas (should my Southerner card get repoed since I'd never heard of these delish little darlings?) and pimento cheese with homemade soda crackers, to legendary tamale dip made with Fritos (there's more, but that's all I am confessing).

7. If you're ever in Little Rock on business, extend your stay a day or two. I lived in the city for nearly a year back in 2005, yet there was so much more I wanted to see and explore during this trip. Little Rock has a thriving art scene, and some serious foodie chops that could rival larger cities.
Maybe someday content marketing will get a category or two of its own. Until then, we'll keep entering the work we're proud of in a wide range of other categories (except maybe infomercials).