January 8, 2016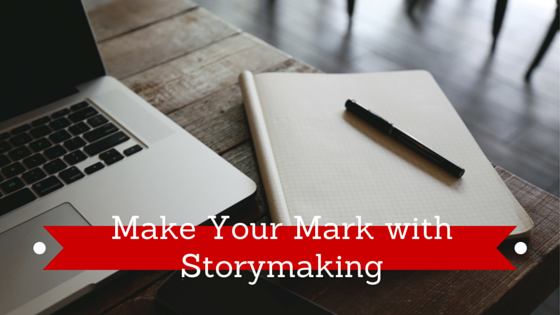 One evening about a year ago, I found myself trying on glasses frames for about two hours in my apartment. I don't even wear glasses. But my former roommate Victor does. He had ordered five pairs of frames from Warby Parker as part of their free five-day home try-on offer. I thought this was the coolest thing; I'd certainly never heard of anything like it. And as a college gonfiabili student with no discernible income, being able to try on glasses at home for free was pretty damn great, even if I wasn't looking for glasses in the first place.
Victor and I tried on all five pairs he ordered and explored dozens of other designs on the Warby Parker website. I had to wonder: what was the reason behind such an awesome try-on offer? Their company story is fascinating. It began when the founders' frustration with crazy-expensive glasses finally boiled over. They wanted to make sight—a basic necessity—more readily accessible to those in need of glasses. And so they did.
Warby Parker offers its audience direct insight on what it's like to work there—their culture, their mission, their reason for doing what they do. I felt like I was truly getting to know the people behind the company, and that made me all the more excited to explore their products. It was their story that really drew me in (and also the reason I bought a pair of sunglasses from them).
People crave stories like theirs. It's no wonder inbound marketing has moved us away from "sales speak" and pushed us in the direction of storytelling. (I think we can all agree we're happy about that.) Stories are an opportunity to connect with someone else, which is the ideal relationship you want to have with your audience—a connection that goes beyond the marketplace.
Emotional campaigns work better
If marketing is an effort to gently push people to do something, emotion is the ever-elusive final nudge that gets them there. According to a study done by the Institute of Practitioners in Advertising (IPA), emotional campaigns were twice as effective as purely rational ones.
The researchers, Les Binet and Peter Field, attributed this statistic to our brain's ability to process emotional input without cognitive processing. You don't have to think about what makes you feel something, you just know you feel it. When a commercial or a written story makes you feel something—regardless of what the company may be selling—you feel connected to that company.
Evoking affection in your audience may not be necessary for immediate sales. But in terms of growth over time, it's vital. You're building a brand rather than a sales pitch. Check out this graphic from the same study:
An emotional appeal takes time to work but has a longer-lasting effect on consumers. They're more likely to remember an emotional connection than a series of facts and reasoning meant to persuade them. Statistics don't mean anything to individuals unless you show them why they should care about those statistics. For example: I'm not a serious runner. So I could care less that Nike's latest shoe weighs only 7.4 ounces. But I'm active and want a solid running shoe. I'm going to be sold by identifying with Just Do It—the lifestyle Nike promotes.
Make your own story, don't tell someone else's
It's not enough to simply tell a story. Anyone can do that. You have to make a story. Sounds weird, I know.
I'm reaching into the bag of Inbound wisdom once more, because, let's be honest, Inbound never dies. David Berkowitz, chief marketing officer of MRY, gave a presentation at HubSpot's Inbound 2015 conference that made the distinction between storytelling and storymaking. The difference? Customer-centricity.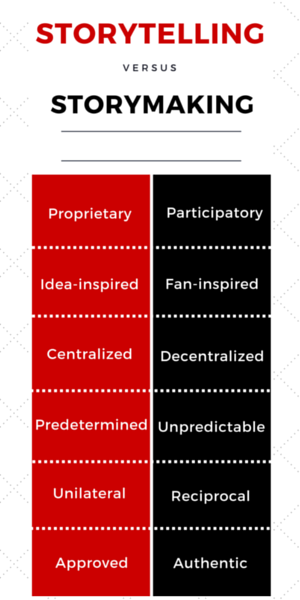 4 tips for making a story
Storymaking starts and ends with your audience

—Be inspired by your audience, understand what matters to them. Listen to what they're concerned about as well as what makes them happy. Using audience-driven ideas is a great way to ensure your content will appeal to them, and that's crucial. No matter how good a story arc may be, it won't get you anywhere if it's totally missing the point.
Do not sacrifice authenticity for relevancy—If you cannot create a real story, don't create one at all. Sooner or later, buyers will call BS and you'll be SOL. The key to connecting with your audience is being straightforward with them—realizing where your journeys have intersected and leveraging the perspective you have in common.
Start general and work your way to personal

—People want to know how other people handle similar situations (aka they want to hear stories that offer insight).

What's going on in your field?

Your successes?
What are you still improving?

What's so awesome about what you do?

What motivates you to be so great?
What's your approach to addressing issues?
Don't be afraid to share your failures

—Every success story is preceded by substantial trial and error. Plus, failure is often times the easiest way to connect with others, because it lets them know you've been where they are now, and you also know how to make things better. No one will ever fault you for being honest about what you haven't done well in the past.
3 examples of storymaking
At first, I figured I'd highlight major advertising campaigns from already-famous companies like Coke, Google and Nike. They're all masters of marketing, and have created some of the most memorable campaigns out there. But I thought it'd be more useful to show how companies on the outskirts of the national limelight are kicking ass and taking names through storymaking.
HubSpot

—Chances are, you're familiar with HubSpot, considering they're unofficially at the helm of content marketing. But they have one of the best stories out there, and they tell it perfectly. It's a top-notch model of how to tell a story from then to now, from problem to solution and all the growing pains in between. If you haven't taken the time to learn about their beginnings, you should.
Redbubble

—This online marketplace is slowly gaining notoriety, creeping up on Etsy as the go-to site for wacky and unique art and accessories. Their "About" page is simple and to the point, but appeals to the artist in us all, even those of us who can barely draw stick figures. Addressing both sides of the marketplace, the "This is Redbubble" video does just enough to inspire independent artists and spark a desire in the people who want to buy their work.
Chubbies

—It's one of the goofiest companies you'll run across, but they've got an equally goofy story to compel you enough to look around their site. Humor is as good a medium as any to connect with people. The short-shorts-for-men pioneers are proud of the fashion statement they're making, and they own it through and through. Their company story is a funny one, and their personality is present all over their site. Even their mailing list call to action is highly unique. The best part about their story is that it lives in its fan base, making it an interactive story that tells itself.
What these three companies illustrate, similar to Warby Parker, is the recognition of how their unique origins resonate with audiences. They reach beyond their products to make a conscious effort to share their story and, more importantly, include their customers in it. I became a part of Warby Parker's story without ever having intended to, all because they gave me the opportunity to connect with them on a personal level.
Have any more tips on how to make your own story?