December 4, 2015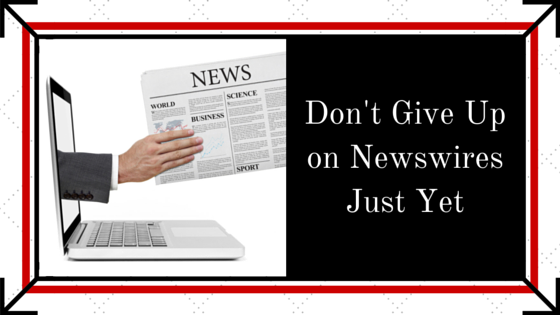 Recently, Reputation Ink has been distributing client press releases left and right, and it got us thinking: are newswires worth it? Like really worth it?
In the past, the answer was a resounding 'yes' for most public relations professionals, and still is scivolo gonfiabile for some. Newswires were a go-to resource for distribution and SEO purposes, especially for corporate entities that had the funds to use a wire service every time they had news to distribute.
In fact, until very recently, publicly listed companies were required to disseminate information through newswires for investment information purposes. That the New York Stock Exchange just got rid of that requirement is further evidence of the declining value of newswires.
Why the value of newswires has declined
They were once ingrained in PR procedure as a convenient way to get a decent amount of coverage in a short amount of time. But in the past decade, they've fallen in the ranks of reliability.
There's a lingering stigma following newswires around that suggests they're of little use to the modern public relations industry. It's as if they belong in old-timey black and white movies featuring the hardened journalist with a cigar in his mouth and suspenders over his shoulders.
Go ahead and Google search them; the Internet doesn't have the greatest things to say:


If it's not a resounding disdain, the response is at least skeptical. Here's why that is:
Media has changed
Social media has taken over the world. Twitter, Reddit and Facebook have become the breaking news sources. Everything else is just playing catch up. You must realize that no matter how on top of things you are, you're probably not breaking news to anyone.
Google's search algorithm
Until about four years ago, newswires really were a go-to distribution tactic, mostly because of the SEO benefits they had to offer. But not anymore.
So what the hell happened four years ago?
Google happened. More specifically, Google's search algorithm Panda happened. Google is always tinkering with its search algorithm to bring up the most quality search results. Panda is the update that made internet search results much more organic than they had been, affecting the PageRank of up to 12 percent of search results when it came out.
PageRank is the webpage equivalent to what happens on your social media feeds: the posts with the highest numbers of shares, likes, upvotes and favorites get vaulted to the top of the news feed. Google does basically the same for its search. The pages with the highest amount of inbound traffic get the most visibility. The problem, however, was that people were gaming the system with tools like paid advertising, meaning they didn't really earn their spot on the throne of page-one results.
Cue Panda. Now, only authentic inbound links and user traffic drives Google's PageRank; no more obnoxious salesy comments with not-so-subtly placed links, no more pay-for content.
Unfortunately for newswires, they fall under that pay-for content category, because as you know if you've ever used a newswire service, they cost money. Lots of money. There goes the SEO, aka, the reason PR people loved newswires so much.
So are newswires still useful?
First thing's first: don't rely on newswires to get you SEO; it won't work anymore. Someone would have to search your press release title pretty much verbatim to actually find it. No one but you is going to do that.
In actuality, targeted pitching has always been the best practice when it comes to media distribution. Researching the reporters who cover your industry and sending them a personalized pitch is more effective than a mass-distributed press release. Whenever you can, you should take the time to put together a comprehensive list of reporters who make sense to reach out to, and send your pitches directly to them.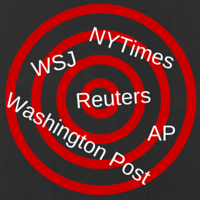 But maybe don't retire newswires to the journalism hall of fame quite yet. They've still got value to offer. Here's how:
Targeted pitching is a time-consuming process. At the same time, the media is now a 24/7, lightning-fast environment. Journalists are under pressure to publish stories FIRST and NOW. That's where newswires come in: they remain the best way to get out a broad distribution fast. When you don't have the time put together a targeted media list, or if you're worried about missing important contacts, using a newswire is worth it. They're a good way to cover your bases (in supplement, I should add, to your other PR efforts).
So yes, newswires are still useful, just in a different way now. The key to figuring out how, is understanding how journalists use them. While they're not your target audience, journalists are the middlemen that get your precious news to the people you want reading it.
Newswires from a journalist's perspective
Most journalists don't use newswires as a source for stories. Chances are, they aren't going to use your press release as is. Journalists tend to use newswires for fact checking and generating ideas for feature stories:
56 percent use them for article/feature ideas
56 percent use them for monitoring trends
Journalists don't have the time to sift through cluttered stories and news releases to find what they're looking for, so they choose which wire service to use based on convenience. Ease-of-use on their end of things should factor into your choice of newswire. Consider things like:
Industry specific filters — Often times, reporters want news for a certain industry (automobiles, real estate, finance, etc.). Does the newswire offer a way to search industry-specific news?
Accessibility — How easy is it for reporters to access the newswire's stories? Do they have to login in or battle with paywalls, or can they get to the stories hassle-free?
Comprehensive results — Reporters are going to want the most comprehensive results out there, otherwise they're wasting their time looking at a limited news source.
Another telling statistic: there are 4.6 PR people for every one journalist. This means journalists are dealing with an influx of material, and 1) don't have the time to look at it all, and 2) probably find a great deal of it irrelevant.
So, keep in mind what reporters are looking for when you're writing your press release. If you feel that the information you want to distribute wouldn't be of interest to reporters as a newsworthy item, then perhaps it's best to hold off on a big press release, and instead put together a smaller news advisory to distribute organically.
Evaluate whether your press release is worth the time and resources to put together, and perhaps more importantly, the cost to distribute it. Corporate entities may have the funds to use a newswire every time they have news to release, but most businesses don't.
Do your research

(Image taken from williamluna.com)Figure out which newswire is a best fit for your needs, as well. While they all offer similar services, there are important variations in services and expenses that will help you make your decision. And when they can cost upwards of $1,000 per distribution (depending on word count), making the right choice is sorta kinda important.
Business Wire, PR Newswire, PRWeb and Marketwire are four of the largest and most widely used services. Below are a few resources to help you compare them:
PR Underground offers a unique range of services distinct from those offered by the four mentioned above. While it won't get you the national breadth of distribution the others will, it distributes to Google News and social media, which can be extremely useful for getting extended coverage. Plus, it's much cheaper than the others.
Whatever you decide, be sure to understand the new role newswires play in the PR world. Use them as a supplement to your current efforts. After all, they might just reach the one journalist you didn't know you needed.
What do you think about newswires? Useful? Worthless?