August 7, 2015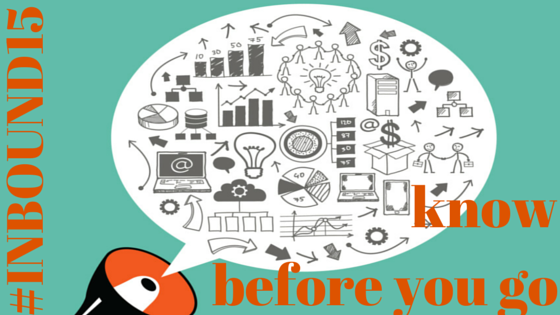 Last year was the first time I attended HubSpot's annual conference, INBOUND. It was so amazing and overwhelming, it's a miracle my head didn't explode daily. I did learn a few things I'd like to share with those who will be attending this year, whether you're vets or newbies to this mother of all marketing conferences.
#1. Give some serious thought to which sessions you'd like to attend
I mean, really serious. There will probably be one or two topics that everyone wants to attend at any given time slot. Save yourself the heartache of wandering the halls aimlessly trying to find a backup for your backup when the first two on you list are already full. Color-code your prefs in an old-school printout of the agenda down to at least four choices and save some time and trouble when those sessions fill up.
#2. Don't overdress
I made the mistake of wearing some killer shoes to the kickoff party that first night, completely unaware of just how large the Boston Convention Center actually is—516,000 square feet of contiguous exhibition space. I spent most of the evening wiping the blood from my foot before anyone else could see it. And walked to the parking lot barefoot (for a germaphobe, this was a real dilemma). The rest of the trip I sported flat boots and casual dresses, and felt confident in my level of dress (while self-conscious of my new limp courtesy of the Boston Convention Center and my love of sadistic shoes). Do yourself a favor and don't even pack those uncomfortable shoes.
#3. Go up the weekend before
Last year was my very first trip to Boston. I was so excited to hear some thick accents. However, Michelle Calcote King and I were so beat every day that we barely had the energy to grab takeout and down some wine before crashing and doing it all over again the next day. This year, we're heading up the weekend before to see the city over Labor Day, as we were too spent to hang around a few days after INBOUND to see Boston. (Hey Bostonians, please hit us up with any suggestions on what to do Labor Day weekend.)
#4. Don't skip INBOUND Rocks!
We were so tired we even skipped INBOUND Rocks, a free event during the conference. Well Amy Schumer is the star of INBOUND Rocks this year, and there's NO WAY I'm going to miss a second of that, even if I have to score some Four Loko (original recipe) to stay awake and rock Depends to stay in my seat.
#5. Do your homework on the speakers and presenters
In case you haven't noticed, the speakers at INBOUND are kind of a big deal. Seth Godin. Aziz Ansari. Ann Handley. Daniel Pink. Do a little research so you can get any thoughtful questions answered, should you run into one of these industry celebs in the food truck line. Not to brag or anything, but I am also one of only 20 who get to meet Daniel Pink this year, so I'm super excited about that, too.
#6. Always be charging
If you're like me, you'll want to take as many notes as possible, and your MacBook Air will take a beating in the process. There will be charging stations that fill up very quickly, and the seats by the wall outlets in the sessions are also hot commodities. Save yourself the drama and bring a
backup battery, too. Taking notes on your iPhone gets old very fast.
#7. Don't forget to network
I was so exhausted/exhilarated/overwhelmed last time that I missed out on some prime networking opportunities (being a slightly socially awkward introvert doesn't help either). A better approach would be to stay somewhere between holding drunken conversations that will be forgotten the next day and standing by the wall being shy and standoffish. Here are some great networking tips to help you out.
I hope to see you at INBOUND 2015 this year! Feel free to tweet at me (@yrgnik). I'll be the one hanging with Amy and Aziz (dream big, amirite?).