July 28, 2015
Lessons from BuzzFeed and NewsCred's webinar, "Creating Content for Millennials: Why It Matters + Strategies for Success"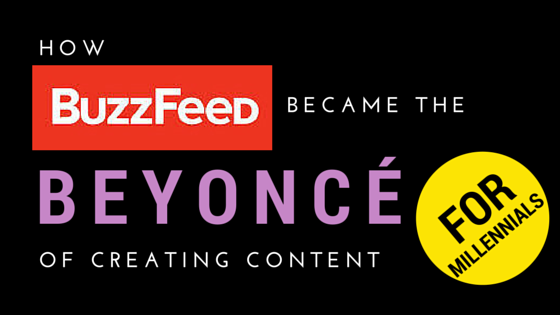 Beyoncé wasn't built in a day—neither was BuzzFeed. And both began their ascents around the same time.
It was 2005 when Bey realized there was only one, true Destiny's Child. And it was 2006 when Huffington Post co-founder Jonah Peretti launched BuzzFeed as "an experimental lab that focused on tracking viral content and making things people wanted to share." Score.
After observing (contributing to/supporting) Beyoncé's rise over the years, it's become clear which factors fueled her metamorphosis into Queen Bee (my investigative research below, not listed in any particular order):
Ridin' solo (musically/ attitude-ly)
Female version of a hustler (read: diva)
$$$$
Jay Z
Feminism
Exclusivity/ mystery
Fashion sense
Sass
Beauty/ butt
I can't see BuzzFeed's butt, so my research comparing their success was inconclusive. But BuzzFeed and NewCred's webinar, "Creating Content for Millennials: Why It Matters + Strategies for Success," helped. It was hosted by two millennials, Marcus Stoll (Head of Marketing, NewCred) and Joe Puglisi (Director of Creative Strategy, BuzzFeed). And this here millennial is gon' break it down for you.
(For what it's worth, I loathe the word "millennial" and suggest that it becomes a new drinking game. Whenever you hear it in marketing, sales or content, chug. Drunk in love, amirite?)
Who runs the world? Millennials (sorta).
"Millennials" has become an overused and under-defined term, but for the sake of this webinar, the crew considered a millennial as:
Born between 1982 to the early 2000s
Grew up with technology
Why pay attention to them? They've represented a fundamental shift in the way we create, consume and share content.
82 million content consumers in the U.S. alone are millennials
85 percent of smartphone users are millennials
Millennials are projected to spend $1.4 trillion by 2020
83 percent connect with a brand on social media
However, here's a snapshot of the current state of marketing to millennials:
6 percent are influenced by online advertising
45 percent don't find content compelling enough to share
32 percent find brand communications helpful
But BuzzFeed, on the other hand, is killin' it when it comes to creating content for millennials. Check these stats out:
54 percent of BuzzFeed's audience is millennials
200 million unique visitors per month
1 billion monthly video views
Rep Ink is part of those numbers. In fact, Wednesdays have become a favorite day in our office because of BuzzFeed writer Matt Bellassai's weekly video series, "Whine About It," where he gets drunk at his desk and complains about stuff. It combines the two things we love most:
Wine
Sass
Watch here: Ep. 12: The Worst Things About Being An Adult
Surely, BuzzFeed's success can't be solely attributed to hysterical videos and listicles, right? It's not THAT easy. So, what are they doing right—and what can we do to capitalize on such success?
How BuzzFeed's content is ***flawless
Joe Puglisi broke down BuzzFeed's content's secrets to success (and share-ability) into three categories:
Identity—BuzzFeed creates content that its audience reads/shares/watches because it's a way for them to project their own self image on social media. For example, being a 20-something in NYC.
Emotion—Emotion serves as the "key anchor" for most of their content. It's visually seeing something that evokes an entire story, like a dog hugging a person (or something). BuzzFeed's content packs an emotional punch.
Information—If you deliver interesting content, it's inherently shareable. These are the "6 Fruits You're Eating Wrong" type of posts.
Overall, Puglisi said BuzzFeed wants its writers to ask themselves three questions when creating every piece of content:
Would I share this?
Is it human?
Is it relevant?
BuzzFeed: The intersection of content and technology
Maybe I'm just a bigger asshat than I originally thought (more than possible), but I never realized that BuzzFeed was actually a technology company, too. As they said multiple times throughout the webinar, BuzzFeed is at the intersection of content and technology.
Translation: There's a ton of development behind their content.
Check out their content management system: what every writer uses when creating content for BuzzFeed.
It's a system that forces writers to see how their content will look on mobile BEFORE the desktop—because that's how their audience consumes the majority of their content.
It also lets them customize how content will look on different platforms: Twitter, Facebook, Pinterest, etc. Why? Because that's where BuzzFeed's audience LIVES. Puglisi shared BuzzFeed's social referrals:
12.5 million from Twitter
60 million from Pinterest
349 million from Facebook
BuzzFeed also optimizes content through targeted promotions, and tests articles against themselves, including headlines and thumbnails.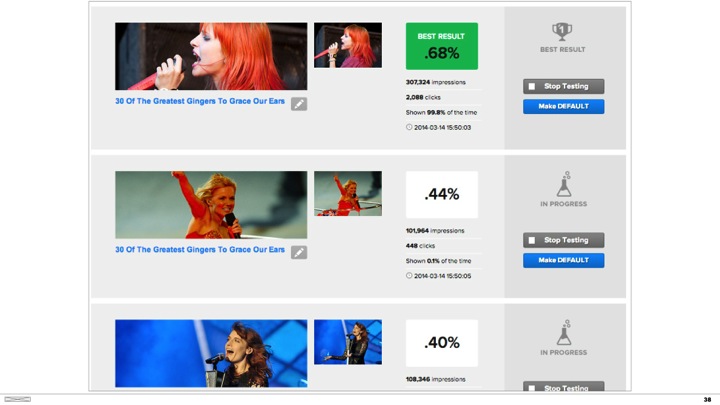 Make your content more (Sasha) fierce
After watching the webinar, I realized that the takeaways aren't just applicable to millennials—it's content today in general; it's just more obvious with millennials. And ways to improve your content are often ways we, at Rep Ink, suggest optimizing content in general, whether it's for a B2C or a B2B.
NewsCred's Marcus Stoll said that, while millennials consume a lot of content, they're going to call "BS" faster than anyone else. They've got short attention spans. They like to laugh. They want to be culturally relevant.
Maybe this is just the millennial in me (chug), but don't we wall want that from our content, today? Keep these things in mind if you want to upgrade your content strategy (and appeal to millennials—chug again):
Segment your audience and target your content—As Stoll said, "Creating content for EVERYONE resonates with NO ONE." Get specific. Find segments within your audience and develop content for them. Don't be too broad.
Be useful and helpful—Solve some problems. Give your audience a reason to read. Think about what makes you read/watch/share something.
Make it scannable and entertaining—Short attention spans, peeps. Don't waste someone's time. And if you're lucky enough to capture their attention, keep them there (don't be boring).
Change your delivery methods—Where's your audience? What platforms are they using? Adjust, and deliver content there.
Evoke emotion—MAKE 'EM WEEP. Just kidding. No, I'm not. If you can, that'd be great. Or you can make them laugh. (I tried here, at least.)
What have you found while creating content for millennials? Tweet me.
(I drink out of this mug every day, FWIW.)