July 21, 2015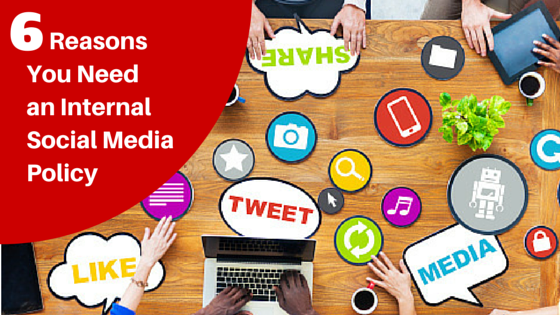 Last month, I was invited to speak at the College Sports Information Directors of America (CoSIDA) convention on the topic of internal social media policies. Entitled "Who's in Charge?" my presentation (which you can watch here) covered the issues that can arise when you have multiple employees posting to your company or organization's social media accounts. Though there are some nuances within college athletics, the problems I discussed are consistent across nearly every industry.
Many companies have social media policies regarding how employees use their personal accounts, covering such things as not disclosing confidential client information. However, far fewer have internal policies that govern how the company accounts are managed and utilized.
Although every situation is unique, there are six primary reasons I think every company needs an internal social media policy to govern usage of its own accounts:
1. Align your social media usage with your goals
Have you ever sat down with your team and discussed your goals for social media?
Are you trying to build brand recognition? Position your management as thought leaders? Trying to increase product sales?
If your primary goal for social media is to increase product sales, but none of your tweets link over to product pages, what are the odds you're achieving your goal? Maybe the person posting the tweets previously worked somewhere that discouraged direct selling on its social media channels and instead focused on brand awareness. If you haven't discussed goals with the people who are doing the posting, you're essentially hitting the open water without a sail.
At a bare minimum, the employees who have access to your social media accounts should have a clear understanding of what the company hopes to achieve by being on each social media platform. Hopefully you're also using this as an ongoing topic of discussion as you assess your progress toward your goals and any necessary change in strategy.
2. Establish your brand voice
Another important consideration when allowing multiple people to post to your social media accounts is your company voice. If it's a very conservative company, you might not want the tone of your social media to be sarcastic, for example. Or if your target demographic is baby boomers, you'll probably want to stay away from slang only the millennial crowd understands.
You want a voice that appeals to your current and prospective client or customers and also aligns with your other brand messaging. That consistency across platforms — social media, your company website, print advertising, radio commercials and more — is crucial to building a brand clients and consumers can connect with and remember.
3. Secure your accounts
If you've handed out your usernames and passwords for all your social media accounts to multiple employees, you should have a schedule for changing those passwords. You don't want your intern from last summer or the associate you fired last week logging into your accounts.
One solution is to use a social media management system like HubSpot, TweetDeck or HootSuite to manage your accounts. Then, you don't have to give out individual usernames and passwords for each of your social media accounts. Instead, you allow employees with social media responsibilities access to the management system.
This solves another potential problem where only one employee has the access information for your social media accounts. What if that person is hit by a bus tomorrow? Or, more likely, is fired or leaves for a new job and refuses to give you the login information? Trust me, you don't want to be in a situation where you have to ask Facebook, LinkedIn or Twitter to recognize you as the owner of the account and restore your access.
A thorough internal social media policy will have a schedule for changing passwords and implement systems, like using a social media management program, that reduce the risk of getting locked out of your own accounts or having unauthorized posts.
4. Train your employees
Before allowing new employees or interns access to your social media accounts, consider implementing a training program. This is when you would give them an overview of your goals, the company's voice and any other policies or guidelines for posting. Perhaps you have a template in Canva you use for all of your infographics to ensure the proper colors and typeface are used. Make sure new employees and interns get all of this information before they start posting.
5. Deal appropriately with Negative Nancy
You've heard of "haters," right? They are born and bred on the Internet, and social media channels are their playground. That's why it's imperative to have a policy for if and when you respond to negative comments or criticism, particularly when dealing with customers and clients.
The chart below is my favorite, and I highly recommend developing something similar as part of your internal social media policy so everyone with access to your accounts knows if, when and how to respond to negative comments:
6. Take charge of breaking your own news
One of the benefits of digital marketing is your company can become its own publication, full of its own reporters. Through blogging and social media, you can break your own news. It's a growing trend among college athletic departments, many of whom are frustrated they can't get any of their good news covered by increasingly cynical beat reporters surrounding their programs. We see it in other industries as well — reporters rely on press releases far less and get many of their story ideas off the Internet.
As you set off to break your own news, make sure those employees with access to social media understand what is and isn't fair game for posting. One athletic department told me they had a huge marketing plan built around the unveiling of their new football uniforms. It had been planned for months and involved a slow reveal over several days. Unfortunately, the equipment manager didn't get the memo, and he tweeted out pictures of the new uniforms before the marketing plan even began.
Avoid that kind of #fail by not only having an internal policy in place for breaking news but also regularly communicating with all employees about any upcoming marketing plans or sensitive information.
For those of you in college athletics, you can view my full CoSIDA presentation (complete with audio) here.
Does your company have an internal social media policy? We'd love to hear about any issues you cover that we didn't mention in the comments below.