April 9, 2015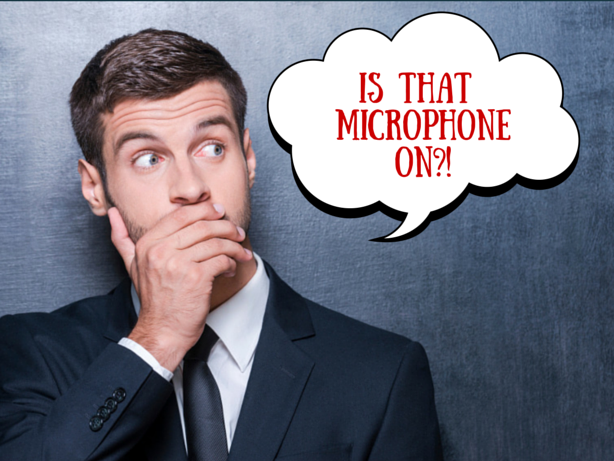 In the past few weeks, there have been numerous examples of people speaking within range of a microphone that they either 1) didn't know was on, or 2) knew it was on and didn't care if what they said was heard.
Whether the comments fall into the first or second scenario, it can create a public relations, and social media, firestorm. Here are a couple of examples:
Andrew Harrison, University of Kentucky basketball player
After the Kentucky Wildcats lost its one and only game of the 2014-15 college basketball season on April 4, guard Andrew Harrison was one the players in the post-game press conference. A reporter asked one of Harrison's teammates about opposing player Frank Kaminsky, power forward with the University of Wisconsin. Before the teammate could answer, Harrison can be heard muttering words that need not be repeated here about Kaminsky. He used his hand to cover his mouth when he said it.
Initially it seems no one at the press conference heard what Harrison said. Then social media caught on.
Later that night (technically it was almost 12:30 the next morning) Harrison tweeted a three-part apology for his "poor choice of words." The University of Kentucky said they were "evaluating (the comment)."
Robert Durst, The Jinx
Millionaire real estate heir, and alleged murderer, Robert Durst was recently the subject of a six-part HBO documentary "The Jinx: The Life and Deaths of Robert Durst." He first gained attention when his wife mysteriously disappeared in the 1980s, and again in the early 2000s when he was acquitted of murdering his neighbor. During the final episode of "The Jinx," Durst can be heard whispering to himself "What the h*** did I do? Killed them all, of course." He thought his microphone was off.
The day the final episode of "The Jinx" aired, Durst was arrested on a first-degree murder warrant for the murder of his friend Susan Berman. While what he said on the television show would not necessarily be enough evidence to arrest him, it certainly did not help his case and the media had a field day with the the coincidence of Durst's arrest and his comments.
Politicians
It seems getting caught saying something you shouldn't is a requirement for politicians. From former President Ronald Reagan jokingly announcing war against Russia to former President George W. Bush telling the Prime Minister of Sweden he was surprised he won the election to these other embarrassing moments.
Not everything said is bad
What is caught isn't always bad and can provide some comic relief. University of Wisconsin basketball player Nigel Hayes was part of a "March Madness" press conference last month and continued his fascination with challenging stenographers by using words that are difficult to spell. After providing another grammatical wonder, Hayes leaned over and whispered to his teammate "Gosh she's beautiful." He thought his microphone was off and everyone had a good laugh about it.
The lesson
If you are in range of a microphone, always consider it hot, live, on, recording every word you say. If you find yourself in the unfortunate situation where you say something that probably shouldn't have been said, get ready for the inevitable media (and social media) firestorm. And by all means, don't deny it — there's no questioning what was said, it was caught on the microphone.
What is something you've heard caught on the microphone? Share in the comments below.