April 2, 2015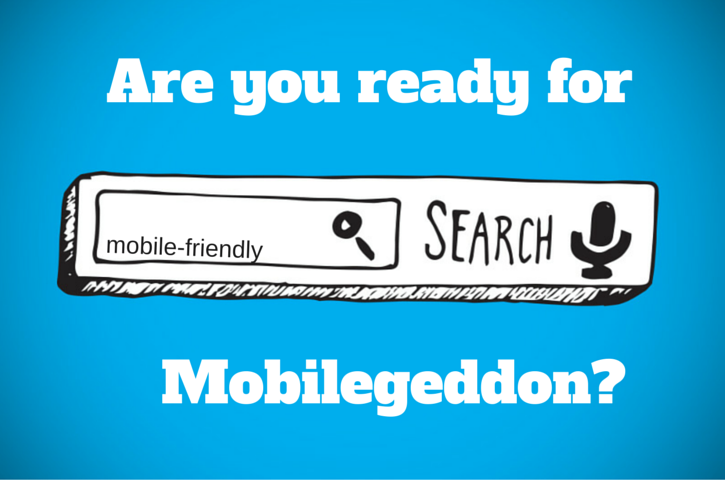 "Starting April 21, we will be expanding our use of mobile-friendliness as a ranking signal. This change will affect mobile searches in all languages worldwide and will have a significant impact in our search results." —Google
Well our friends at Google are switching things up yet again. Effective in late April, the search engine innovators will give even more love in mobile searches to sites that are responsive or optimized for mobile. It only makes sense, and is sure to improve the experience for users on smartphones, phablets, tablets and other mobile devices.
One key thing to remember here is that this update affects only mobile searches. Some marketers may still not be convinced that mobile is kind of a big deal, but:
Does your current site make the cut?
There are several reasons why a website may be deemed mobile-unfriendly. From text that is too small to screen sizes that require horizontal and vertical scrolling, if it provides a bad user experience, expect your site to lose in mobile search results. So, what can you do to ensure Google smiles on your site in mobile searches? First, determine if your site passes Google's Mobile-Friendly Test (you'll need to test every page individually).  If not, it's time to consult with your web design firm to make any necessary adjustments to your site based on Google's Mobile Guidelines. HubSpot's Marketing Grader is another great resource for determining the mobile-friendliness of your site, along with other areas such as blogging, SEO and social media.
Mobile vs. responsive
The buzz you've been hearing about Google's latest update refers to the mobile-friendliness of sites—whether they're mobile sites or sites that utilize responsive design. Here's the difference:
Mobile sites – completely separate (and usually very simplified) sites designed for mobile devices only. They include separate domain names and could compete with your main site for search rankings.
Responsive design – a single site that uses responsive design to automatically adapt to any device (as well as any future ones) from a single domain. When designing a new website, be sure it's created using responsive design so you won't have to worry about making your site compatible for mobile or facing the wrath of Google.
SEO best practices—no matter the device
In addition to mobile-friendliness, here are some tried-and-true SEO best practices that aren't going away anytime soon (I hope):
Focus on quality content – while juggling the many moving parts of a content marketing campaign, it's easy to forget that quality should trump quantity, format and SEO every time. If the content is relevant and useful, higher rankings will come. According to an April 2014 survey of marketing professionals worldwide conducted by Ascend2, quality content creation was ranked the most effective SEO tactic by 57 percent of respondents. The same study also cited creating quality content as the most difficult of all SEO tactics, with 47 percent of respondents' votes. That part should come as no surprise to anyone who's ever tried it. Style, quality and tone (not to mention grammar!) are lacking in a big way in nearly 69 percent of company websites worldwide, thanks to the research provided in Acrolinx's Global Content Impact Index.
Promote across all social media – social proof is more important than ever when it comes to validating the quality of your content. Whether it's shares from followers or links from your own channels, don't skimp on social. Google also gives tweets higher rankings in search, so be sure to leverage Twitter whenever you can.
Keywords matter less, but semantic search is still important – in a previous post, we discussed tips for conversational SEO, or writing keywords and content for the way people speak and search. This best practice still rings true today, mainly because you are framing your content in a way that is relevant to your reader.
More updates that impact marketers
In another significant change for marketers, Google now allows company press releases to appear in the "In the News" section that ranks very high in search engine results pages (SERPs). What does this mean exactly? That you should always incorporate PR into your content strategy where it makes sense, and be sure your press releases are optimized for SEO.
With Google's recent announcement to split Google+ into Photos and Streams, with Hangouts being a standalone product, it's really uncertain what these changes will mean–maybe even the termination of Google+ down the road. My current Google+ page looks the same to me, so I'm curious to see how it all shakes out. Stay tuned for future posts on the topic.
How does Google's latest round of revisions affect your inbound marketing strategy? Comment below or drop me a line at heather@rep-ink.com.