December 4, 2014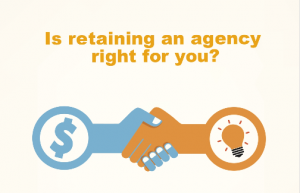 Many companies struggle with determining whether it makes sense to secure a monthly retainer with an inbound agency or marketing firm, or employ these agencies on a project-only basis.
As someone who used to work for an agency on the project fee model, where assignments are scoped and an agreed-upon budget is determined before work begins, I can honestly say that the employees, the agency and the work suffer. Projects are underbid and overspent, leaving creatives frazzled and holes in agencies' pockets. For agencies, retainers are beneficial for many reasons—from ensuring steady cash flow to hiring the appropriate number of team members to handle the workload. So, what do clients have to gain from the agency retainer model?
Predictable monthly costs – oftentimes, if you don't use up your allocated budget, you lose some of it in the following year. By strategically planning out the entire year with fixed monthly costs, you get the benefit of predictability and consistency.
Dedicated resources – you'd be amazed at how often clients call with an urgent request when the agency's marketing talent already has a full plate. Guess which clients receive top priority? Those with a proven partnership and ongoing work.
Strategic partnership – when you retain an agency, that firm is committed to your long-term success, not simply the execution of a single project. The firm takes the time to understand (and even develop) your marketing strategy and learn the ins and outs of your business. This level of strategic thinking is lost when you hire a freelancer or agency on a single project basis, and requires a steep learning curve when you have to hire a new agency for a project.
Proactive vs. reactive approach – face it, no one does their best work with a gun to his or her head. Same goes for tight, nearly impossible deadlines. By retaining an agency, these fire drills are less likely as the firm incorporates a more strategic approach to your marketing. The agency should ask the right questions and do research in regards to upcoming events where your company should need a new presence.
Speed – when an agency can allocate the appropriate resources to your needs—team members who already know your business—they can get more done faster because they've already made it over the learning curve. When you have to bring a team up to speed every time a project comes up, it really adds more time and more dollars to the task at hand.
The flip side of retaining an agency is that some months will be slower than others and you may be left wondering what the heck you're paying for. Obviously, your agency should always send a monthly activity report to account for hours spent. This should help illustrate how some things come out in the wash. However, these breathers can provide the opportunity to step back and take in the big picture of where you are and where you're going. You can't get that same perspective from a fire drill.
And if commitment is what you fear most in an agency retainer, be sure to negotiate terms that account for parting ways in a manner that won't leave you or your partner agency in a lurch. According to HubSpot, marketers who have prioritized blogging are 13 times more likely to enjoy ROI.
Marketing is a long-term endeavor that should require constant planning and execution. Retaining the right agency will ensure you have an arsenal of dedicated resources at your disposal to maintain the appropriate level of frequency and strategic thinking you need to attract customers and close deals.
Have a good or bad retainer experience you'd like to share? Please comment below or contact me at heather@rep-ink.com.