September 5, 2014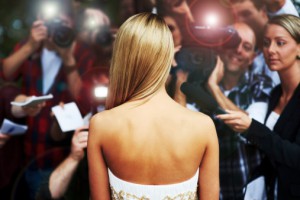 Get your head out of the iClouds and grab a pumpkin spice latte—it's time to welcome the weekend. Though it was a short work week, it certainly didn't skimp on major headlines. Let's take a look at the whirlwinds of the week in PR, content marketing and social media news.
The celebrity photo hack
A major hack unleashed hundreds of private, nude celebrity photos online, and all eyes are on Apple. Victims including Jennifer Lawrence and Kate Upton stored these images on the iCloud: Apple's popular cloud storage service. As the photos leaked, speculation swirled about the security of Apple's systems.
Apple says naked celebrity photo hack was 'very targeted attack,' not iCloud breach http://t.co/8k9sdz67QJ pic.twitter.com/j16j2PSnHB

— NBC News (@NBCNews) September 2, 2014
Though an Apple media advisory announced the breach stemmed from a "very targeted attack on user names, passwords and security questions," the tech giant is still suffocating under tons of bad press. The timing is a major blow for Apple given next week's iPhone 6 (and rumored iWatch) release.
espnW's sexist fumble
As a website devoted to telling the "stories that matter most to women," it's ironic espnW would become the latest villain for football-loving females. In an article titled, "Hey Fantasy Rookies, We Can Help You Crush Your League," readers are introduced to the ladies of HerFantasyFootball.com who offer a "simple relationship-based rating system that cuts through all of the clutter" of Fantasy Football.
ESPNW Releases Fantasy Football Rankings Using Relationship Lingohttp://t.co/yL3ekaw01o pic.twitter.com/RxwG6Wf708

— BuzzFeed Sports (@BuzzFeedSports) September 2, 2014
In other words, they dumbed it down by grouping NFL players into dating categories such as "Marriage Material," "Boyfriend Potential," "Friends With Benefits" and "One-night Stands." Ugh. After backlash (comments include "Is this an Onion article?") the espnW team has added editor's notes vowing to not use the "relationship category conceit moving forward." Fumble.
Starbucks' PSL rises to social stardom
Autumn doesn't officially kick off until later this month, but a fall favorite has already arrived. Starbucks' pumpkin spice latte (PSL) has become synonymous with fall and ranks as the company's most popular seasonal beverage, according to NBC News. But if you participated in Starbucks' social media campaign last month, you've been sipping on your PSL long before the rest of us.

Aug. 4th, Starbucks started posting on the @TheRealPSL Twitter account, interacting with fans who hoped to gain clues to access the drink as early as the 26th. The account features sassy tweets and quirky photos of the PSL that are paying off—@TheRealPSL has more than 90,000 followers. Cheers!
https://twitter.com/TheRealPSL/status/502110687628247041
CVS tosses tobacco
Drugstore chain CVS announced its stores would no longer carry tobacco products, making it the first major chain to make the move.
Today is the day! Tobacco products are no longer available at CVS for #OneGoodReason-your health. What's your reason to live tobacco free?

— CVS Pharmacy (@cvspharmacy) September 3, 2014
According to USA Today, "The American Pharmacists Association called on drugstores to stop selling tobacco in March 2010 and several small, independent chains have done so, APA spokeswoman Michelle Spinnler says." CVS's 7,000-plus retail stores began pulling tobacco from their shelves on Wednesday. CV-Yes!
To stay up to date on the latest in marketing, PR and social media news, subscribe to our blog, INKsights.