September 26, 2014
TGIF, y'all! We're also thankful to take a break from the NFL headlines this week and bring you some PR and social media winners and loser from other industries.
iPhone 6's unexpected feature
Forget Jedi mind tricks. All you need to bend the new iPhone 6 is a tight pair of Dockers or skinny jeans. The Twitterverse was full of customer complaints this week, as some of the iPhone 6's early adopters are crying Bendgate. To Apple's credit, this isn't the first (or only) aluminum device that bends under pressure… even the iPhone 5 and Android HTC had similar issues. On the bright side, this could encourage the creepy guy down the hall to buy looser-fitting pants.
Joan Rivers' posthumous Facebook promo
In an unfortunate lapse of memory or judgment, a post on Joan Rivers' Facebook page went live (and viral) on September 19 to promote the iPhone 6 launch just two weeks after news of the infamous comedian's death. This is the second PR snafu for Apple's iPhone 6 launch to make our list, but we can't really blame the purveyors of iPhones for the tasteless post, which was promptly deleted but not forgotten. Bendgate on the other hand…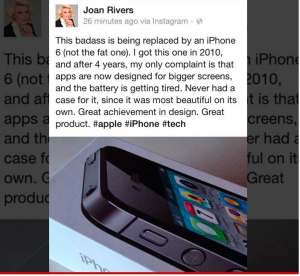 Busch Gardens tries not to repeat #HEADLESSDAY nightmare
Let's call this one a small miss that could have been worse. In light of the horrible beheadings that have been taking place by terrorist group ISIL overseas, the Virginia Busch Gardens wisely decided to pull any Halloween decorations that could be viewed in bad taste after customer complaints. All props with severed heads or headless people are being removed from the displays. This move comes shortly after the marketers of TV series " Sleepy Hollow" created a "Headless Day" to promote its DVD release. We think it's beyond horrifying. You be the judge: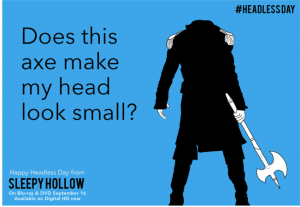 Restaurant rewards one-star Yelp reviews
Italian restaurant Botto Bistro had an advertising relationship with Yelp that gave the owner more than heartburn. According to David Cerretini, after he stopped running ads, his new reviews turned sour and his best review ever magically disappeared. He decided to fight back, offering discounts for a one-star Yelp review full of ridiculous customer experiences. The results have been quite delish for restaurant guests and Yelp.com visitors. Cerretini claims it's the best business decision he's ever made. We're tempted to fly to California just to give this establishment the thumbs down.
This reporter shows even bad releases and PR pitches some love
Newsweek reporter, Zach Schonfeld set out on a new experiment, responding to every PR email and press release sent his way for a week.
Bucking the tradition of deleting at least 90 percent of them due to their irrelevance, Zach sought to broaden his horizons by suffering through every email in his inbox. As PR professionals, we think this is admirable, but not practical or sustainable. We're as exhausted as he was at the end of the experiment. On that note, let's get this weekend started!
Don't wait until Friday to get caught up on the top marketing and PR hits and misses—follow us on Twitter at @Rep_Ink.