September 25, 2014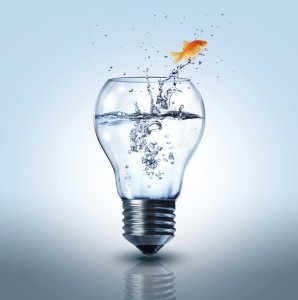 Michelle King and I had the privilege to attend HubSpot's INBOUND14 conference in Boston last week. The list of speakers for the event read like the New York Times Best Seller list, with some inbound marketing rock stars thrown in for good measure. From 8:30am keynotes to wall-to-wall sessions, the trip was as exhausting as it was exhilarating.
Going through my 30+ pages of notes, I'm still trying to absorb everything I heard and learned. However, I couldn't wait any longer to share some of the inspiration I received:
On Communication:
"Listening is the single most important skill in social media, business and life." — Dave Kerpen, Likeable Media
It may seem counterintuitive, but being a good listener is the best way to be a good marketer. Think about the people in your life you really enjoy talking to. What is it about them that makes you feel comfortable venting or seeking their advice? Chances are, it isn't the big words they use or the trendy outfit they're wearing. It's that they genuinely want to understand you and your problems, then provide a solution. As marketers, we need to follow suit.
"Storytelling doesn't build relationships. We need to move from storytelling to story making." — David Berkowitz, MRY
When stories are told, they are truly one-sided conversations that provide a shorthand synopsis of the protagonist, but no real connection between the audience and the storyteller. Social media has made it easier than ever to engage in two-way, real-time communication with audiences. There's no excuse for not taking advantage of this to create new and meaningful stories for followers.
"As marketers, we should all take a Hippocratic Oath like doctors, and vow to do no harm." — Dan Moyle, AmeriFirst Home Mortgage
What does doing harm look like for marketers? From spamming to hard selling, consumers have put up with painful marketing tactics for long enough. One way to "do no harm"
is to forget closing and focus on helping.
"Becoming a better writer means becoming a better marketer and a better human." — Ann Handley, MarketingProfs
Good writing isn't about grammar. It's about writing to address the needs of your audience. Not through eloquent prose, but through the lens of the reader's point of view because you took the time to empathize. The intent should be a real connection, not a sales pitch.
On Culture:
"Inspire from within and influence outwards." — Loree McDonald, HubSpot
In the words of another great speaker (Simon Sinek), no one will ever love a company unless its employees love it first. How can you create an environment where employees feel safe, trusted and empowered to do their best for the company and the customer?
"Leaders eat last." — Simon Sinek, Author & Optimist
A key component to a successful company culture is the lack of fear. Successful companies aren't built on "every man for himself." In fearlessness, employees thrive and in turn, sales do too. And fearlessness only comes from being led by someone willing to take a bullet to defend their team, and even eat after the rest of the "tribe" has had its fill (metaphorically speaking, of course).
On Innovation:
"Urgency, courage and imagination are not dependent on intelligence, skills and resources." — Malcolm Gladwell, Renowned Author

In other words, "Just do it." Don't get stuck in analysis paralysis or wait around for VC funding. If you have the solution, tune out the naysayers and aim for the fences. Be disagreeable when it comes to accepting the status quo, as well as accepting no for an answer when you know you're onto something.
"Little breakthroughs become big ones through optimization." — Sean Ellis, Qualaroo
Don't wait around for a big breakthrough. Foster the small wins. Test, experiment and optimize as you go. You never know when a small and incremental change will create a snowball effect and change your whole trajectory.
"Goals shouldn't be incremental, they should be bold." — Dharmesh Shah, HubSpot
You can't achieve exponential growth with incremental goals. Find ways to create leverage and add value over the life of your content. A one-time investment in creating a blog post or ebook can have the shelf life of several years, and many of HubSpot's older blog posts are still popular today because they focus on the reader and not the software.
"To be truly innovative, you don't change what you're doing, you create the next curve." — Guy Kawasaki, Canva
Improving in your current arena isn't big enough. According to Steve Jobs, you must create the next big thing to be truly innovative. Don't paint yourself into a corner with your own limited thinking. He noted that Western Union felt the telephone was useless, and the telegraph would prevail. And where is Western Union now in comparison to the telephone? Let's just say the telephone jumped the curve and has been creating new ones for quite some time now.
Over the next few weeks, I'll take a deeper dive into turning some of these inspirations into action. In the meantime, feel free to tweet your favorite #INBOUND14 quotes to @yrgnik or email me at heather@rep-ink.com.