August 21, 2014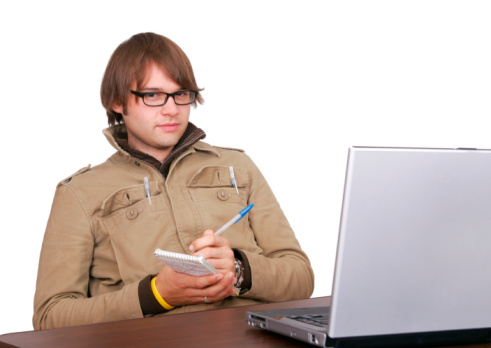 You take the time to write a compelling press release with a great email subject line to hook the journalist…and nothing happens. Journalists don't respond to your emails or phone calls, and there's no sign of a written piece when you search the internet. Sound familiar?
I want to take you inside the mind of a journalist. Outside of my duties at Reputation Ink, I'm a sports business reporter and analyst. As such, I receive dozens of press releases and pitches each day, much like any other journalist. Generally speaking, there's a lot of noise and not a lot of quality pitches. I always try to keep that in mind when I'm on the other side and am the one drafting and distributing a press release for a client.
The shockingly low number of press releases that are picked up
Unfortunately, there are times when clients want to send press releases even when we've warned them their story might not be newsworthy. It's understandable – when you've worked hard on a transaction, lawsuit, product rollout or other major project, it's the center of your universe. It can make it hard to understand why it's not newsworthy to others.
That's why I thought it would be helpful to let you into the minds of journalists for a moment. The most shocking fact I can tell you is the percentage of press releases and pitches I receive that I end up writing about: five percent.
My percentage is probably a little low, because I'm not a full-time journalist. So, I decided to poll other journalists. I received nearly two dozen responses from journalists who work at a range of publications from local newspapers to digital sports networks. The highest estimate I received was 35 percent, with most coming in around 10 percent.
What are the top reasons your press releases aren't getting picked up?
I asked fellow journalists to give me the top reasons they don't write on your press release or pitch. Here were some of the responses I received via Twitter:
@SportsBizMiss They want to use the release as a form of free advertising. I'll send that to our sales staff, if you pay, we'll run it.

— Conor Revell (@ConorRevell) August 18, 2014
@SportsBizMiss By the time they make it public, we've already written about it (or written about internal decisionmaking leading to it).

— JuanJohnJedi (@juanjohnjedi) August 18, 2014
@SportsBizMiss it's a release with details about an event happening "tomorrow" No time to plan. Would love to do events but not last minute.

— B.J. Koubaroulis (@bjkoub) August 18, 2014
@SportsBizMiss Lack of local impact/doesn't seem legit/not newsworthy to enough people to justify publishing.

— Jonathan Lintner (@JonathanLintner) August 18, 2014
I work with several of our law firm clients, and I'm a former attorney myself, so I asked a journalist at a leading legal publication for his tips. First, he emphasized timeliness, saying anything more than 48 hours after a ruling or verdict is too late. (We've found that even a few hours after can be too late if it's a big case and reporters are watching for a ruling.) Next, he pointed out that a national publication is only going to be interested if the story involves a public figure or a multi-million dollar verdict. And lastly, he favors pitches surrounding a major decision or development over simply introducing him to an expert source for future use.
Something none of the journalists we contacted addressed was covered in a Forbes piece on what journalists think of your press release earlier this year: sometimes reporters struggle to find a unique way to tell the story knowing you've likely sent the release to multiple outlets.
Insight into my inbox
I thought it might be instructive to walk you through several of the press releases I received yesterday and why I chose not to write about each one:
"Rory McIlroy in Command for Second PGA of America Player of the Year Award; Tight Race for Vardon Trophy": I didn't even open this one. First, I don't write about golf very often. Second, when I do write about golf, I write about business stories. Generally speaking, awards are of no interest to me, unless the story is pitched as something along the lines of the impact the award will have on earnings or endorsement opportunities. In this case, no one has even won the award yet. I'm not going to write about who might win the award. That doesn't fit with anything I've ever written.*
"JUST RELEASED: AMERICAN EXPRESS SERVES FANS THE FINEST OF THE 2014 TENNIS US OPEN WITH INNOVATIVE DIGITAL AND ON-SITE SERVICES": Please don't yell at me. All caps doesn't catch my attention – relevant subject lines do, and this is not relevant to me. Like golf, I only report on tennis on rare occasions. I looked it up, just for fun, and I haven't reported on tennis since July 22, 2013. In fact, I currently only write on a consistent basis for two outlets, and they both focus solely on college sports: Campus Insiders and Outkick the Coverage on FoxSports.com. I could pitch freelance pieces to other outlets, but you'd probably have to offer me an exclusive for that to make sense for me and for the outlet. Like the previous email, I didn't open this one.*
"Fanatasy [sic] Football – The Costs and Attractions": This one I did open, and I did so for three reasons: i) this person always sends me relevant releases, ii) I know from experience she responds to my questions and requests immediately, and iii) the subject line grabbed my attention. If you'll notice, there was a misspelling in the subject line. However, I've had such a great relationship with this person that I don't care. I haven't written about fantasy football in a while, but I would. It's an extremely popular subject with fans, and I know it drives traffic. Ultimately, I decided I'm too busy to write on it this week, but I'll keep her expert in mind for future stories.
That last point is worth expanding upon: sometimes I simply don't have the time. As a PR pro, it can be frustrating when you know you have breaking news, you've researched journalists and specifically contacted those who have covered this subject before, and you've written a well-crafted press release. Then the client calls and wants to know why Jane Doe who wrote about the case previously isn't writing about it now.
Honestly, it really can be as simple as your timing. I only write maybe 25 percent of the things I want to write about as a journalist, because there's just not enough time in my day. Even if I've written about it previously and there's a great new storyline, I might be under another deadline that I cannot change. I've also been in situations where I had the time but my editor did not. Timing, as they say, is everything.
If you've done your research and targeted relevant outlets and reporters, and you've written compelling copy, you've done what you can do to get the story out in the world. Unfortunately, not every story can make the front page—especially in today's downsized media landscape. That's why more and more companies are bypassing the media altogether and using blogs, social media and other digital platforms to speak directly to their audiences.
To learn more about these strategies, contact michelle@rep-ink.com.
*It's worth noting that for these, I know I'm on their media email list. I could opt out at any time, but I don't just in case they ever send something I can't resist.