June 12, 2014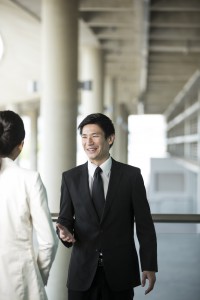 Some people are blessed with the gift of gab. If you're not one of those people who can walk into a room full of strangers and strike up a conversation, however, you need to master the art of the icebreaker. You can use some visual as an icebreaker – a company logo or perhaps a lapel pin – or you can put in a little time and research your way into an icebreaker.
Some icebreakers are visual
Some icebreakers are visual. Lou Imbriano, President and CEO of TrinityOne, a marketing strategy and business advisory consultancy, has it easy when it comes to icebreakers: he has three Super Bowl rings from his time spent as chief marketing officer of the New England Patriots. They're big, they easily draw people's attention, and everyone wants to hold one. He doesn't have to look for conversation, it finds him.
I lucked into my own visual icebreaker when I created a logo for my work as a sports business reporter and analyst. It was a real photograph taken of me for my book on Major League Baseball's collective bargaining agreement that a friend with graphic design capabilities turned into my now signature logo.
I would estimate 90 percent of people I hand my sports business card comment on my logo. They've either seen me use it on social media and my website and put two and two together to figure out I'm the "SportsBizMiss" they're familiar with in the sports world, or they tell me what a great logo it is.
The best icebreakers create expanded conversation
How do I use this to my advantage? If they're in the first camp and have seen my logo previously, then I joke that no one knows my real name and that either I've done a great job branding myself as the "SportsBizMiss" or I've completely lost my own identity. More often than not, this leads to a conversation about personal branding. As someone who gets invited to speak on this topic and can also work with people in a professional capacity on their own personal branding, this is a great lead-in.
For people who aren't familiar with my logo and my "SportsBizMiss" brand, I launch into a quick explanation of how my logo is really a silhouette from a real photograph of me taken for the jacket of my book on Major League Baseball's collective bargaining agreement (Balancing Baseball, forthcoming). This generally turns into a conversation about the books I've written or the career path I took from practicing law to working at ESPN and now at Reputation Ink.
The bottom line: it instantly turns what could be a 30-second exchange of business cards into a conversation.
I'm guessing most of you don't have Super Bowl rings, and your company logo probably doesn't generate extended conversation. What can you use as a visual icebreaker? I've seen many conversations start because of a lapel pin. If you're a member of a well-known organization – perhaps something like Rotary Club – and you've got a pin, wear it to conferences and events. You never know when someone will recognize it and start up a conversation.
Anyone can create a verbal icebreaker
Imbriano has an easy icebreaker with his Super Bowl rings, but he's not the type to simply sit back and wait for people to come to him (although he certainly could). I mentioned Imbriano, because his book Winning the Customer is the best book I've ever read about building and maintaining relationships with people. In fact, I assigned it in my Sports Marketing class at UNF last semester not just because it's a great sports marketing text, but because I thought it would teach my students how to build and maintain relationships, which I knew would serve them no matter what career they ultimately choose.
In the book (and also on his blog), Imbriano explains you don't have to wear a Super Bowl ring to spark engaging conversation. If you're willing to devote a little time to researching the people you want to meet, you can create your own icebreaker.
Long before he worked for the Patriots, Imbriano was in sports talk radio booking guests to come on shows. One year, his station was set up on radio row at the Super Bowl and he spotted Howie Long, a former NFL player who'd moved on to broadcasting with Fox.
If you've never seen radio row at one of these big sporting events, it can be dozens of tables lined down a hallway or in a hotel ballroom. Every show is trying to grab players and coaches to come on the air, which generally leads to players and coaches avoiding radio row like the plague. They know once they stop to get on one station they'll be bombarded by requests from the rest.
When someone like Howie Long does accidentally end up too close to radio row, producers and interns from every station will begin approaching the person asking them to come on the station. They generally don't have anything to say other than, "Hey, we'd love to have you on WXYZ."
Do your homework
In his book, Imbriano preaches the importance of researching your targets. He'd done his research, and he was able to jump in the elevator with Long and mention a mutual connection he'd discovered. That was all it took to get Long back to radio row to do an interview.
I recently blogged about tips for doing type of research before you attend your next conference or event in order to connect with panelists and others you know are attending. Don't just hope you'll meet someone, set the stage to make it happen.
Need help strategizing ways to connect with potential clients and customers? Contact me at michelle@rep-ink.com.