June 17, 2014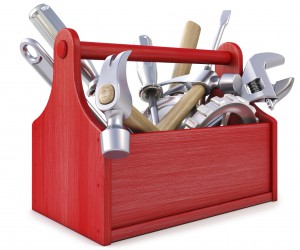 It's one of the most overused sentences in the communications industry:
"Let's do a press release!"
The press release is perhaps the best-known public relations tool. As a result, it tends to be the first option that comes to mind when a client or company wants to get the word out about their latest project or initiative. But there are a lot of other tools in the PR toolbox that may be more appropriate – and effective – depending upon your situation, your topic and your communications objectives.
Before you push the press release button, consider whether one of these other tools might do the trick:
Pitch letter
Does your project or initiative lack a timely news hook? Is it more of an evergreen story that could be run at any time? Consider a pitch letter – a letter or email sent directly to a specific reporter to pique his or her interest in covering your topic. A pitch letter allows you to explain what's significant about your topic and why the reporter should cover it now. It can also help establish a relationship with a reporter that you can build upon for coverage of future topics.
Media advisory
Are you holding an event that you want the press to attend and cover? A media advisory is your best bet. Often confused with press releases, a media advisory is an invitation to the media to come to your event. It even mimics the format of an invitation, spelling out the Who, What, Where, When and Why so that the media will know what's significant about the event and why they should be there.
Talking points
Is your CEO prepping for an important media interview? Help focus the message through well-written talking points. As the name implies, talking points are concise blurbs that communicate the three or four key message points you wish to communicate. (Any more than that becomes confusing and increases the chance the user will venture off topic.) Because they're meant to be spoken, talking points should avoid stiff, overly formal verbiage in favor of language that sounds both clear and conversational in tone. And unlike a press release, talking points are for internal use only. They should never be brought along to or read from at a face-to-face meeting! When it comes to talking points, think Mission Impossible: memorize them, destroy them and if they're discovered, disavow any knowledge of their existence.
FAQs
Frequently Asked Questions are talking points' more outgoing, vivacious cousin. Whereas talking points are for internal use only, FAQs are meant to be shared publicly. As a result, they can be longer and as detailed as required to answer the questions at hand. FAQs are often found on websites, where clients or customers can readily access them. They're also useful in any number of situations: From where to park at an upcoming charity road race to answering important questions related to a major product safety recall, FAQs are an effective way to share information without having to repeat it over and over to multiple audiences.
Posts
Want to congratulate your HR department for receiving an internal award, or let your clients know about your new website? Social media is the perfect vehicle for sharing news that may not rise to the level of requiring a press release but you still want to share. Facebook, Twitter, LinkedIn and other social media platforms are also great vehicles when you want to spark customer/client interaction – such as encourage them to enter a contest or take an online survey.
To learn more about effective public relations strategies, contact michelle@rep-ink.com.