April 9, 2014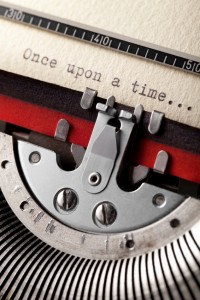 There's a common misconception that business-to-business communications have to look and sound a certain way… the opposite of good. Do you check your personality at the door upon entering your office building? Neither does your reader. Remember we're all humans (of varying degrees) and want to be approached in our native language.
To ensure sure your brand narrative isn't an unintentional bedtime story, put your best FACES forward and create a story that's:
Fresh – Companies like GE are definitely ahead of the game, especially for an organization founded more than 130 years ago. With tactics including a Pinterest board that provides inspirational quotes from its founder to a six-second science fair, GE definitely lives up to its tagline, Imagination at work. Not bad for a centenarian specializing in b2b and nerdy things like engines and algorithms.
Authentic – Being bombarded by thousands of marketing messages per day has not only destroyed our attention spans, it's helped perfect our BS meters. Be sure your story has a believable premise. And whenever possible, back it up with real stories, case studies or facts that demonstrate your words in action.
Consistent – Of course you would speak to CEOs, plant managers and various audiences in slightly different ways. But when the story you're telling is your own, it should still maintain a voice and tone that is universally true to the brand.
Engaging – Show your readers they aren't nameless, faceless followers. In order to keep them engaged, start a dialogue and encourage comments to carry the conversation along. This means posting more than company updates and vanity content via Twitter, Facebook, LinkedIn and whatever the social platform du jour may be.
Sensuous – Does what you're saying appeal to the senses? Words on a screen don't count. Vine gives you the power to tell your story in six seconds of video. That may not seem like much, but for a video done well, it's enough to tell a buzzworthy story. Whether you have video, images or nothing but words on the page, it's best to write for the ear, allowing readers to visualize your content in their minds through conversational and descriptive language. Tugging at their heartstrings doesn't hurt either, but only if it's genuine.
To learn more about crafting a compelling brand story, contact me at heather@rep-ink.com.