March 18, 2014
They say there's no such thing as bad PR. Tell that to Mike Jeffries.
Not long ago, Jeffries — the longtime CEO of Abercrombie & Fitch — was flying high on his reputation of transforming stodgy A&F into one of the hottest teen clothing brands. But then sales started to decline, and last year a 2006 interview Jeffries gave to Salon came back to haunt him when excerpts appeared in the newly published book The New Rules of Retail. In the interview, Jeffries candidly shared Abercrombie's marketing strategy of targeting attractive "cool" kids:
"We want to market to cool, good-looking people," Jeffries said. "…A lot of people don't belong, and they can't belong. Are we exclusionary? Absolutely."
The resulting outrage exploded across the media landscape, prompting Abercrombie boycotts and providing ample fodder for the late-night TV shows. The brouhaha even sparked a grass-roots campaign to transform Abercrombie into a brand associated with homeless people.
By the end of the year, Abercrombie shares had fallen nearly 30 percent from the previous year and Jeffries had narrowly survived a shareholder attempt to have him removed — all while being named the Worst CEO of the Year and landing a spot on Jim Cramer's Wall of Shame.
Were all of Jeffries' troubles due to his tone-deaf remarks? Of course not. But at a time when his company's most famous brands were struggling, the comments — and Jeffries' subsequent tepid apology — added fuel to the fire, causing Abercrombie's sales to plummet even further.
And that's a lesson more companies need to learn: While bad PR may be temporary, it can have long-lasting effects on a brand's bottom line.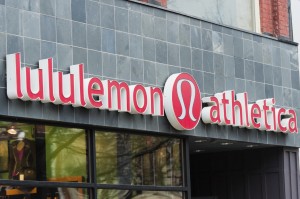 Take Lululemon. When customers of the women's athletic wear complained about pilling and see-through yoga pants, founder Chip Wilson ripped a page out of Mike Jeffries' PR playbook and said the problem was not the product, but the (large) women wearing them. By year's end, Lululemon's sales had dropped and Wilson had stepped down as chairman from the company he founded.
Not all bad PR will cost a top executive his job, of course; and in future posts, we'll discuss strategies for weathering an unexpected PR storm. But to start, companies would do well to learn the lesson that Mike Jeffries and Chip Wilson learned the hard way: When your brand is struggling and you find yourself in a deep PR hole, stop digging.
To learn more about effective public relations strategies, contact me at 904-374-5733 or michelle@rep-ink.com.