October 14, 2014

No comments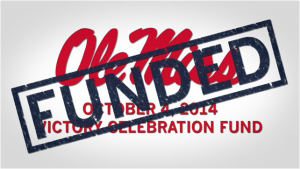 Those teams from Mississippi continue to dominate the headlines, even here on our weekly roundup. From the head coach who sported stylish footwear to homecoming t-shirts in the opposing team's color, there were plenty of hits and misses around college football in Week 7. Here's are our thoughts on the best and the worst….
THE HITS
Ole Miss fans raise money to replace goal posts and pay fine
Following the Rebels big win over Alabama in Week 6 fans stormed the field and took down both goal posts. If you read our Week 6 post, you know athletic director Ross Bjork asked those carrying the goal posts around town to save him a piece. As it turns out, the athletic department managed to snag part of the goal post, and they turned it into a fantastic fundraising opportunity.
The on-field celebration after the game cost the Rebels a $50,000 fine, and the cost to replace both goal posts was estimated at $25,000. After receiving requests from fans who wanted to contribute to cover those costs, the athletic department created an online giving platform specifically for this situation. Much like the fundraising projects you see on sites like GoFundMe and Kickstarter, the athletic department offered incentives to those who donated:
$5 – Thank you letter from athletic director Ross Bjork
$25 – An exclusive image for your computer's desktop image
$250 – Commemorative print celebrating the Oct. 4, 2014 victory over Alabama
$500 – 3″ section of goal post, split in the middle for easy mounting
$1,000 – 6″ section of goal post, split in the middle for easy mounting
Ole Miss supporters quickly raised and surpassed the $75,000 goal. As of today, the fundraising website indicates $105,597 has been raised. Ole Miss previously indicated any funds above and beyond the amount needed to pay the fine and replace the goal posts would be used for other stadium improvement projects.
Read more »

Leave a comment