March 10, 2022

No comments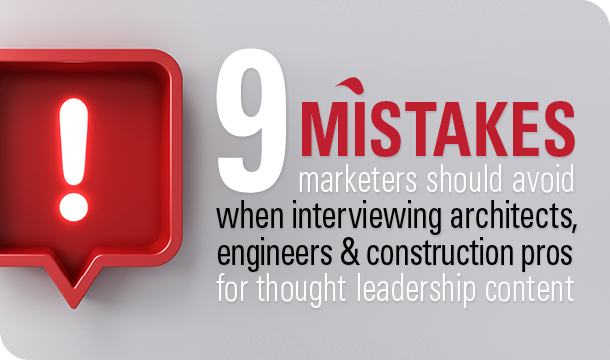 So you read our guide on improving your subject-matter-expert interviewing skills and now you think you're ready to rock your next thought leadership interview. If you follow our advice, you probably are. But even though you know what you should do, you also need to know what you should not do to get the best, juiciest, most innovative ideas and quotes from the architect, engineer or construction pro you're speaking with.
A good interviewer knows how to get their subject talking without getting in their way. But there's a lot more to being a good interviewer than just being a good listener. Do you think Oprah showed up to the vineyard to interview Meghan and Harry empty-handed?
The answer is no: the queen of interviews definitely spent hours with her team arming herself with background information and a hefty list of questions designed to pull out those jaw-dropping soundbites that plastered headlines for weeks afterward.
I can't teach you to be Oprah, but I can help you optimize your interviewing strategy by avoiding these nine mistakes.
Read more »

Leave a comment