August 5, 2022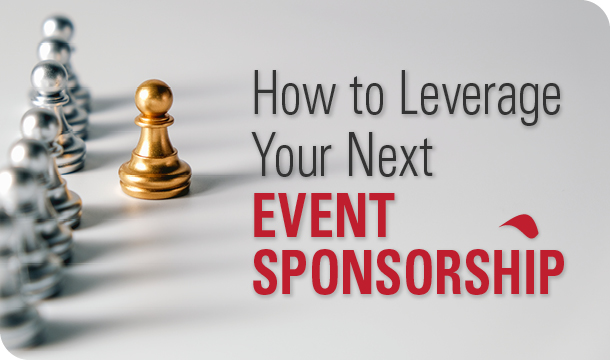 Sponsoring an event — whether an event discussion, seminar or workshop — is a great way to promote your law firm or legal tech company. By sponsoring and/or putting on an event, you not only align yourself in the marketplace with other thought leaders but you can also demonstrate your knowledge regarding a pressing pain point for potential clients. Inviting speakers and eventists is also a great way to reward clients with a marketing boost or make connections with key influencers. (Flattery will get you very far sometimes…)
Event sponsorships don't come cheap, however, and often cost thousands of dollars. There's also your time to consider in setting it up, holding the event, etc… Given these investments, it makes sense to try and get the most marketing bang for your event sponsorship buck. (You'll also reduce any objections from the firm's beancounters if you can demonstrate a strategy for achieving the best possible ROI.)
Here are some tips for before, during and after the event to make sure every penny you've invested in sponsorship counts.
Before the event
The old saying "fail to plan, plan to fail" is a cliché for a reason. You must start laying the groundwork to make the most out of your event sponsorship as soon as possible. Every moment counts. Here's what to consider:
Secure CLE credit. If your event is aimed at lawyers, such as in-house counsel, see if you can arrange for CLE credit for attendees. Attorneys are always looking for ways to satisfy their CLE requirements for the year, and it can really boost attendance if you can secure it. It's definitely something to highlight in any marketing you do for the event.

Compile an invite list. The conference, organization, etc… putting on the event will likely have a list of people to invite, but it's always best to supplement it with your own contacts. Scour your CRM for possible names. Buying a list is also an option, if you really want to spread the word. Just make sure anything you send out is compliant with anti-spam laws (most email service providers will ensure you follow the rules).

Draft a compelling invitation. In order to get butts in seats you have to convince potential participants that your event is worth the time they're spending away from billing or hacking down their ever-growing to-do list. State clearly whether CLE credits will be offered. Also lay out the value proposition for attending and emphasize how the event will address a key pain point. Make sure email invitations provide a way to add the event to an attendee's calendar. Once someone is registered, use workflows so that they are no longer sent reminders to register and only receive attendance-related communications.

Give the people what they want. To emphasize the benefit of attending you should have some kind of "gift" to give attendees. This doesn't have to be a tchotchke they'll throw away the minute they get home, either. Helpful content is always a good draw, especially if it helps your audience deal with a particularly thorny problem. A good guide or checklist can go a long way to winning their hearts — and motivating them to attend. You can even have a drawing that offers a free session with a lawyer or member of your team to assess some issue or problem as a prize for attending.

Blast it on social, in newsletters, etc… OK. You don't have to bombard audiences with posts and newsletters about the event, but you should ensure it becomes part of your content strategy leading up to the event. A rhythm of two to three posts a week should do it, with an accelerated pace as you get closer. (Just make sure you're not doubling up on posts as the All-Powerful-Algorithm may penalize reach.) Social posts could cover the event and also profiles of event members, etc…Also include information, modeled on your invite, in any appropriate newsletters. A standalone issue might also be appropriate, depending on the expectations you've set with recipients.

Sharing is caring. Anyone within your firm or company that has an active social account should share every post that comes out. Tag event speakers in your posts and encourage them to share as well, and provide them with high-quality graphics and pre-written copy for their own posts. Consider using an event-specific hashtag in order to drive reach.

Invite media and influencers. If the event will be addressing an issue of broad interest or a current trend, consider inviting key media and influencers. This would involve making sure that speakers are comfortable with having a reporter present and notifying attendees. It may result in an article or blog post after the event, but it's also a good way to build relationships with media and influencers and establish yourself as a source.
During the event
Hopefully, all that promotion has paid off and you have a packed house for the event itself. Here are some ways to make the most out of that brief time you have with attendees:
Make it rain (collateral). You have a captive audience for an hour or two. Make sure you give them something to remember you by. Ensure there's enough on-point collateral to go around. If you're wanting to be eco-friendly and save paper, have a QR code on stickers that participants can scan. Include any content offer you've developed for the event as well as additional information on your firm and what you offer. A branded thumb drive works, too.

Let people show off. Have a custom selfie station or other photo-worthy area for participants to snap a picture to share on social. (This is even better if you can ask them to pair it with the hashtag of your event and tag your firm/company in it.) Have a draw for everyone who uses the hashtag and offer a prize. An alternative is to set up a video camera and ask attendees a question related to the topic, such as "What are your thoughts on trends in ESG compliance?" or "How do you see legal technology transforming law firms in the next five years?"

Gather intelligence. Have someone responsible for taking business cards or electronic contact cards (like TapTok) from participants. You will likely already have this through registration, but someone might bring a colleague or peer who didn't sign up directly.

Mind the media. If media or influencers are attending, have someone responsible for meeting them, getting them seated and answering any questions afterwards. Remember that anything said to a reporter/influencer during the event should be considered on-the-record.

Record it for posterity. Set up a good quality video and audio recording system to record the event. That footage will be the marketing gift that keeps on giving (see below) long after people have gone home.
After the event
So, you put on a successful event that had everyone buzzing? Congrats! Don't sit down yet and pat yourself on the back. There's still work to be done to ensure you get the most for the cash you spent. Here's what you need to tackle after the chairs and tables are put away.
Capture that data. You went to a lot of effort and expense to get people in that room, don't let that be the last time you connect. Ensure all contacts from the event are entered into your CRM and tagged appropriately for marketing efforts, newsletters, etc…

Don't ghost. Be a polite host and follow-up with attendees by email a day or so after the event. Provide a link to a recording of the event discussion and any event collateral/content offers in case someone forgot to scan the QR code or pick up a thumbdrive. Include a SurveyMonkey link soliciting feedback on the event and inviting input on topics people would like to see addressed in the future

Spread the word. Create post-event social media posts with key takeaways and even clips from the event itself. (Ensure you have asked event speakers for permission to do this.) While you don't want to immediately dilute the benefit of attending by posting the full event recording, you can use snippets and maybe consider posting the entire thing six months or so down the road. That also will get you an additional bump in engagement and keep people thinking about you. Don't forget to have newsletter content about the event, too.

Always be improving. Conduct an internal post-mortem on the event and assess what went right, what could have been done better, and the ROI. Leverage your CRM system to track whether attendees became prospects and then (hopefully) clients.
Make your next event sponsorship count
There you have it: Some ideas for making sure that the money you put out to sponsor a event — and the time you spend putting it together — will boost your bottom line. It might look like a lot, but it's really just covering your basic marketing bases. Not only will you hopefully leave a good impression with potential clients and customers, you'll also be more likely to get your firm or company to open the purse strings for another sponsored event if you can prove how the last one delivered.