July 13, 2020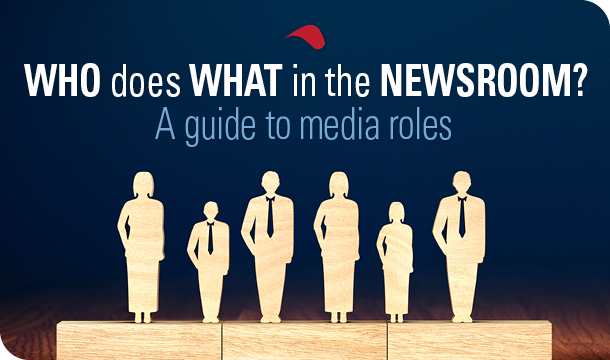 Pitching to the right person at a media outlet can make the difference between having your company make the front page or helplessly watching it slip through the cracks of someone's inbox. Even small newsrooms exchange thousands of emails every day, and a fraction of the staff is tasked with screening and collecting stories to go to broadcast, print or online.
You must stand out and connect with the gatekeepers to enjoy the benefits of media coverage.
Broadcast media
Though online media has been steadily closing in on television as the most preferred news platform over the past several years, TV news remains on top. Even still, local broadcast stations maintain a strong online presence as more people cut their cables, dominating social media feeds for local news.
Facebook recently announced it would prioritize originally reported news content over click-baity, hyper-partisan articles on news feeds, giving local news outlets even more of a boost compared to national affiliates and 24/7 news networks, which often pick up local stories to spin in a way that's favorable to their audience.
That's not to say national news shows don't hold value—the sheer number of regular viewers makes it worthwhile to pitch to CNN or Fox News. For example, the Reputation Ink team secured an opportunity for Lightfoot Law's Jack Sharman on MSNBC's The 11th hour with Brian Williams to talk about the then-ongoing Mueller investigation. The appearance not only gained him national coverage during a historical event, it highlighted his experience as a Whitewater special counsel and special counsel to the Alabama House Judiciary committee in its impeachment investigation of Governor Bentley on a national level.
News director
A broadcast newsroom is guided and governed over by the news director. They guide editorial decisions about what's covered, how it's covered and the focus of the broadcast. They're generally hard to reach on a cold-call basis and usually aren't the person you should pitch directly.
Assignment editor
The assignment editor is the gatekeeper of the newsroom. Their responsibilities include answering the phone, gathering and filtering stories, vetting sources, and assigning reporters and photographers to events and breaking news. This (often-exhausted) team member is typically the first point of contact and will likely be the first to read a press release and decide if it's worthy of being forwarded to the rest of the newsroom.

Due to the sheer volume of communication exchanged in the newsroom, calling the station (the assignment editor usually answers the phone) to bring attention to your email greatly increases your chances of being covered.
Reporter
Reporters are the storytellers of the station, but their job entails a lot more than standing in front of the camera and talking. Off screen, they aggressively chase down leads and sources, write scripts, conduct interviews and are always looking for the next story idea to pitch to their news director.
Though the news director often makes the ultimate decision of what's included in a day's coverage plan, a reporter can have great influence on the story they're assigned. A story's value to a reporter depends on its relevance to ongoing events, its exclusivity (will they be the first or only reporter to cover the story?) and its authenticity.
Smaller news stations employ multimedia journalists, essentially a one-person band who reports, films and edits their own stories. Larger news stations assign photographer-reporter teams, and often have spare photographers known as "stringers" to cover breaking news or smaller events.

An easy way to determine which beats a reporter covers is to search the related issue and news network name together. For example, searching "Criminal justice reform FOX35 Orlando," will bring up all criminal justice-related articles and videos from FOX35 Orlando on a single page, where it's easy to see who covers that specific issue.
Many stations provide email addresses on their "Contact Us" page. If the person you want to reach doesn't have their email listed, follow the format of other station email addresses. For example, News4Jax anchor Kent Justice's email address is listed as kjustice@wjxt.com, so you can safely assume reporter Zachary Lashway's email address is zlashway@wjxt.com.
Reporters use Twitter heavily to break stories and keep up with breaking news, so reaching out through a direct message is another good way to make direct contact.
Producer
Producers are in charge of writing and executing the actual show itself. They write scripts for anchors, decide what stories will be included and in what order, and communicate with reporters and photographers during the show.
While producers are typically preoccupied with writing and "stacking" their show (compiling and organizing segments), they can act as a second set of eyes for the assignment editor. A producer may see value in a press release that an assignment editor misses and choose to include that story in their coverage plan. In smaller newsrooms, it is common for a producer to also be tasked with an assignment editor's duties.
Radio and television news stations are largely organized and run in a similar fashion. Their content requirements, however, often differ. A radio reporter will rely heavily on narration, natural/ambient sound and interview audio to break down an issue, where a TV reporter leans more on visuals and video interviews to tell the story.
Daily newspapers
A daily newspaper has a similar structure to a broadcast station, but papers generally have more freedom to dive deeper into issues, unencumbered by the time constraints that force broadcast reporters to keep their stories to under two minutes, for example. Newspapers also have the ability to include niche stories in different sections (Metro, Business, Sports, Community) of the paper that would not make an evening newscast.
Unfortunately, the newspaper industry has been gutted since the onset of the Great Recession, shedding half its employees since 2008.
Beat reporter
Newspapers have beat reporters, who focus on specific issues and cover them over long periods of time, such as:
School systems

Legal proceedings and developments

Government accountability

Neighborhood issues like crime, poverty and pollution
Editors
A beat editor would be in charge of a specific section of the paper. The letters editor filters and edits commentary submissions. Lastly, the editor-in-chief is the news director of the paper.
Depending on the economic state of a paper, one reporter could cover multiple beats, and editors may double-up as reporters or assignment editors when necessary.
Special interest and community newspapers
Special interest and community newspapers come in all shapes and sizes. Some might employ a dozen or more people to run 50 pages in a magazine-style format, while others are just a few pages long, written and published by a handful of die-hards.
Generally speaking, larger news markets (think New York City or Seattle) can sustain multiple special interest papers with more people on staff. Mid-sized markets (Jacksonville, Tulsa, Spokane) might have one or two, depending on the economic and political makeup of the area.
Community and special interest papers exist to fill in the gaps left by major media outlets or cater to a specialized audience. They can sometimes skew politically and are made up of more editorial content, which is based on the opinions of authors, compared to their conventional counterparts.
Special interest papers often cover issues that conventional media outlets avoid. Issues like police brutality and marijuana decriminalization appeared in special interest papers years before major media outlets included them in their coverage schedules.
The editor-in-chief is the captain of the ship for community papers, setting the tone/style of the outfit and guiding the coverage of the publication. In smaller papers, they might fill most of the pages, while editors who have more staff on hand will assign reporters to beats and specific stories.
Trade magazines
Trade magazines are regularly published periodicals or journals that range from subject-specific journals to general interest magazines. Scholarly and trade publications are run by an editor who curates non-advertising content. Assistant editors pitch stories with staff and freelance writers and edit articles before they're published.
Trade publications, depending on size and scope, cover major developments, studies, industry advancements and prominent figures that set the pace or buck trends in a given field. While some might pertain to the same trade, they don't always focus on the same things.
Tip: The trade publication you pitch to depends on who you want to see the story.
For example, the National Law Journal is a major legal trade magazine that focuses on major cases, litigation and national legal developments. The American Law Journal, on the other hand, is more focused on the business of law firms; who law firms are hiring and what moves they are making. Law360 is an online legal trade journal covering a gamut of topics from litigation and settlements to the business of law. Above The Law, another online publication, is more focused on associate-level issues. Above The Law stays on top of issues like law firm layoffs, pay cuts and associate salaries/bonus levels.
Bottom line: Trade publications are extremely valuable for gaining credibility and business-to-business relationships within your specific field.
Business Journals
Business journals cover business-related developments and issues on a local or national level. Companies making headway in a region, major land purchases, political developments with financial implications and important businesspeople are some of the topics that fill the pages of business journals.
Local business journals like the Jacksonville Business Journal or the Atlanta Business Chronicle are not only an excellent way to keep your finger on the pulse of an area's economy, they're also an excellent source of potential business-to-business connections. Placing advertisements and landing coverage in local business journals helps foster these connections and puts your company in front of right sets of eyes.