May 11, 2015

Ole Miss Athletics is partnering with EdgeTheory, which calls itself a "conversation media company," for a new Twitter campaign centered around the message "We Are Ole Miss" using the hashtag #WAOM.
Instead of simply asking fans to use the hashtag, or creating a contest to incentivize fans to use the hashtag, Ole Miss is using EdgeTheory's Soundboard technology to push out pre-approved tweets through fans' own Twitter accounts.
How it works
"Soundboard works with a team's athletic department or marketing group to coordinate and publish pre-approved messages through the Twitter accounts of their fans," explained EdgeTheory's chief administrative officer, Darryl Pieroni. "The result is increased conversation share of the games, trends, and events that make up the buzz around their team's program. "
"When one person talks, soon two people are talking. When thousands are talking, the sky's the limit."
Who can join and how
Anyone with a Twitter account can join the #WAOM campaign for free (and, in fact, even those without a Twitter account can sign up and an account will be created for them). Fans simply go to weareolemiss.com to sign up. As you can see from the screenshot below, fans get the choice to customize the tweets that will be generated for their account. Fans can choose tweets about football, baseball, men's basketball, women's basketball or all sports. Once the choice is made, sample messages are displayed: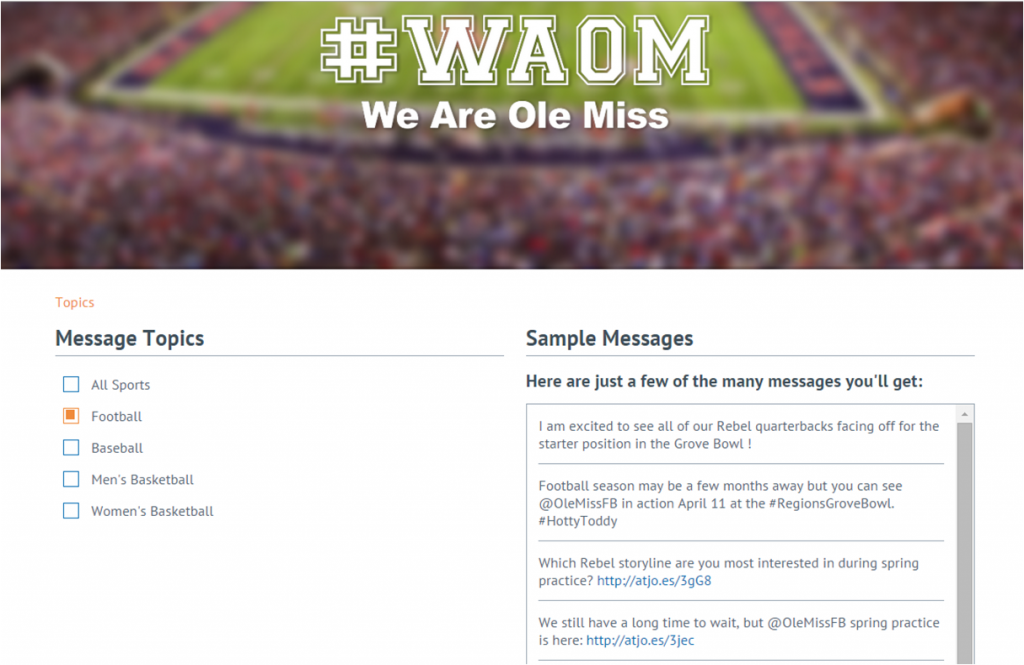 After a fan signs up, 3-4 tweets will be generated from their account per week with no further effort required. Fans don't have to worry about tweeting the exact same thing as their friends either.
Michael Thompson, senior associate athletic director for communications and marketing at Ole Miss, explained that tweets are randomized so the same tweets aren't being pushed out across accounts at the same time.
"Every week, we approve the shell of the tweets. For example, [a couple of weeks ago] we had tweets about our Star Wars promotion with the baseball team. Some of the tweets went out the day before the game and referenced 'tomorrow' while others went out the day of the game and used 'today' language."
Not every account will send out every tweet that is drafted and approved, and there are multiple variations of most tweets. This ensures duplicate messaging isn't invading Rebels' Twitter accounts.
The benefits
EdgeTheory's platform benefits both fans and the athletic department.
"There are a lot of people who have a Twitter account and really just follow people—they don't know what to tweet," said Thompson. "They don't want to tweet about their own life, because they don't feel comfortable. It's more of a service we're trying to provide those fans who want to show their support via Twitter but don't know how."
Of course, the athletic department is benefiting from the situation as well by leveraging its fans to increase conversation around Ole Miss on Twitter. Exactly how that happens is best explained with an example from their rivals—Mississippi State.
Taking over Mississippi
Ole Miss isn't the first athletic department to test EdgeTheory. In fact, they're not even the first in the State of Mississippi—rival Mississippi State began a #VirtualCowbell campaign back in the fall.
The report below is a weekly snapshot EdgeTheory sends to clients, like Mississippi State, showing how conversation around specified topics and hashtags was amplified using Soundboard. EdgeTheory says it's important to note that results are based on the narrative approved by the athletic department and the sports, events and trends where they chose to focus their efforts that week.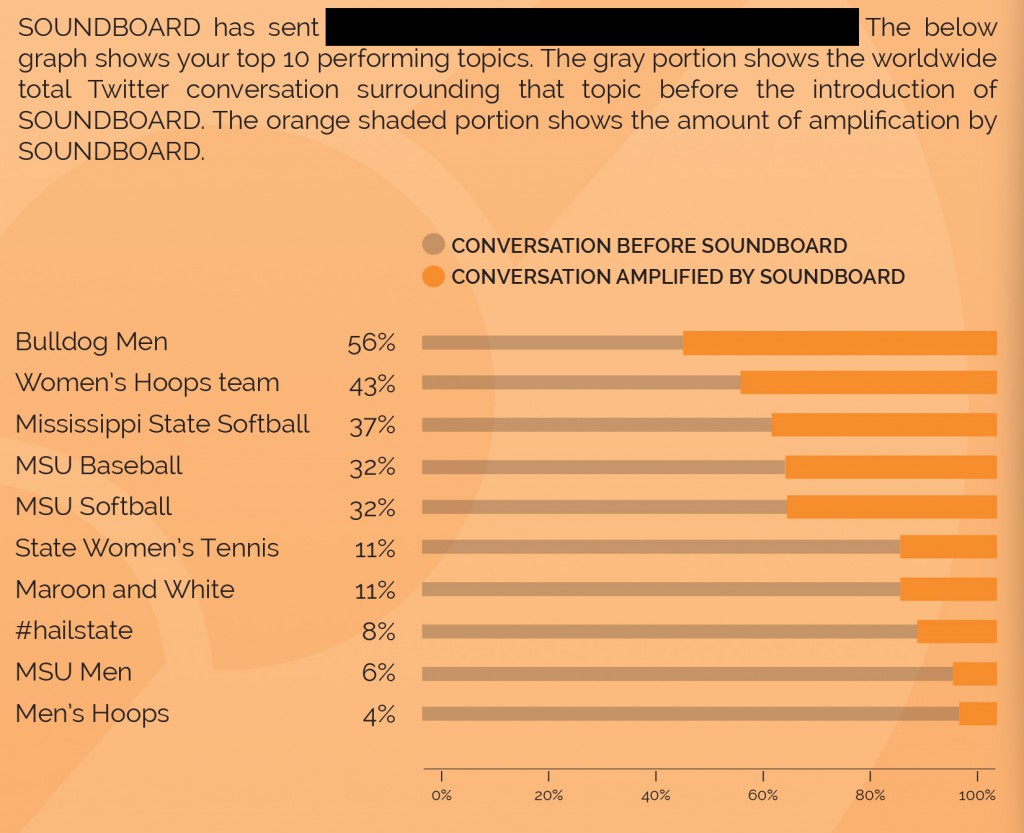 '
Reporting and analytics abound
In addition, administrators within the athletic department have access to extensive reporting and analytics. Below are some mockups (these are not real numbers) provided by EdgeTheory of some of the available analytics.
The first report gives you a high-level overview of your users: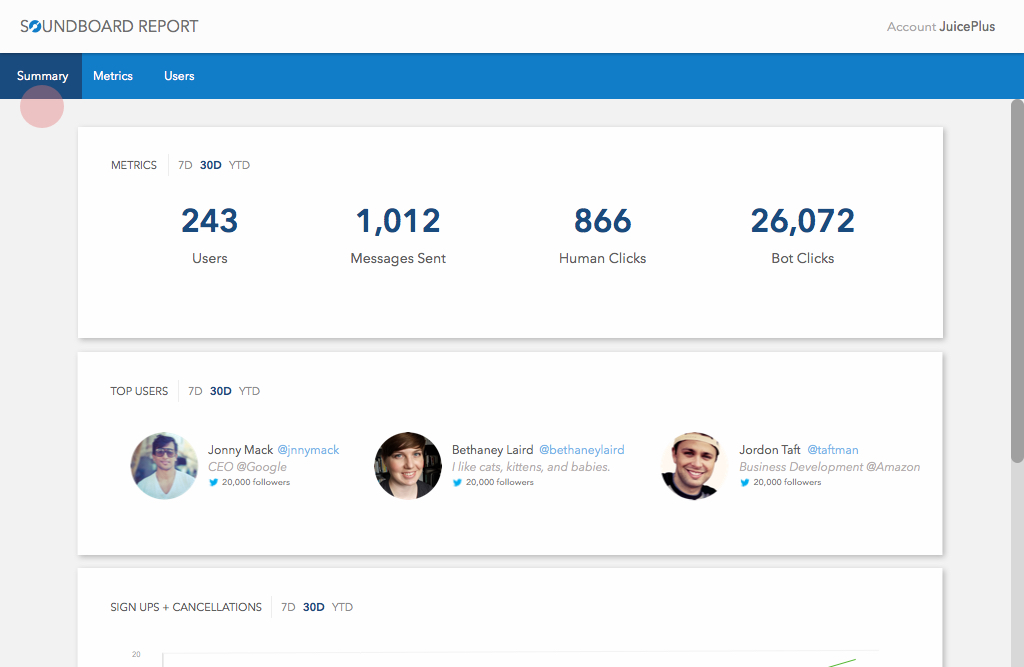 The following report shows keywords and hashtags being promoted through Soundboard and how those are performing: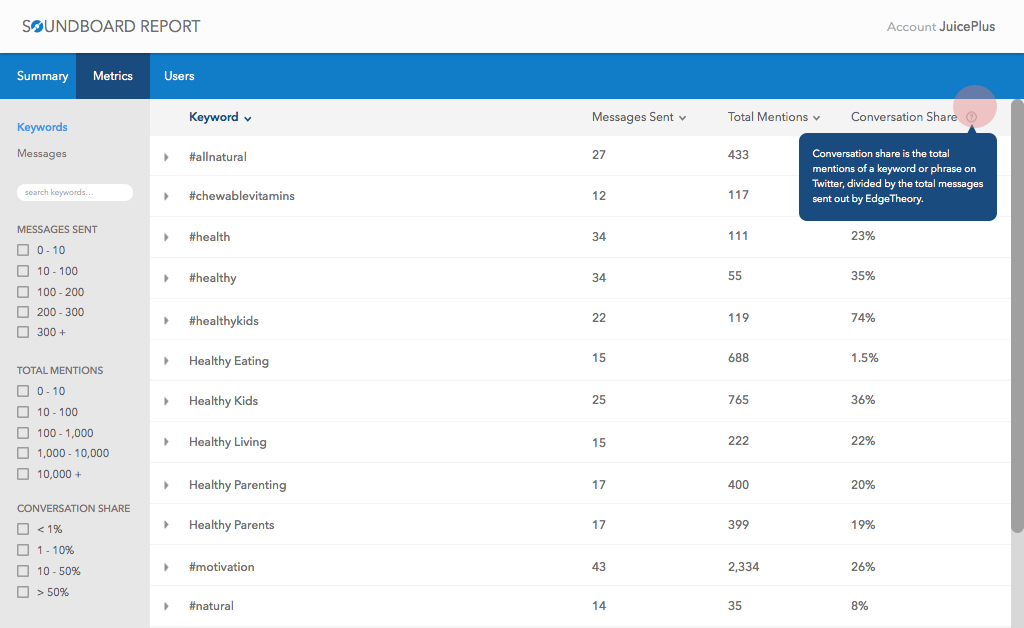 Another report tracks the tweets sent out through user accounts and how many times it has been favorited, retweeted, had a link clicked, etc.: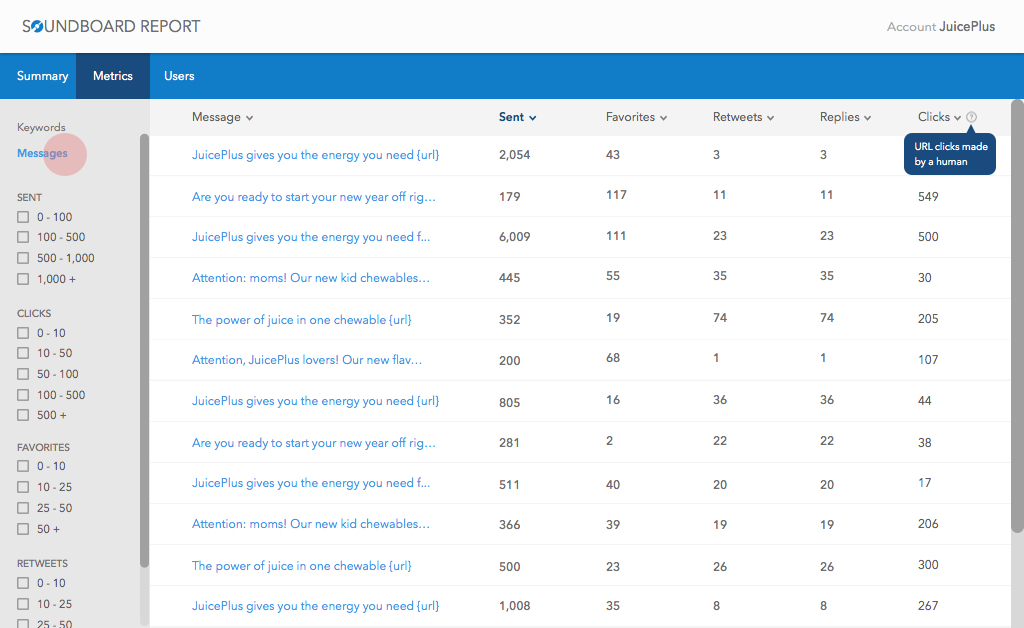 Has your department found other ways to leverage your fans on Twitter? We want to hear about it! Feel free to leave a comment below.