May 26, 2015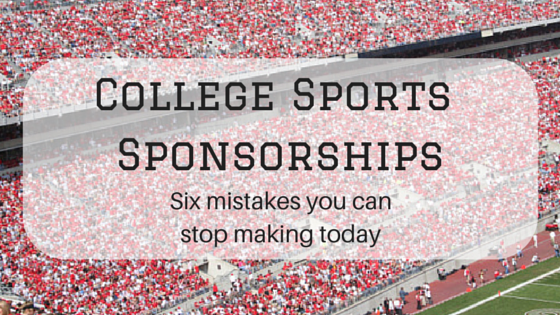 Last month, I was honored to be on a panel at the Football Bowl Association's annual convention about bowl sponsorships. As part of my research prior to the convention, I got in touch with over a dozen current and former bowl sponsors to ask them about their experiences, and I heard about the good, the bad and the downright ugly. 
These sponsors came from a range of industries and were involved with bowls scattered across the United States. But, they all had some common complaints about their sponsorship experiences. As it turns out, the folks I sat with on the panel identified many of the same issues.
Although the panel was specifically about bowl sponsorships, I'd be willing to bet these are common issues across the sports sponsorship landscape. The good news is that knowing the problem is the first step to solving it!
Here are the top six mistakes you're making when you attempt to retain or add a sponsor for your college sports property:
1. You don't know your audience
You've probably heard the adage "know your audience." But if you're selling sponsorships, you have to know not only your audience, but your potential partner's audience. How can you help your partner achieve their goals if you have no idea who they're attempting to reach through their partnership?
Let's start with your audience . . .
In preparation for my presentation at the FBA convention, I spoke with a large, multinational corporation that engages in sponsorships with the NFL, but not within intercollegiate athletics. I was curious why they favored the NFL market over the college sports market, as I thought this might be insightful for bowl executives and personnel in attendance at the FBA panel.
Boy, was it ever. This CMO told me they focused on the NFL because it has more fans, particularly more female fans and more millennials. As it turns out, the bowl game in this market failed to educate the CMO about the demographics for college sports, particularly college football, which often outranks the NFL.
Luckily, you'll never run into this issue again, because I'm here to help you. My friends over at IMG College gave me data to build several infographics you can use the next time you're trying to retain or add a sponsor.
And don't forget to invest some time in learning about your partner's audience and connecting the dots between their target market and that valuable audience you have to offer.
2. You don't know your partner's goals
You know what happens when you assume, right? Hopefully you've heard that one before too.
Don't assume you partner's main goal in sponsoring your team or bowl or stadium is to sell more product or services. Although that is the ultimate goal of virtually all marketing efforts, it's not always easy to track. That's why your partner's goal might be something more easily measured, such as website traffic or the conversation around a hashtag on social media. Heck, it might even be something more simplistic, such as making the public more aware of their new logo or a new affiliation with a related company.
Ask your potential partner about their goals before you complete a sponsorship agreement. Are their expectations reasonable or do you need to discuss that with them further? Have you tailored the sponsorship around those goals? And are you checking in throughout the partnership to ensure sufficient progress towards those goals?
Sponsorships are not one-size-fits-all. Take the time to understand your potential partner's business and offer personalized packages that make it clear you care about the success of the partnership and making progress towards the partner's goals.
3. You're not setting the sponsor up for success
In addition to not getting on the same page with your partner about goals, everyone on the panel agreed a huge problem in today's sports sponsorship landscape is a lack of activation, and a lack of meaningful activation.
First and foremost, you must educate potential partners on the cost of activating their sponsorship. Perhaps most importantly, ensure your sponsor has budget set aside beyond the rights fee to activate the sponsorship. In addition – and especially for those partners who are new to the sponsorship marketplace – you need to discuss how they plan to activate their sponsorship and provide feedback on what has and hasn't worked for past partners.
Beyond the budget, the activation must be meaningful. What does that mean exactly? The sponsorship gurus at IEG perhaps said it best:
"Getting 100,000 new followers is not the same as 100,000 qualified prospects."
In short, do you have a strategic plan directly linked to one of the partner's goals? Is there reason to believe that strategy will produce the desired results?
If you can't answer yes to both of those questions, go back to the drawing board. And yes, this is something you should be actively helping your sponsor plan. Even if they have marketing folks of their own, (hopefully) no one understands your brand and your audience better than you, so your team should be involved in the process and assisting the sponsor in planning something that's reasonable and achievable.
4. You're not focusing on digital marketing enough
Speaking of your partner's goals potentially revolving around social media and digital media, you might not be focusing on those areas enough. According to a survey by the National Sports Forum, more corporate sponsors were looking to drive traffic than make direct sales through the sponsorships. Ninety-four percent said they were planning to increase their spend on social media, and 85 percent were planning to increase spend on digital media assets such as websites, emails and webinars. No one indicated they would be decreasing their spend in either social media or digital media.
Spend some time thinking through digital assets and what you can offer to help your partner achieve its goals. This is where you can get sponsors to spend additional dollars in the current marketplace.
5. You're not checking in with your partner frequently
Gary Stokan, president and CEO of the Chick-Fil-A Peach Bowl, was the moderator for our panel at the FBA conference. When we got on the topic of checking in with your partner regularly, Stokan shared that his bowl team meets with Chick-Fil-A's team once a month. And we're not talking a quick phone call from one person in the bowl's office to one person at Chick-Fil-A.
Stokan says there are 40 or more people in these meetings. A large whiteboard in the room is used to brainstorm goals, and at the end, three goals are chosen to focus their collective efforts. Strategies are then produced for meeting each goal. A report is generated after the meeting and is circulated to both sides so everyone is on the same page.
How many of you are meeting with your partners that often? And how many of you are having that kind of meeting with your partners even semi-regularly?
That's how you keep a partner for 20-plus years.
6. You're not conducting exit interviews
When a sponsor does end their partnership, you're letting them walk away without an explanation. Does it feel good to go to someone who's just ended their relationship with you and ask what you did wrong? Of course not, but it's the most valuable feedback you can receive. You may have lost this partner, but you can be better for the next partner.
Ask exiting sponsors to sit down with you and share their thoughts. Here's some questions you should be asking:
Did we assist in setting realistic expectations before the partnership began?
Did you understand how to active your sponsorship?
Were you surprised by the monetary investment required to activate your sponsorship?
Did you feel like our team understood your business and your goals?
Did we provide sufficient metrics to measure your return on investment?
Did we check in with you often enough?
What would you have liked to see us do differently?
Now's the time to swallow your pride and invest in your future success. Who knows, maybe you can win this partner back one day by showing them you can change and make progress. And even if can't, you're making your team stronger for the next partner.
There were many more best practices that came out of this panel, and I hope to find the time to blog on this topic more. Until then, share these common pitfalls with your team and start putting the systems in place to avoid them in the future. You can start with our infographics on the college sports audience . . .