February 2, 2015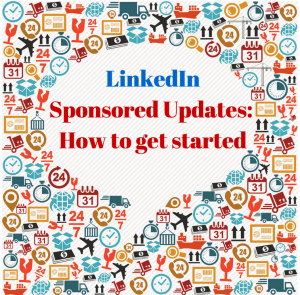 The numbers aren't out quite yet, but Super Bowl XLIX is estimated to have the highest overnight rating in Super Bowl history, with many of the millions tuning in just for the ads. It makes you wonder if that $4.5 million for 30 seconds is worth it. From a tearjerker about a lost puppy to a sobering ad about preventing child death, water coolers have surely been buzzing with Monday morning quarterbacks and ad critics alike.
On the opposite end of the sexy advertising spectrum? LinkedIn Sponsored Updates. Don't get me wrong, these updates are way less expensive and far more targeted, making them a pretty smart way to drive traffic.
According to Hubspot, LinkedIn is 277 percent more effective for lead generation than Facebook and Twitter. In comparison, a survey conducted by Genesis Media found that the overwhelming majority (nearly 90 percent!) of respondents said they were unlikely to buy something tied to a Super Bowl ad.
Getting started
If you think LinkedIn Sponsored Updates are the right strategy for you and want to get started, your first step is to create a business account. This is actually easier than it sounds—just have your payment info handy. From there, you'll name your campaign and select or create the update you'd like to sponsor. The real magic is in what happens next:
Choose your target audience
Unlike the Super Bowl spots, you can slice and dice your target audience in a variety of ways, optimizing as you go.
Groups
Location
Industry
Company
School
Skills
Gender
Age
Job title
Job function
Seniority
You can target up to 100 job titles in a single campaign. If for some reason, your job titles don't appear when you go to enter them, they are probably too specific. In this case, it's recommended that you use job function and seniority, combined with industry to reach your desired prospects.
There's also a new Audience Expansion feature in beta, where you can broaden your reach by extending it to LinkedIn members with similar attributes.
Choose how you'd like to pay for your campaign
Pay per click (PPC) — this means you only get "billed" when someone actually clicks on the Sponsored Update. This method is better for driving to a specific action, like downloading an e-book from a landing page.
If you choose the PPC method, be aware that there are a few places in the update that will be "billed" for a click, including your company name, logo, link or title within the Sponsored Update. The good news is likes, comments and shares are free (however, those aren't the desired response when driving to a specific content offer).
Pay per 1,000 impressions (PPM) — the other payment option is cost per 1,000 impressions. Bid ranges are higher, but you'll get more coverage with this option. If you're trying to build awareness, this is a better route to take.
Set your budget and timing
Set daily or campaign total budget amounts and your update will be shown as frequently as possible to get you to that number.
Choose how long to run your campaign and you're up and running.
Measure/monitor and optimize
The analytics in the campaign manager allow you to monitor everything and make adjustments along the way. See how your Sponsored Update performs by:
Total impressions
Clicks
Click-through rate (CTR)
Cost/click or impressions (CPC/CPM)
Total spent
Social actions (shares, likes, etc.)
Audience demographics by campaign
Use this information to optimize your campaign by adjusting your target, budget, timing and other variables.
Tips:
If you work for a large company (or even a small one), it's a good idea to exclude your employees from your audience to prevent an excess of expensive clicks that won't result in new leads.
When driving to specific content, the fewer clicks in your Sponsored Update, the better.
Submit your ads at least 24 hours prior to your launch, so LinkedIn has time to review and approve them.
Have any takeaways from your own LinkedIn advertising experience to share? Please comment below or hit me up at heather@rep-ink.com