January 27, 2015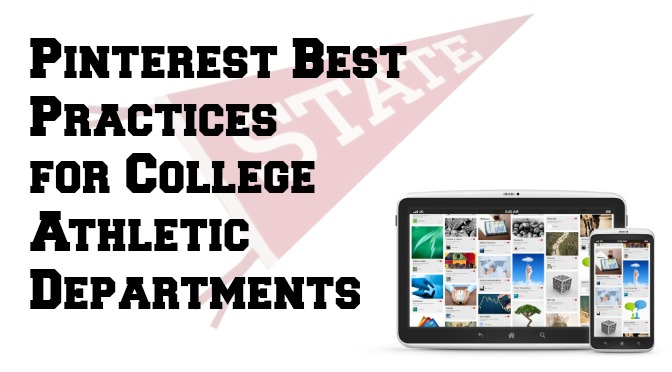 From the ability to reach younger alumni to easily engaging with women (who make 85 percent of all consumer purchases) and reaching some of the most affluent online adults, Pinterest can be a valuable marketing tool for intercollegiate athletic departments. If you're not convinced your athletic department should be on Pinterest, start with this post. If, however, you're convinced and just need some help boosting your department's Pinterest presence, then this is the post for you.
I could probably write an entire eBook on best practices for college athletic departments on Pinterest, but here are a few to get you started:
Write good descriptions
From your profile and board descriptions to the pins themselves, spend a little time thinking about what you write. Although Pinterest is primarily a visual platform, search engines do crawl and index Pinterest. You'll want to use keywords such as "Iowa State Athletics" in your profile description and in board descriptions.
For pins, take the time to write in a description versus using what Pinterest automatically pulls in from another pinner or from a website. When possible, use keywords in your descriptions as well, such as "This stylish orange and blue dress is perfect to wear to a Florida Gator football game this fall!" That kind of description gives the pin the potential to show up in searches for an orange and blue dress or a Florida dress or a Gator dress. Think about what your fans might be searching to find your content every time you draft a description.
Here's a good example from Oregon where they got in a number of keywords, such as "Oregon," "Oregon Ducks," "College Football Playoff," and "Rose Bowl":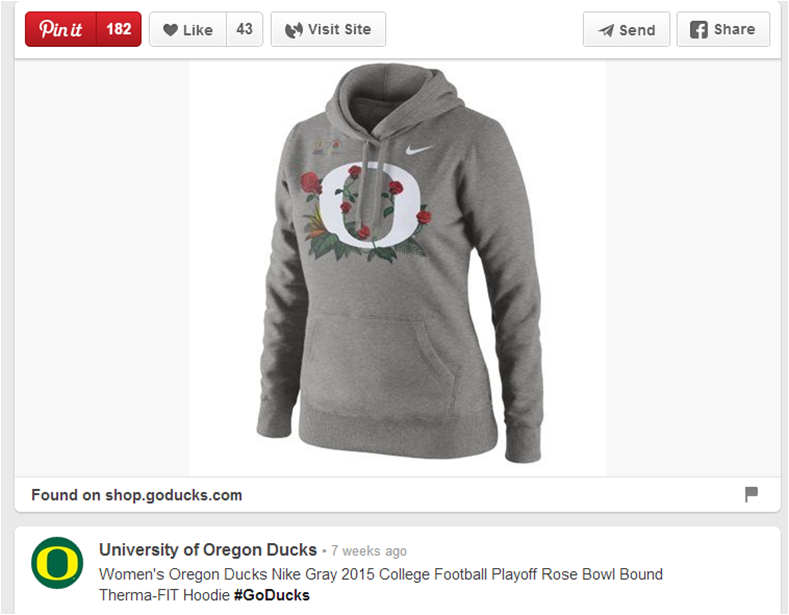 Brand your board covers
Branding your board covers gives your Pinterest profile great aesthetics and consistency. It's less overwhelming for the viewer and easier to navigate than random pictures with different styles, colors, etc. Both Iowa State and Washington have done a great job of this, as you can see from their profile pages: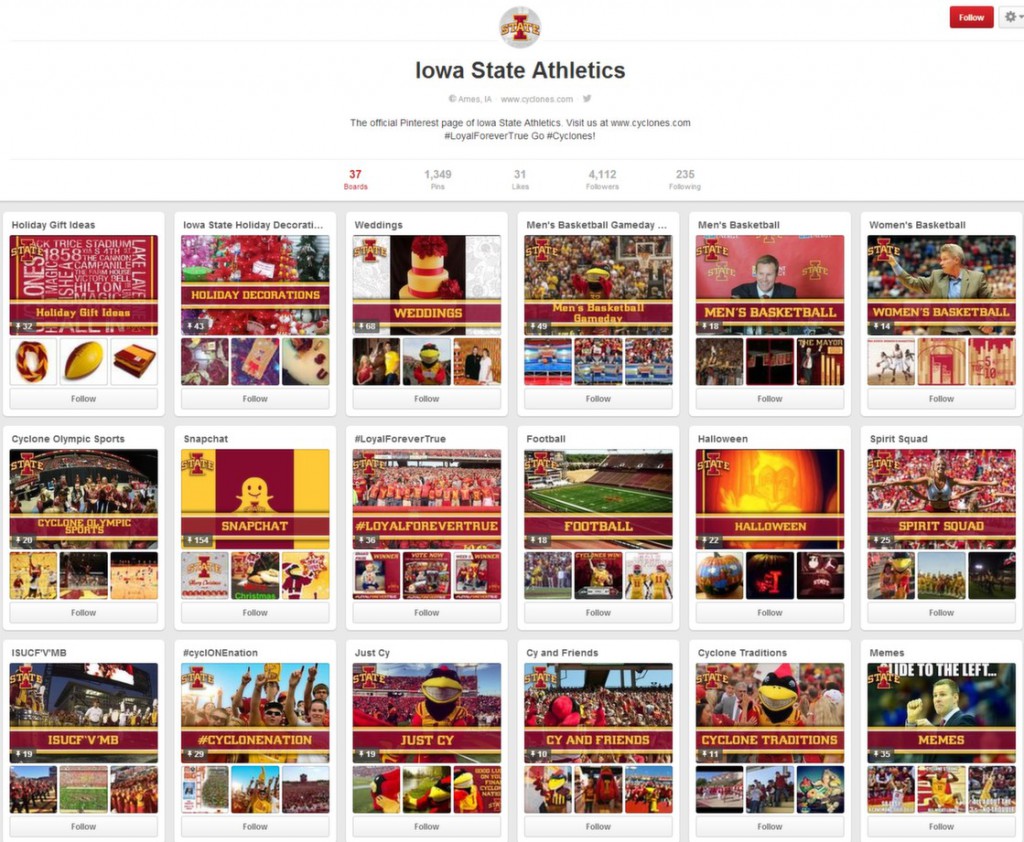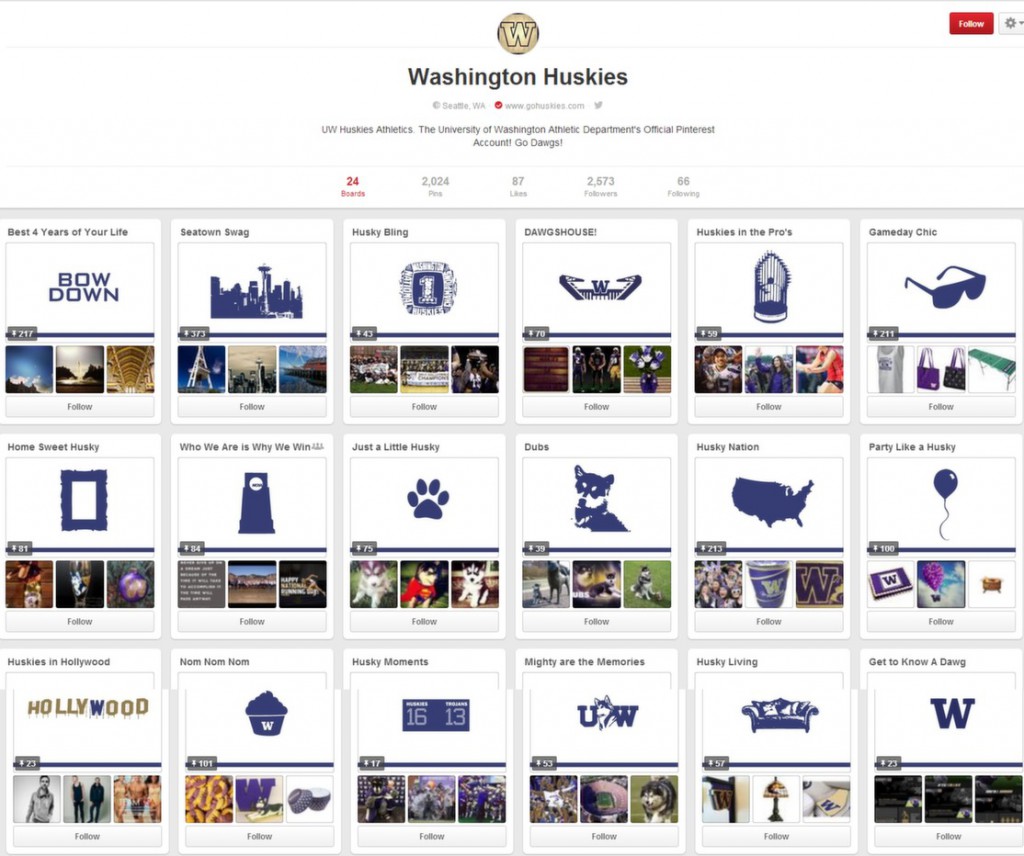 Rearrange your boards according to seasonality or special events
If you take a look at Iowa State's profile page above, you can see the first two boards relate to the holiday season. You'll want to constantly rearrange your boards to put the most relevant boards at the top. During the holiday season, maybe that's gift guides and holiday decor. If your team is playing in March Madness, then you probably want to move basketball-related boards up top and so on. One of the easiest ways to remember to do this is to build it into your editorial calendar.
Not using an editorial calendar? Here are 10 reasons you need an editorial calendar and why it's important. This editorial calendar template is my personal favorite, because it has a roadmap at the top that gives you a big picture look at the year, month-by-month. I use this with my clients to ensure I don't miss any holidays or promotions each month and it reminds me to plan in advance to optimize my impact on those important dates. Obviously you'd need to tweak this a little to make the format work for a college athletic department, but here's a look at the basic template:

I like that it also has tabs for tracking ideas and completed content. This allows coordination by multiple people from multiple departments and would make for an easier transition any time the department has employee turnover.
Check for broken links
You're browsing the most popular pins on your Pinterest page (which you can do for free through Pinterest's analytics tool), and you click on that dress from the bookstore that's garnering the most impressions…only to find it links to a 404 error page on the bookstore's website. As it turns out, that dress hasn't been sold in nearly two years.
I spoke with a social media manger in an athletic department who was having this very problem. We identified a few options: take down the pin (not a great option since it was their most popular pin), ask the bookstore to initiate a redirect on that page to a similar dress, inquire as to whether the bookstore can restock the dress, or work with the bookstore to alter the page so that it provides alternate suggestions instead of a 404 error page.
Of course, much of this is easier said than done, as I was told when I checked in with the social media manager several months later. Another alternative you can do on your own without the bookstore's cooperation? Edit the pin description to explain the dress is no longer available but that it links to an alternative suggestion.
You don't want to ignore these broken links. As I pointed out in a previous post, fifty percent of clicks are on pins that are more than 2.5 months old, and 50 percent of revenue generated from Pinterest comes from pins that are more than 3.5 months old. You might also be wondering how you find broken links.
One quick (and free) way is to click through your top pins from the analytics tool to check your most popular pins. This won't catch all of your broken links, but at least you'll be checking your most popular pins. For $49.99 a year, you can invest in software like Pin4Ever that checks all of your links for you.
Let your most popular pins guide your future strategy
Some amount of Pinterest is going to be trial and error. What works for your audience might not work for another audience. Once you find what does work, however, let that guide your strategy. I recently started working with one of my clients on their Pinterest account, which wasn't getting much traction at all. I decided to create a board where I pinned about a dozen of their most popular blog posts. It was content we already knew worked on another platform, and each blog had an image we could pin, so it was a no-brainer.
Flash forward two months and two of their most popular pins are from that board. Not only does that guide our Pinterest strategy, but it tells us what topics we might want to cover again on the blog.
Set a reminder on your calendar to check your Pinterest analytics on a regular basis so you can continue to evolve your strategy.
Hopefully these best practices give some some actionable items for your to-do list. I'll have another post soon featuring the most interesting and unique boards I found around college athletics and some of my ideas for new boards you could create!