December 2, 2014
The time has come. This marks the season finale of our college football series. We want to thank y'all so much for tuning into our roundups week after week, checking out the best of the best and, of course, the worst of the worst.
Now, let us take a moment of silence.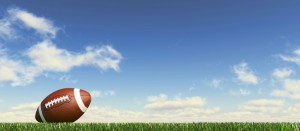 Pull yourselves together! We'll be back in January for our first-ever college basketball marketing and public relations series. So let's go out with a bang by rifling through our final hits and misses of the season.
THE HITS
Virginia Tech's Thanksgiving PSA
While last week was one of rivalries, it was also one of Thanksgiving feasts. I'm reminded of that fact every time I look down this week. Virginia Tech capitalized on turkey time with this fun video to "Save the Turkey," starring mascot HokieBird.

Ohio State students boycott the letter 'M' on campus in spirit of Michigan matchup
In spirit of their game against Michigan, Ohio State students boycotted the letter 'M' on campus by covering it up on buildings and plaques. Ohio Governor John Kasich even signed a "Scarlet Letter Saturday" resolution, urging Ohioans to refrain from using 'M' on game day. Good, clean fun. More of this, please.
….oh, and we're banning that letter again. #GoBucks! Beat ❌ichigan! #ScarletLetterSaturday pic.twitter.com/GM2bwhkEX8

— John Kasich (@JohnKasich) November 28, 2014
It must be Michigan-Ohio State week.

OSU is boycotting the letter 'M' on campus. (h/t @RogerTerry) pic.twitter.com/Pt53pUaMOH

— ESPN CollegeFootball (@ESPNCFB) November 25, 2014
Michigan QB Devin Gardner's sportsmanship to injured Ohio State QB J.T. Barrett
Again, an example of class exhibited in this year's Michigan-Ohio State game. Early in the fourth quarter, Buckeyes QB J.T. Barrett suffered a season-ending ankle break. Wonderful sportsmanship here from Michigan QB Devin Gardner, seen here comforting his fallen foe.
Sportsmanship. pic.twitter.com/2q8sw7OlsN

— Freep Sports (@freepsports) November 29, 2014
We also send our deepest condolences to the Buckeye Nation for the recent, tragic loss of OSU player Kosta Karageorge.
South Carolina and Clemson athletic departments officially name rivalry "The Palmetto Bowl"
This year, South Carolina and Clemson celebrated 112 years of squaring off. Despite its history, the rivalry has never an official name—that is, until now. Both athletic departments officially coined the matchup "The Palmetto Bowl." Beginning next year, a trophy and logo for the rivalry will carry that title.
Clemson-South Carolina game officially named The Palmetto Bowl. http://t.co/rBFdaTQWM9 pic.twitter.com/QFlINcNUIP

— Clemson Football (@ClemsonFB) November 26, 2014
Both ADs are quoted in The Island Packet, discussing the importance of giving an identity to the annual game.
"From 'Big Thursday' to 'The Palmetto Bowl,' there is so much history and tradition to showcase about this rivalry," USC athletic director Ray Tanner said. "The Palmetto Bowl gives this rivalry an identity that highlights the state of South Carolina and the accomplishments of these outstanding institutions."

"This is one of the premier games every year in college football, and it's a great opportunity for our institutions to increase exposure to the state of South Carolina and all the great people here," Clemson athletic director Dan Radakovich said. "To name this game The Palmetto Bowl hopefully adds to the identity of this great rivalry."
The Adidas Vol Scholar of the Week
The "student" in "student-athlete" often gets pushed to the backburner. That's why we're giving props to Tennessee for its weekly video series "The Adidas Vol Scholar of the Week," shining the spotlight on a player and his academic aspirations. Check out this week's Vol Scholar: Todd Kelly Jr., who is a biomedical engineering major with hopes of becoming an orthopedic surgeon.
This week's #VolScholar is @ToddKellyJr6, majoring in Biomedical Engineering, hoping to become an Orthopedic Surgeon pic.twitter.com/TzP0jABAa7

— Tennessee Football (@Vol_Football) November 30, 2014
Tennessee players honor Eric Berry with helmet stickers
Yet another win for the Vols in Week 14. A heartfelt gesture from Tennessee's players who wore special helmet stickers Saturday against Vandy to honor former standout Eric Berry. Lask week, news came to light that Berry (a current Kansas City Chiefs safety) was out of the season and is undergoing tests for possible lymphoma. #VFL stands for Vol for Life. Very nice, guys.
Addition to our helmets today for @Stuntman1429! #BerryStrong #VFL pic.twitter.com/RqUOYBTUPN

— Butch Jones (@UTCoachJones) November 29, 2014
UCF, USF athletic directors' joint statement urges responsible rivalry
Love this joint statement from University of South Florida AD Mark Harlan and University of Central Florida AD Todd Stansbury prior to Friday's game. It's no secret that things can get pretty wild when it comes to college football games. And rivalries? A whole other level. Bravo to these ADs for taking a united front and encouraging responsibility, class and respect.
Before Friday's rivalry game, Todd Stansbury and Mark Harlan have a message for Knights and Bulls fans. pic.twitter.com/w3gTrVB4sT

— UCF Knights (@UCFKnights) November 26, 2014
THE BELATED HIT
Oregon's Tinder contest "Win a Date With the Duck"
This may be one of our favorite hits of the season. Earlier this month, Oregon's mascot took to Tinder, vying for the attention of one lucky duck. If you swiped right for the Oregon Duck on the popular dating app, you were entered into a contest to win a date with the mascot to an Oregon volleyball match. This promo video (set to Def Leppard's "Pour Some Sugar on Me") is unmatched (no pun intended). "He's single. He's ready to mingle. He never wears pants…"
Creative and quirky. Perhaps Oregon is everything it's quacked up to be, after all (sorry).
THE MISSES
Georgia Tech fans hack, redirect UGA websites
Let's get one thing straight. Georgia Tech absolutely crushed rivalry week. A UGA upset at the hands of an interception in overtime? Come on. That's what dreams are made of right there. So, how did the Yellow Jackets stick themselves onto our miss list? Thank their fans' handywork on the interwebs. (At least, we think this was GT fans.)
Hackers added a calendar event for the game titled "Get Ass Kicked by GT" onto the UGA website.
Georgia Tech fans manage to hack UGA's website and change their team schedule to "get ass … https://t.co/mAZpHESdWB pic.twitter.com/WZ7UsIcFif

— [ LOL News ] (@getinsidelol) November 29, 2014
Some fans also bought the URLs WalmartAcademy.com to redirect to Georgia's official home page and UGAGrads.com to redirect to the McDonald's career site.
We get what they were trying to do here. Georgia Tech grads: smart. Georgia grads: dumb.
However, a prank loses its luster when it has the potential to hurt someone else. Pretty insulting to the employees of Walmart and McDonald's. We're not being overly sensitive here. This prank could've been much funnier (and less hurtful to others) if they would've put more thought into the website redirects and the calendar hack. "Get Ass Kicked"? Walmart and McDonald's? That's the best you got? You're smarter than that, GT.
SEC Network's Tennessee-Vanderbilt broadcast screwup
Viewers tuning into Saturday's Music City matchup weren't treated to the sweet sounds they were hoping for. Actually, they got a lot of weird silence and Dick Stockton, who was calling the Kansas-KSU game on Fox Sports 1 (ahem, an ENTIRELY different network).
Because of the broadcast blunder, fans missed the opening kickoff and the first play of the Tennessee-Vanderbilt contest.
@SECNetwork Can your network keep the feed running correctly?!? Come on man!

— Michael H. (@bigorangemichae) November 29, 2014
@SECNetwork Rough start?

— Andy Stringfield (@astring1) November 29, 2014
@SECNetwork @Vol_Football your watch espn telecast has screwed up 5 times since game start.. I'm in the navy stationed in Japan, I need it!

— Steven H (@blazin20slow) November 29, 2014
Deadspin also reports that the issues pressed on later in the broadcast when the Kentucky logo replaced game coverage for 30 seconds. Come on, y'all. You had one job.
A HIT OR A MISS?
Baylor hires PR firm to help with playoff bid
Baylor has been the center of some recent controversy due to a recent hire: a public relations firm. Last week, ESPN reported that the Bears hired Kevin Sullivan Communications to help advocate for a College Football Playoff spot.
Baylor has hired a PR firm (Kevin Sullivan Communications) to advocate its case for a playoff spot. Firm says they were hired last week

— Jake Trotter (@Jake_Trotter) December 1, 2014
Here, SB Nation's Ryan Nanni argues that Baylor does NOT need a playoff PR firm.
"You don't need this. Everyone's going to watch the Kansas State game Saturday night, and you'll almost certainly be two spots, minimum, away from a playoff spot. Whether you get it or not won't be determined by a bunch of annoyed sportswriters marking PR emails as spam," he writes.
However, David Ubben of Fox Sports Southwest reports that Kevin Sullivan says his firm was hired as an "extra resource on the media relations front" to help set up some national interviews for the athletic director.
What's your take? Is Baylor's hiring of a PR firm to help out with its playoff bid a hit or a miss? Make your call in our comments section.