November 26, 2014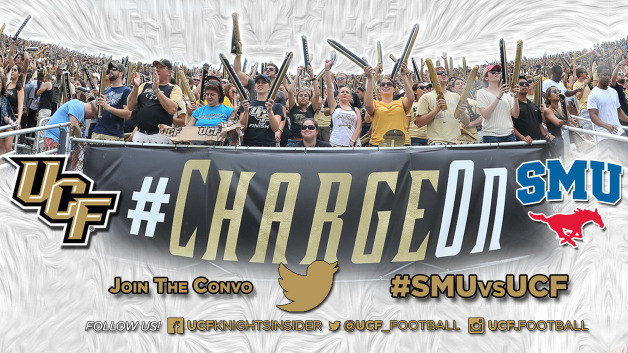 Although most of college football's rivalries meet on the field this week, several kicked things off early last week, like Lehigh and Lafayette, UNC and Duke, and South Dakota and South Dakota State. There were a few others, but those three matchups all made our roundup.
Here's what we noticed around college football during Week 13….
THE HITS
Tweetable Tidbits
Last week we showed you a great game day page from Auburn, and this week we have another gameday-related page for you: UCF's "Ten Tweetable Tidbits." Not only does this page give fans fun facts, it allows them to easily tweet those facts and incorporate the hashtag for that week's game:

What a great way to make it easy for fans to tweet about your program or an upcoming game! You could also use this in conjunction with other content to encourage sharing on social media, and the inclusion of the hashtag makes it easy to track effectiveness.
Want to add these Twitter buttons to your site? Twitter provides a free resource here.
It's beginning to look a lot like Christmas
Another page we heard about is the Sooner Gift Guide: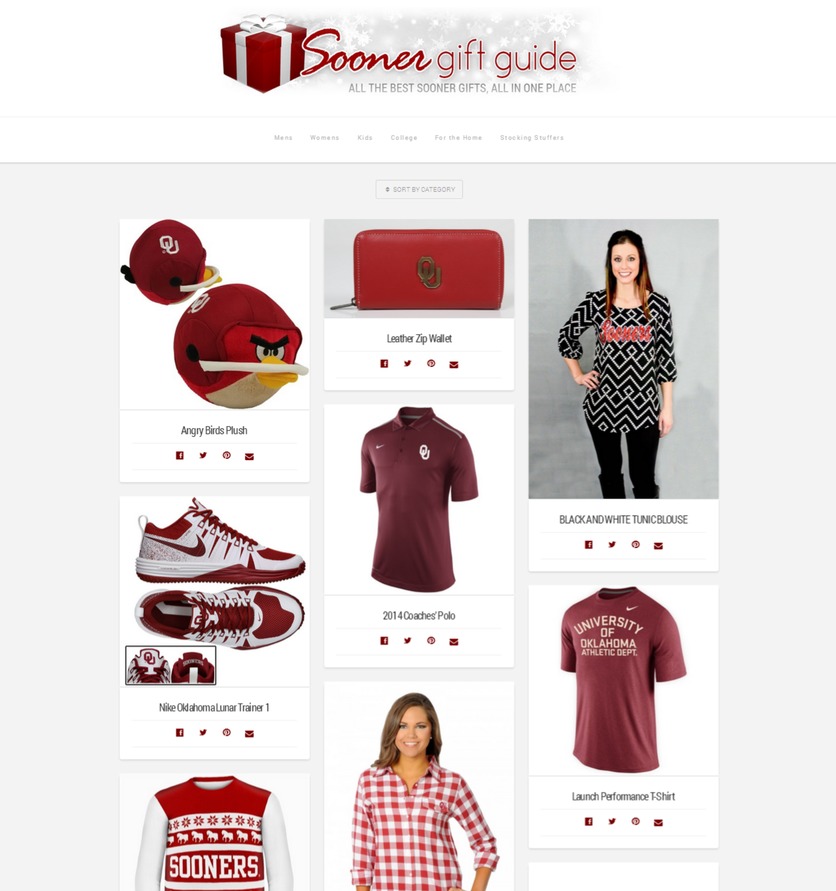 Last year, the Sooners also used Pinterest to promote gift items, creating a dedicated Sooner Gift Guide board. We explained in a recent post how Pinterest can help you boost sales of items like this.
Duke engages fans on website
Duke ran an interesting promotion for last Thursday night's game against in-state rival UNC. On Duke's football website, fans were offered discounted tickets, but it required a little work: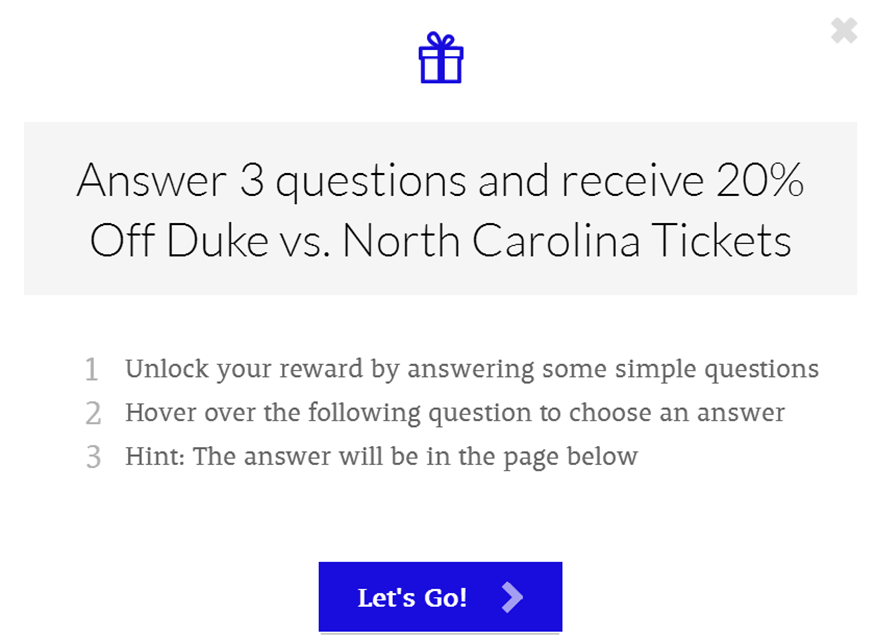 If you decided to participate in the promotion, you were directed to the first question, which required some interaction with Duke's football page: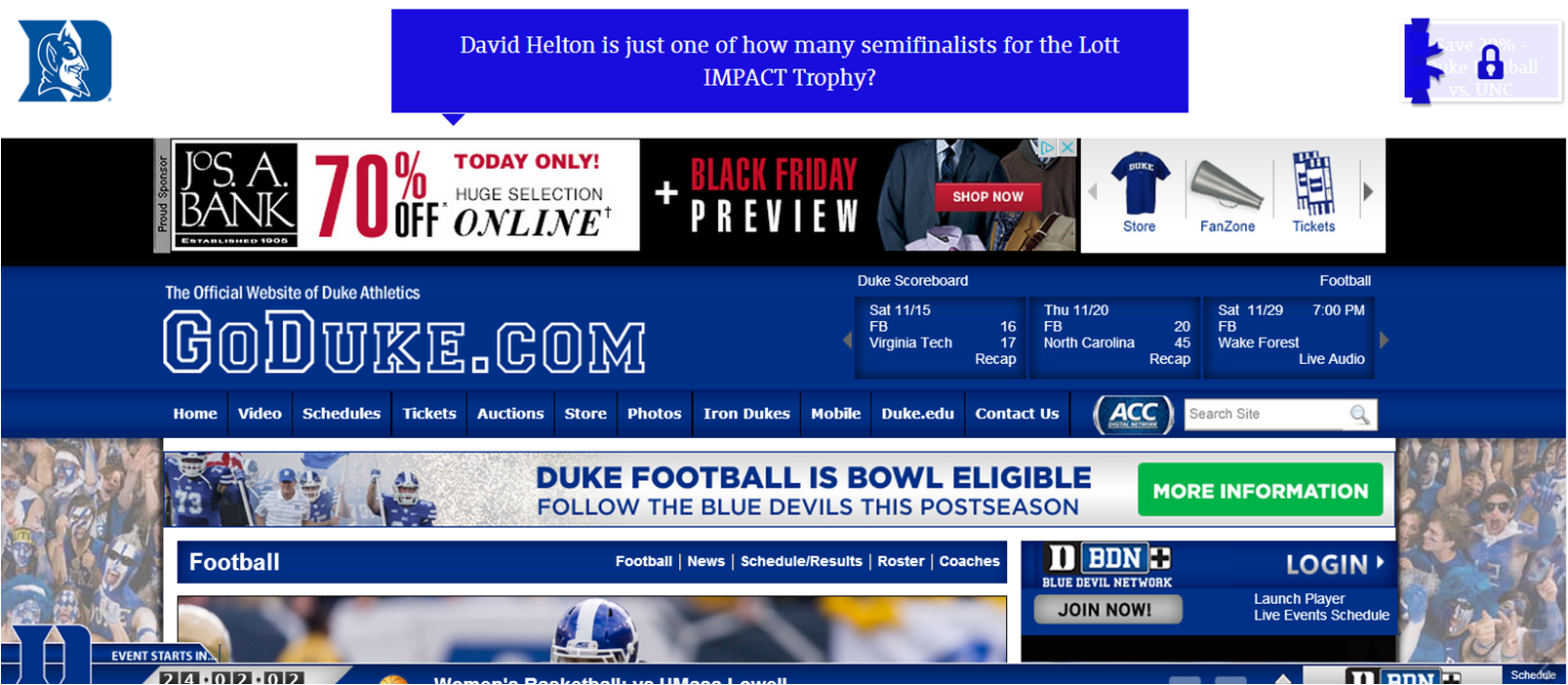 We think this contest is great for a few reasons. In addition to encouraging fans to interact with your website and learn more about the program, fans are also required to enter their email addresses to receive the discount. Good way to build that email list for future communications.
The Long Orange Line
I'm a sucker for a good video, especially one for Military Appreciation Day. This one from Clemson played during halftime ceremonies is great:
The Coaching Nun
The College of St. Scholastica, a DIII football school, recently celebrated its fourth consecutive conference title. Celebrating among the other coaches was a 5'2″ nun — the team's coach for kickers and punters. The New York Times has a great story about Sister Lisa Maurer and the positive impact she's having on the football team. I can think of a few student athletes around college football who could use a good influence like Sister Maurer, how about you?
Ohio State student athletes befriend young fan
Speaking of good influences, Ohio State has one of its very own: linebacker Joshua Perry.
After Indiana game, @RIP_JEP had @BeBrave_Joshua & fam over for dinner last night. Class act https://t.co/fAXrTTrRri pic.twitter.com/iAuhMWTDcT

— Patrick Maks (@maksimuspatrick) November 24, 2014
Perry and his teammates have been providing support and encouragement to a young fan with leukemia, Joshua Chambers. I dare you to not cry while watching the video messages Ohio State football student athletes sent the young fan….
The Rivalry
For many college football programs, this week is rivalry week, but college football's most-played rivalry had its 150th installment at Yankee Stadium last weekend. Located less than 20 miles apart, Lehigh and Lafayette have played one another every year since 1896. Neither of the teams average more than 20,000 fans per game at home, so the initial plan was to close off Yankee Stadium's upper level and limit capacity to 27,000. However, when the tickets went on sale one year in advance, they quickly sold out.
In fact, by the time the game was played on Saturday, the entire stadium was sold out to an announced crowd of 48,256.
A fan tells us the experience was about more than just the game. Lehigh University Choral Arts performed at Carnegie Hall the Friday evening preceding the game. A Rivalry Eve soiree at Terminal 5 featured a concert by Earth, Wind & Fire. Even the Empire State Building displayed Lehigh and Lafayette colors.
Love seeing the @EmpireStateBldg lit in both Lehigh & @LafCol colors for #Rivalry150! pic.twitter.com/j5jmb6pnIH

— Lehigh University (@LehighU) November 22, 2014
Lehigh had a great website detailing all of the events available for alumni to partake in, including nearby swimming and wrestling meets that sold out.
MISSES
Big Ten jumps the gun
The Big Ten jumped the gun after Wisconsin's victory on Saturday, declaring the Badgers were moving on to the Big Ten Football Championship Game:
Oops. RT @B1Gfootball: With today's victory the #Badgers secured a berth in the #B1GFCG. Reserve your tickets now: http://t.co/EJ2t2jnQmj

— Stewart Mandel (@slmandel) November 23, 2014
They quickly deleted the mistaken tweet and better explained the situation:
We apologize for previous tweet – @BadgerFootball earned at least a share of West Division title, but #B1GFCG berth still up for grabs.

— Big Ten Football (@B1Gfootball) November 23, 2014
.@BadgerFootball can claim #B1GFCG berth & outright division title with a win over #Gophers next Saturday.

— Big Ten Football (@B1Gfootball) November 23, 2014
Painting the town blue
We're all for some good-natured fun surrounding college football rivalries, but UNC's celebration at Duke last Thursday night took things a little too far. After painting the Victory Bell with UNC's trademark Carolina blue, players wheeled the bell across Duke's practice field, spreading the paint. The celebration continued into the locker room, where interior and exterior walls were painted, along with carpet.
Both UNC's head coach and athletic director extended apologies to Duke, and UNC will pay to repair the damage.
HIT OR MISS?
Sometimes we just can't decide. We want to hear from you: is this a hit or a miss?
World's Largest Pillow Fight
Here's a trivia question for you: where was the world's largest pillow fight held?
Brookings, South Dakota — at a college football game.
Last weekend, over 4,500 fans at the South Dakota vs. South Dakota State game broke the record (4,200) for the world's largest pillow fight. On the one hand, the pillow fight was good partnership activation with Super 8, which was founded nearby and made the event part of its 40th anniversary celebration. The event was even hosted by former *NSYNC band member Joey Fatone, which garnered some great press for the event.
On the other hand, we're not really sure what it had to do with football.
Was it a hit or a miss? Let us know what you think in the comments!