November 18, 2014
Our days in football stadiums are cooling off (literally) while the spotlight on the basketball court heats up. But we haven't had to scrounge for scraps just yet. Once again, we're happy to see the hits outweighing the misses and we're expecting big things on the horizon from these college bowl games.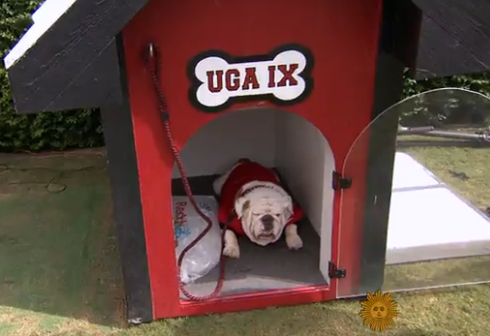 For now, let's take a look at what Week 12 had to offer.
THE HITS
Auburn's Fan Primer  
On game day, there's a ton to keep up with. Auburn is making game days easier for its fans with these awesome game day primers. On its website, you can find everything you need to know about the game—and we mean everything. On. One. Page. This includes:
Broadcast info

Links to social channels

Weather forecast

Seating chart

Campus map for location of game

City map for location of game

Parking on campus of game

Timeline of events leading up to game time

Ticket office location

Campus shuttle info

Tailgating info

Post-game traffic info

Stadium rules
Here's a small screenshot of the page: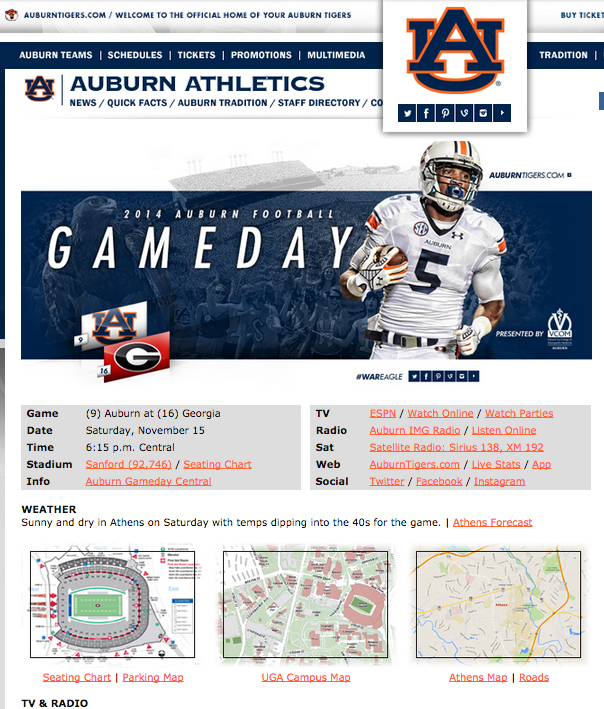 We love this. It's everything fans need to know, presented in an easy, accessible fashion. Bravo.
Chick-fil-A gets love (and headlines) thanks to Northwestern football players
The Northwestern Wildcats were all smiles Saturday night for two reasons. One, they upset Notre Dame in overtime. And two, they got Chick-fil-A as the post-game meal. In the video below, the players are clearly amped for some of the South's best grub with many of them exclaiming "And we get Chick-fil-A?!" as they pass by the bags on the table. "This is the best day ever!"
There were more headlines about Northwestern loving Chick-fil-A than there were about the team upsetting the Fighting Irish. The above YouTube video has more than 200,000 views. Big boost for the waffle fries guys. The only problem? We were all craving it on Sunday—the day Chick-fil-A is closed.
If they're this excited for post-victory @ChickfilA, imagine how pumped teams will be to play in the @CFAPeachBowl. https://t.co/a6G0Oo9YQm

— #CFAPeachBowl (@CFAPeachBowl) November 17, 2014
"Interstellar" trailer plays in seven college football stadiums
We swear Matthew McConaughey hasn't struck a deal with us. Sure, he made our Week 6 hits for his visit to Texas, but this time it's his film that's making a big play in the CFB world. Over the past few weeks, Paramount promoted "Interstellar" on the stadium boards of seven IMG partner schools during games: Cal, Mississippi, Oregon, Rutgers, South Carolina, UCLA and Washington.
Matthew McConaughey & Anne Hathaway star in #INTERSTELLAR. Get tix to see it in theaters now http://t.co/Kih0Bqubsjhttps://t.co/aPllTfFtY7

— Interstellar (@Interstellar) November 7, 2014
Washington just showed a commercial for Interstellar on their video board. Didn't know that was a thing.

— Gameday Roughface (@groughface) October 26, 2014
From an IMG College release:
"Whether it's a big studio, big budget, A-list actor Hollywood blockbuster, or a smaller independent  film, Hollywood is discovering how one-stop college marketing can contribute to a successful opening weekend," said Matt Sganga, VP of US Business Development for IMG.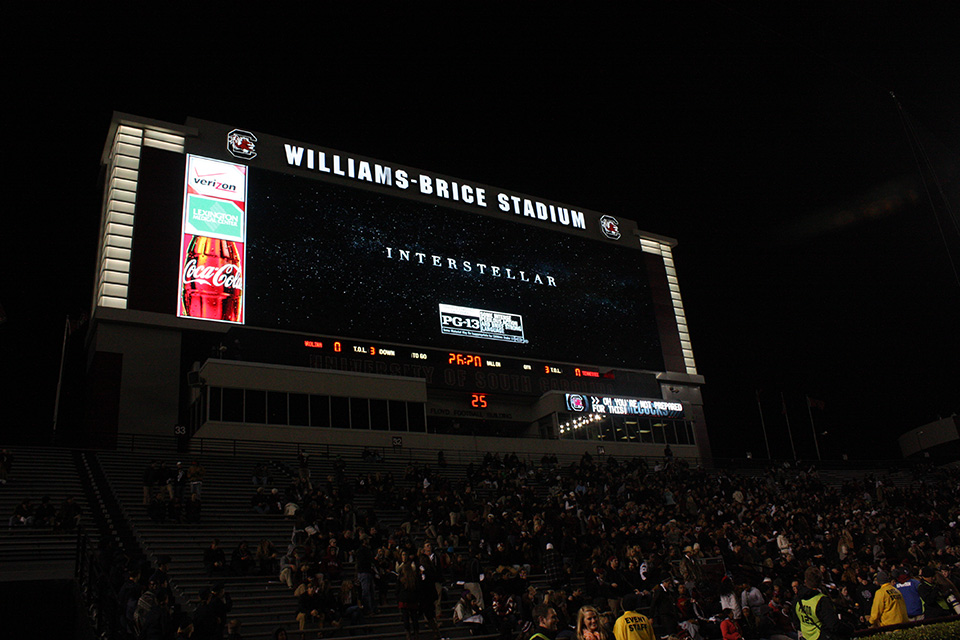 Kevin Hart calls out FSU's Jameis Winston
.@KevinHart4real came by the football facilities today and hung out w/ the #Noles! pic.twitter.com/tvG2jixrGZ

— FSU Football (@FSUFootball) November 16, 2014
The Noles are in the news again. #BlameJameis. Florida State was one of Kevin Hart's college tour stops and he made sure to pay a visit to the National Champs during his stay. In his typical no-filter fashion, Hart said something to QB Jameis Winston that we've all been wanting to: "Stop doing dumb sh**." Hart also peppered in a crab legs joke (in reference to Winston's infamous Publix-crab-leg-stealing incident).
Don't get it twisted. This isn't a hit because Kristi and I are Gators. This is a hit because Kevin Hart put FSU back in the headlines by giving its golden boy a hard time and the rest of us (including his teammates) plenty of laughs.
Florida coach Will Muschamp steps down after OT loss to South Carolina
Like I said, Kristi and I are Gators. While we've had a fantastic time with this college football roundup, watching our team has been less than fun. It's no secret this season has been a tough one for UF fans. With a fan base accustomed to championships and Tim Tebow, a head coach with a 27-20 record isn't something that's going to fly. All this season, those of the Gator Nation have voiced their wishes for firing Muschamp and in Week 12 it didn't fall on deaf ears. Following its overtime loss to South Carolina, Florida announced this season would be Muschamp's last.
Will Muschamp steps down as Florida Gators football head coach.http://t.co/HeuW8lbxKB pic.twitter.com/0dXpHMqvTh

— FOX Sports Florida (@FOXSportsFL) November 16, 2014
We're naming this a hit not because we don't like Muschamp (he's a nice guy who just couldn't get Florida the wins it needed), but because UF showed the world it's taking action. Instead of letting speculation (and tempers) boil over another week, they've started to be more transparent by showing fans that the administration is making a change. Though Muschamp will finish out the regular season, Florida's announcement bodes well for its image letting fans know they're moving swiftly to select a new coach by Christmas.
Dog mascots steal the spotlight
Here at Reputation Ink, we've got a serious soft spot for dogs. I mean, VP Heather Kingry's pup Boomer keeps us all company throughout the workday. This week was a huge PR week for some of college football's favorite dogs. Check out this awesome video feature from CBS on Uga, the University of Georgia's mascot.
Smokey, from the University of Tennessee, got some extra media attention in Week 12, too.
And when it got extra chilly, he slipped on Davy's cap. Lord have mercy, Smokey is killin' it. pic.twitter.com/KkovDywdPR

— NewMarketMauler (@NewMarketMauler) November 16, 2014
If you're a dog lover, this picture of UT's Smokey will melt your heart. http://t.co/Y7G243FKrb pic.twitter.com/WTO83Cx6vm

— College Sports Only (@OfficialCSO) November 16, 2014
THE MISSES
Newspaper mixes up Ole Miss and Mississippi State
Print faux pas are no stranger to our miss list. In Week 10, it was a photo from the Opelika-Auburn News that was shame-worthy, showing Ole Miss WR Laquon Treadwell's gruesome injury. The Rebels are involved in this one, too—again through no fault of their own. A New York newspaper (we've been trying to track down which one, but have had no luck—so good for them) confused the Mississippi State Bulldogs for the Ole Miss Rebels in this headline:
Alabama beats the Mississippi State Rebels is a real newspaper story in New York. I can't. pic.twitter.com/aXTKnbTIQR

— Brandi Ratliff (@SouthrnGrlRebel) November 16, 2014
Listen, I get it. I was a sports reporter and understand these article come with rushed, tight deadlines. There are going to be corrections sometime. However, this mix up was a mistake too obvious to have passed through to print. The Rebels weren't even playing this weekend—they had a bye.
Texas' uniform debate
Tradition is what makes college football so great. But it's tradition that's also serving as a source for a ridiculous, ongoing debate among Longhorns fans. This weekend, the University of Texas sported new helmets with a metallic Longhorns decal.
Behind the scenes shot of our student managers prepping the helmets with the new decals. #HookEm pic.twitter.com/qHb0TfnNtT

— UTexas Equipment (@UTexasEquipment) November 16, 2014
Just a simple, minescule change. Just addin' some shine. However, some fans were not happy and thought the change signified a threat to Texas' tradition. Burnt Orange Nation's Wescott Eberts wrote, "It's an odd fear given that no one on the administration has ever publicly discussed serious changes to the uniforms."
Eberts later reported that Texas won't keep the metallic decals. It's upsetting that Texas can't make a small change without it causing panic. Eberts made a slew of solid points about vamping up uniforms, namely that it's huge for recruiting.
Some fans need to lighten up. It clearly didn't affect the scoreboard.