November 12, 2014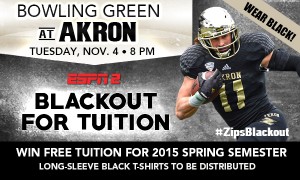 A week with more hits than misses around college football – we love that!
HITS
Free tuition for four students at Akron
Let's face it, Tuesday night games are a tough sell for fans, and the last thing a school wants are shots of its empty stadium on national television. However, Akron came up with a great promotion to attract more students to its Tuesday night game against Bowling Green in Week 11: free tuition for four students.
Students had to arrive prior to kickoff and stay through three quarters to be eligible. Despite cold and wet weather, the promotion was credited with attracting nearly 4,000 students to the game, who boosted the overall crowd to 10,348. Average attendance for the first four Zips home games was just 9,775, making the Bowling Green game the high-water mark for attendance this season.
Three of the winners were chosen by random draw, while a fourth student was chosen based
on using the hashtag #ZipsBlackout the most during a defined period of time prior to the game.
#KnowtheHose
Do you know the Hose? It wouldn't be surprising if your answer was no. Presbyterian College is a private liberal arts college in the small town of Clinton, South Carolina with just over 1,100 students. To be honest, I only knew of its existence because I drove past it on my way from my hometown of Atlanta to Columbia, South Carolina when I moved there for a year after college and before law school.
That's why I loved it when Presbyterian College's athletics account started tweeting at national outlets and sports reporters last week ahead of their game against Ole Miss:
@SportsBizMiss Ole Miss meets @BlueHoseSports Saturday. Never heard of us? #KnowTheHose: http://t.co/H5j1XxucaW pic.twitter.com/cHDh0IpC4c

— PC Athletics (@BlueHoseSports) November 7, 2014
Although that tweet was directed at me, I first noticed the campaign when Sirius/XM's College Sports Nation account retweeted an identical tweet directed at them by @BlueHoseSports.
What a great way to capitalize on the opportunity to play on a national stage! Not only did they actively engage with reporters, they linked to a page where we could learn more about the program. I know it grabbed my attention, and I clicked over to learn more.
I asked Simon Whitaker, Presbyterian's associate director of athletics for sports information and game operations, about the campaign's success. Compared to the first week of November last year, GoBlueHose.com saw nearly 100 percent more sessions last week from 154 percent more users. Over 75 percent of visits were from new visitors. The college's main website also experienced an increase in traffic by approximately 140 percent.
Student section for College Football Playoff
There's nothing quite like sitting in the student section at a college football game. Although I'm too old for those shenanigans now, it was exactly where I wanted to be as a student. And now, Taco Bell is teaming with the College Football Playoff to introduce a student section at the three games that will make up the first College Football Playoff this year.
Five hundred tickets will be available for each school, for each game, and Taco Bell will work with the athletic department to figure out distribution of the tickets. An additional 10 tickets per school, per game will be reserved for the "rowdiest" students. Fans can find details on how to win those tickets on LivMasStudentSection.com. If selected, the fan will receive a ticket to the semifinal game for their school and also for the national championship if their team moves on to the title game.
Great sponsorship activation that ties in both with Taco Bell's "Liv Mas" campaign and the spirit of college football!
Worth the timeouts
Austin Peay lost four timeouts against Tennessee State last week over its military-inspired uniforms, which included the names of units at nearby Fort Campbell as part of the Governors' Veteran's Day salute. The issue? The NCAA's rule that nothing other than last names can appear on the nameplate on the back of a jersey.
Did we mention that the rule doesn't apply to military academies, which are free to use words like "Honor" and "Integrity" on nameplates? We agree with Austin Peay head coach Kirby Cannon on his decision to go forgo the timeouts and wear the uniforms any way as a tribute to the armed forces.
This marks at least the third time this season issues have arisen over team plans for the nameplate on the back of football jerseys, with previous issues at USF and Vanderbilt. Maybe the NCAA will reconsider given the stand Austin Peay has taken.
Lil Jon visits the Vols
The Vols transformation of Lil Jon's hit song "Turn Down for What" to "Third Down for What" was the initial inspiration for this weekly blog, so it's only fitting that we now share with you Lil Jon's official visit to Tennessee during their Week 11 bye:
Thank you to @LilJon for stopping by & spending sometime with #Team118! #3rdDownforWhat pic.twitter.com/V1OkUoGSv4

— Butch Jones (@UTCoachJones) November 9, 2014
Word!!! pic.twitter.com/IEquIgvGPZ

— Tommy Thigpen (@UTCoachThig) November 9, 2014
Lil Jon posted images from his visit multiple times on his Instagram and Twitter accounts, which was certainly some good exposure for Tennessee.
Rough Riders uniforms
— Oklahoma Football (@OU_Football) November 5, 2014
— Oklahoma Football (@OU_Football) November 5, 2014
— Oklahoma Football (@OU_Football) November 5, 2014
See what they did there? Creative way to unveil the new alternate uniform! The Sooners also created a microsite to explain the history and significance of the "Rough Riders"-inspired uniform.
MISSES
Kansas fans tear down goalposts
Earlier this season, we twice (here and here) applauded stories related to Ole Miss fans bringing down the goalposts after beating Alabama, but it's a little different when you beat a 2-7 team. Nonetheless, Kansas fans brought down the goalposts after the Jayhawks scored their first conference win of the season against 2-7 Iowa State.
And gone #kufball pic.twitter.com/6khUsIkggr

— Josh Klingler (@joshklingler) November 8, 2014
Kansas fans also brought down the goalposts last season after their only Big 12 win. As SB Nation writer Rodger Sherman advises, "Have fun, guys, but don't tear down the goalposts every time you win — they cost money!" Reportedly, it'll cost $3,000 – 4,000 to replace the one goalpost brought down last weekend.
HIT OR MISS?
We need your help with this one – is it a hit or miss?
Leon Orr dismissed from team
Florida defensive tackle Leon Orr gave head coach Will Muschamp an ultimatum last Saturday: start me, or I'm leaving. Muschamp let Orr know he wouldn't be starting and that if he left, he would no longer be on the Gator football team. Just before the game began, social media was abuzz with the news that Orr had boarded a bus back to Gainesville and was no longer on the team.
Florida promptly put out a press release before the game explaining the decision, and Muschamp addressed the situation head-on during his post-game press conference. We think it's a great example of an athletic department being proactive and not reactive. If the Gators had simply refused or failed to comment before or after the game, speculation would have run amuck, especially considering the tweets Orr published during his bus ride home. Unfortunately, once misinformation is out there, it's tough to get corrections and reel it in.
Don't believe us? Check out all of the uncorrected content that still exists regarding a member of FSU's board of trustees who said in 2012 that the ACC held back third-tier rights for men's basketball and not football, accusing the conference of having a basketball bias. One hundred percent untrue (the ACC included all third tier rights for football and men's basketball in its latest ESPN deal), but uncorrected in multiple places around the web you could easily stumble upon and believe to be true.
Not everyone agrees with us on the situation between Florida and Orr. Some commentators wondered if it was really necessary that Florida air its dirty laundry with Orr. We want to know what you think! Leave us a comment below.