November 4, 2014
Nebraska is kickin' butt and takin' names—both in the West and in our weekly roundup. The Huskers chalked up three hits with us this week, joined by wins that warmed our hearts and cracked us up.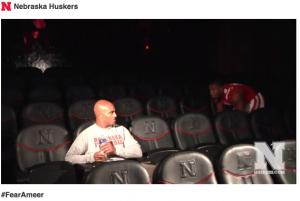 Here's our lineup of the good, the bad and the ugly from Week 10.
THE HITS
WVU's T-shirt Amnesty Program
In Week 8, WVU made our list of misses for rioting slash* unleashing destruction on Morgantown after the Baylor upset. There was one particular, um, gentleman that served as the poster boy for the articles surrounding the events. We opted not to feature the pic in our post—a guy standing in front of a burning couch with a shirt that read "West F****** Virginia" (minus the asterisks).
But in Week 10, WVU student leaders showed they weren't going to stand for that type of attire, either. The Mountaineer Maniacs, the premiere student group for Mountaineer athletics, hosted the T-shirt Amnesty Program Oct. 27-31. The program allowed students to exchange any type of vulgar shirt representing WVU for a $20 voucher to buy an officially licensed Mountaineers shirt.
We are in the Lair for the T-Shirt Amnesty Program, come bring your shirt in exchange for a $20 coupon to the bookstores!

— Mountaineer Maniacs (@WVUMANIACS) October 29, 2014
https://twitter.com/Franklin_Rober/status/527199276662026240
Anthony Burns, assistant director of the Mountaineer Maniacs, told the Daily Athenaeum:
"This program started a couple years ago, and we wanted to reinitiate it because of things being seen on social media after last week's events like the guy standing in front of a fire with a West F*cking Virginia shirt. It's not cool nor is it classy, it makes us look stupid. People hold that perception of us. Even if they have never been to the University or the state of West Virginia, they remember what they saw, and it gives West Virginia University a bad reputation."
The program rang in preparations for ESPN's upcoming College GameDay visit for the TCU game Nov. 1. Hats off to these WVU students for taking an active approach to building a more respectful student body—and reputation.
Texas A&M's throwback uniforms
The Aggies dressed like it was 1939 against the University of Louisiana-Monroe on Saturday. Texas A&M players donned 1939 Adidas throwback uniforms, paying homage to the team's 1939 National Championship season.
Championship style meets innovative speed.
Introducing our 1939 Throwback TECHFIT uniforms.#12thMan #teamadidas pic.twitter.com/LcrDfMxJyM

— Texas A&M Football (@AggieFootball) October 29, 2014
Players decked out in all their new throwback gear! #12thMan #teamadidas pic.twitter.com/fraGPfMAp6

— Texas A&M Equipment (@TAMUequipment) October 31, 2014

Some uniform features highlighted by Texas A&M:
Helmet

Produced in concert with Hydro Graphics Inc. and Riddell

A hydro film leather-like texture featuring wing and cross graphics created using high-resolution photographs of an actual helmet worn by the 1939 team

Simulated stitching, wear-and-tear and raised ear protection painted by hand via HGI artists on each shell to further enhance the appearance of a vintage helmet

A stenciled AMC brand on each helmet shell, referencing the "Agricultural and Mechanical College of Texas" as Texas A&M was known in 1939, on the rear portion of the helmet just as the original version did 75 years ago

More than six staff hours went in to create the unique appearance of each individual helmet

Jersey

A commemorative patch inspired by those on the original 1939 Aggies uniform

Individual rips and tears to signify wear and to enhance authenticity.

Cleats

Adidas cleats designed in a dark brown throwback style with a premium tumbled leather upper and metal eyelets
These vintage uniforms not only looked amazing—they took throwback to a whole new level.
Clemson fans rally to get roadside fan new gear
Thanks to the Clemson community, one "nearly 100"-year-old Tigers fan has a little more "swag." On Oct. 20, a man named Rusty Elrod posted to Facebook, sharing a photo of a Six Mile Retirement Home resident who has become known in the South Carolina town for standing at the home's fence for hours a day to cheer for the Clemson Tigers. One day, Elrod noticed the man wasn't wearing his usual Clemson hat and suggested the CU athletic department get him some new gear.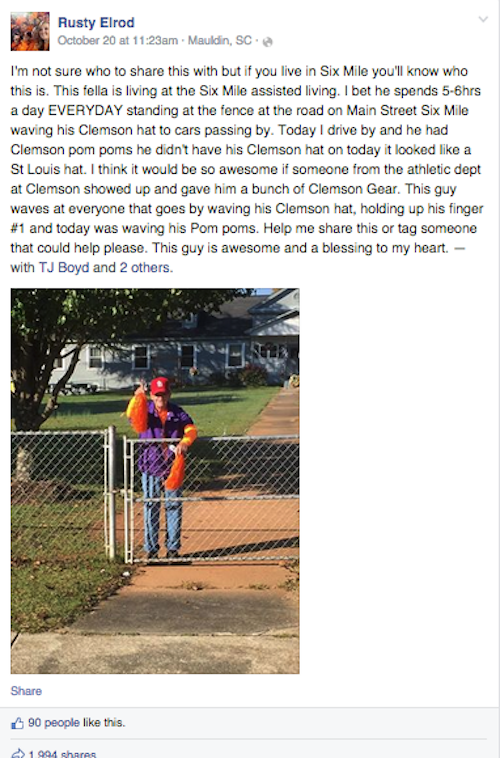 More than 1,500 folks shared Rusty's post. Before long, members of the Clemson Athletic department (along with the mascot) paid W.T. Wooten a visit, giving him a new Clemson hat, T-shirt, sweatshirt, polo and pom-poms.
Not only is this story heartwarming, but it's a great example of the power of social listening, perfectly pointed out by Jessica Smith in her Social 'n Sport post. Smith also interviewed Jonathan Gantt, the Director of New Media for Clemson Athletics, who told her, "we can plan and strategize all day but sometimes the best stories come from unexpected places. And if you're not paying attention to what your fans are talking about, you'll miss out. We can't be everywhere at all times but with social media we have that opportunity."
Arkansas' #VoteTretola for Heisman video
"What if I told you an offensive lineman could win the Heisman Trophy?" Sebastian Tretola poses the question in this hysterical #VoteTretola for Heisman video, spurred by the offensive lineman's touchdown pass in Week 9 versus UAB.
The video shows the team having some fun ("I wake up every morning and I brush my teeth with greatness, I comb my hair with greatness and I strike a Heisman pose with greatness.") and though the Razorbacks keep it together for the three-minute-long piece, be sure to watch the last 40 seconds for some hilarious bloopers.
#FearAmeer
Another team that had fun in front of the camera this week? The Nebraska Huskers—especially running back Ammer Abdullah. (You may remember we mentioned him in Week 6 after Lou Holtz repeatedly mispronounced his name during a broadcast.) But in the spirit of Halloween week, the Huskers released this #FearAmeer video, showing Abdullah spooking his teammates. The theme was to show that while opposing teams Fear Ameer, maybe his teammates and coaches should Fear Ameer, as well. Running backs coach Ron Brown's reaction takes the cake.
In the spirit of Halloween… Theses guys think they are safe but they have no idea! lol #FearAmeer http://t.co/AJH8VScTOM

— Ameer Abdullah (@Ameerguapo) October 31, 2014

Nebraska's pregame jumpers for Military and Veterans Day Salute Game
Another great video from the Huskers in Week 10 takes scare tactics a little… higher. In honor of Nebraska's Military and Veterans Day Salute Game, five members of the U.S. Army Golden Knights parachute team dropped into Memorial Stadium. You can watch the video below. While the video has gotten tons of positive response on social, we're wondering if anyone else's palms got a little sweaty while watching that? Or is that just us?
Jump into Memorial Stadium with the @ArmyGK before yesterday's #Huskers game.http://t.co/Km6EJtcUiB

— Nebraska Huskers (@Huskers) November 2, 2014

Faux Bo Pelini Twitter account
And the Huskers hits just keep on comin'. While parody accounts are nothing new, @FauxPelini is truly one of the best. The account keeps 160,000 followers laughing on Twitter—including Nebraska's official account. The two regularly exchange tweets and the real Bo Pelini has even tweeted with the account, too.
@FauxPelini ok enough is enough… I want my cat back. You've had her long enough!

— Bo Pelini (@BoPelini) January 7, 2014
Though the account has been around for a while, we're calling this account a hit for Week 10 because of the awesome Halloween costumes the account spurred. Check out our favorites:
@FauxPelini say it ain't Faux! @BoPelini @CoachMiles #usalways #gbr pic.twitter.com/woOf84zHUA

— Cos (@gradtags) October 31, 2014
@FauxPelini Happy Halloween pic.twitter.com/JeE0juQdCD

— Tim Champ (@Happy_Champ14) November 1, 2014
@FauxPelini Hanging out with Bo & Kenny. Happy Halloween! pic.twitter.com/tMxbQjhCSd

— MegRN (@MeganPierceRN) October 31, 2014
Check out this little Bo, Henry from Elkhorn.

cc: @FauxPelini #Huskers pic.twitter.com/uqgk8ro16I

— Nebraska Huskers (@Huskers) October 31, 2014

https://twitter.com/THitchler/status/528211629134331904
THE MISSES
FSU football team practices in park next to Joe's Crab Shack
When your star quarterback was involved in a crab-leg-stealing incident, perhaps keep him away from Joe's Crab Shack.
In preparations for last Thursday's game against Louisville, the Florida State football team took their practice to a public park located next to the restaurant, resulting in this photo:
Really? Crab legs? RT @toferphotos: #JameisWinston and #FSU making a pit stop after practice in #Louisville. pic.twitter.com/Jmg97GcGWZ

— Mark Long (@APMarkLong) October 29, 2014

I mean, the Noles are just flat out giving the haters material now. On top of that, the team tried to prohibit photographs and kick media out of the practice—but it was held at a PUBLIC park. In other words, they can't legally do that.
Newspaper uses distasteful photo for Auburn win
Auburn edged Ole Miss 35-31 Saturday night, and Rebels WR Laquon Treadwell's gruesome injury swept headlines. Unfortunately, one Alabama newspaper used the actual photo of the injury for its headline. The Opelika-Auburn News published the disturbing image of Treadwell's broken leg under the headline "Finding a Way."
Here is the cover of the Opelika-Auburn Newspaper. I did a black out job on his lower legs pic.twitter.com/SuV12VgVmK

— TheHoundztooth (@TheHoundztooth) November 2, 2014
The newspaper has since defended the move. This is a case of poor judgement that will undoubtedly be debated in many college journalism classes to come.
Rivals.com publisher's offensive tweet about Ole Miss receiver Laquon Treadwell's injury
Unfortunately, the poor judgement with the Treadwill injury didn't stop there. Geoff Ketchum, owner and publisher of Rivals.com's Texas Longhorns site, decided to tweet this after the Ole Miss game:
Look what the clown Geoff Ketchum (UT Writer for Rivals) said after the Ole Miss game. He shouldn't have a job Mon pic.twitter.com/4GtUE4LqXh

— Nick (@NOaddiLA) November 2, 2014
He was later suspended by Rivals.com, but not before Ole Miss AD Ross Bjork took a stand for his school.
@gkketch Have you ever been to Oxford & met our people, looked them in the eye, & understand what we are all about? You have no clue.

— Ross Bjork (@RossBjorkAD) November 2, 2014
Maryland's handshake snub
In a truly classless move, Maryland's captains refused to shake hands with the Penn State captains. According to ESPN, there was no indication for the cause of the move. No matter the rivalry, athletes should respect the game.
Needless to say, Maryland's athletic director Kevin Anderson had to issue an apology for the handshake snub.
"We are extremely disappointed in the actions of our captains involved in today's coin toss. Their behavior is not a reflection of how our student-athletes should conduct themselves in athletic competition. On behalf of President Dr. Wallace D. Loh, head coach Randy Edsall and myself, we extend our sincere apology to Penn State University president Dr. Eric J. Barron, director of athletics Sandy Barbour, head coach James Franklin and the Penn State football program."
Concerning that the department didn't have Maryland's three captains Stefon Diggs, Sean Davis and P.J. Gallo issue their own apologies. They owe a few "sorrys," including some to their teammates after the Terps were penalized 15 yards for the handshake incident.
*It's important to keep up with slang to communicate with your audience. Check out this blog post on how slash has turned into more than just a punctuation mark.