October 6, 2014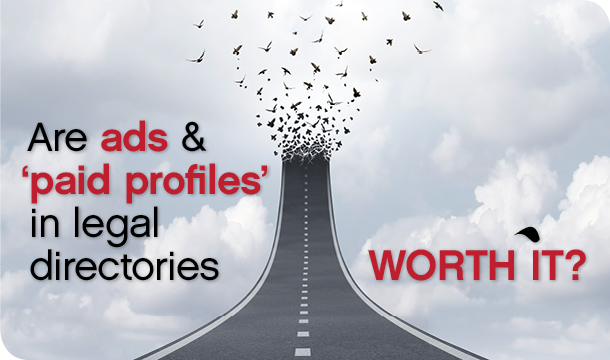 As legal marketers, we are regularly asked by our law firm clients about rankings, directories, awards and the like (for the legal marketers out there reading: shocking, I know). Rankings like Super Lawyers, Best Lawyers, Chambers and Partners, Martindale-Hubbell and more have proliferated to the point that entire jobs exist at law firms for the sole purpose of managing the lengthy and detailed submission processes. In fact, I believe the number now hovers around 1,000—that's right, 1,000—surveys and rankings out there of law firms and attorneys, all competing for attention and advertising dollars.
We ourselves just spent the last month working on detailed Chambers submissions for several clients, and regularly write award submissions for media outlets like Law360, the National Law Journal and American Lawyer. While I see value in awards, especially those with advertising-independent research processes and those done by credible media outlets, I see no value in buying advertising (including display ads and "enhanced profiles") in any legal directories out there. Here's why:
1) Clients don't use them
I have yet to be convinced that sophisticated purchasers of legal services use vanity directories to find or vet attorneys. In fact, a 2010 survey of 500 general counsel by Acritas, the world's leading provider of legal market research, found that only 3 percent said they had been influenced significantly by information in directories. A full 74 percent said they never even refer to directories.
2) You won't stand out
If you choose to buy an ad, it will sit alongside hundreds of other ads, all saying the exact same thing and looking nearly identical (in the words of fellow legal marketer Ross Fishman: "too-carefully composed groups of lawyers in suits, smiling painfully, below generic headlines"). While I don't recommend it, sometimes lawyers convince their marketers to buy an ad. If you're going to go this route, take Fishman's advice and do something different and unexpected.
3) One-off ad buys don't work
The majority of questions we get about paid ads in directories are in response to the law firm or lawyer being ranked in that publication. Unfortunately, a one-time appearance—even in a special issue—is worthless. To be effective, (among other things) advertising must be frequent. While the number is up for debate, there's a general consensus that any marketing must be consistent and frequent to achieve any effectiveness.
4) It can work against you
Consumers—including sophisticated ones like general counsel at major companies—are savvy. Many will see through an ad in a vanity directory for what it is—an ego trip and a waste of money. And in a time when many legal buyers are focused on efficiency and cost savings, is that the message you want to convey? Save your money and focus your marketing on producing content that is helpful and valuable to prospective clients, like blogging and CLEs.
5) Other marketing tactics work better
There's plenty of research out there about what DOES influence the legal buying process, and it doesn't include directories. Larry Bodine sums it up nicely: "Clients hear about lawyers by word of mouth and recommendations, profile law firms using Google, and hire attorneys with whom they have a relationship."
Should you ignore them completely?
So should you ignore rankings, directories and awards completely? While I know many marketers would LOVE to do this, I don't think it's wise. Here's my advice:
1) Focus on awards in reputable media outlets, like Law360, the National Law Journal, your local Business Journal and your local legal publications. These are well read and often more credible in the minds of your clients than rankings outfits that exist solely to rank lawyers and law firms.
2) For the rankings outfits not associated with media outlets (e.g. Best Lawyers, Chambers, Super Lawyers, etc.), decide which ones you're going to focus on and write thorough, well-crafted submissions. When you get the notification that you and your firm have achieved a high ranking, resist the salesperson's pitch for any kind of paid promotion. Then write a press release for your website, email newsletter and social media, and post the award to your bio, law firm award page and social media. Also, submit the press release to your local Business Journal's People on the Move section.
If you'd like to discuss legal rankings and other law firm marketing issues, please contact me at 904-374-5733 or michelle@rep-ink.com.