October 28, 2014
Every week we have more ideas for our roundup than we could possibly cover. However, some stories are so hit or so miss that they're a no-brainer. I felt that way about most of this week's lineup of hits. And while it makes our job tougher, I was happy to discover the misses were tougher to find this week.
Without further adieu….
THE HITS
Mississippi State channels "Breaking Bad" for hype video
Even if you don't love Mississippi State, it's hard to resist this hype video with a nod to Breaking Bad. In fact, if you check the comments below the video on YouTube, you'll catch viewers admitting they're fans of Alabama and Georgia but loved the video, giving the Mississippi State folks props.
Basketball team invades Auburn marketing class
I know, I know…it's not football, but this was just too good to pass up! Plus, it's a good look at how a "football school" can generate excitement for its basketball program.
The video is a must-see, but basically this was a coordinated effort between the Auburn basketball team, cheerleaders and even the mascot, Aubie. It starts with a group of student fans decked out in Auburn gear and body paint interrupting a marketing class that just happens to be learning a lesson about branding. The fans say they're looking for the student section meeting, and the professor tells them perhaps they're looking for the classroom next door.
Next up is basketball student athlete KT Harrell, who also says he's looking for the student section meeting. By now, I'm sure the students in the class are getting suspicious. The cheerleaders are the next to interrupt class, along with Aubie (who, by the way, gets a bigger ovation from the class than starting guard Harrell did), and then members of the band invade the classroom.
Basketball head coach Bruce Pearl comes in following the band, along with some of the basketball team…and it turns out it's all a big promotion for "Pearl Jam," Auburn's Midnight Madness event.
Absolutely brilliant! What a great way to get the basketball team on the radar of a bunch of students who are glued to the Tigers' 6-1 football season.
#SouthernNotState
If you're not from Georgia, you probably aren't familiar with the battle for GSU – the acronym, that is. I attended Georgia Southern University my senior year of high school as a post-secondary options student and soon became very aware of the battle between Georgia Southern University and Georgia State University for the GSU designation. (Officially, they each hold trademarks that include GSU, but they're classified as "Design plus words, letters and/or numbers" trademarks because each trademark with the letteres GSU also include some other design element making it specific to the school.)
That's probably why I loved Georgia Southern's hashtag this past weekend for its game against Georgia State: #SouthernNotState.
Having attended Georgia Southern for a year, and thereby amassing a network of people who attended the university, I saw the hashtag pop up on my Twitter and Facebook feed quite a few times Friday and Saturday. I only wish the athletic department would have used it more.
According to Hashtracking, the Georgia Southern athletic department's Twitter account (@gsathletics) used the hashtag just eight times, and the football-specific account (@gsathletics_fb) used it another eight times. Those two accounts combined generated only 5 percent of the total conversation on Twitter with the hashtag #SouthernNotState.
Determining the right hashtags to use can be a real chore, but researching what's catching on with your fan base is a good place to start. That being said, it would have been tougher in this situation where the hashtag is really only good for one game.
One fairly quick and easy thing I think Georgia Southern could have done was create a couple of graphics that could have been easily shared across social media channels and also could have been scaled to be the perfect size for fans who wanted to change their profile picture for the day. Iowa State is one of my favorites in terms of creating clean, simple graphics that fans love to share. Here are two images with a game-specific hashtag that Iowa State had on its Instagram account for the Iowa game earlier in the season, each of which generated approximately 1,500 likes.
Images rule the day in social media. It might be obvious for Instagram, but look at these stats for tweets with images:
18% more clickthroughs
89% more favorites
150% more retweets
Intel's Pocket Avatar App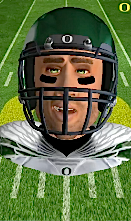 Last weekend, Intel and IMG College partnered to introduce the Pocket Avatars app to college athletics. The app allows users to choose an avatar and use it to produce a message with their own voice to send to other users. The avatar even mimics facial gestures to go along with the message.
Cal and Oregon became the first college football teams to have their own avatars leading up to last week's game in the San Francisco 49ers' new Levi's Stadium. Not so coincidentally, Intel is a founding partner of Levi's Stadium and has a presence inside the stadium in the form of Intel Plaza.
The app is free in both iOS and Android versions. No other schools have been added to the app yet, but Intel and IMG College will be evaluating the app's performance and considering additions.
Helmet stickers honoring David Quessenberry
Colorado, Navy, San Jose State and UCLA all wore "DQ" helmet stickers last weekend as a show of support for David Quessenberry, an offensive tackle for the Houston Texans currently battling non-Hodkin lymphoma.
@SportsBizMiss: 4 FBS schools to wear DQ to honor @DavidQberry @SJSUSpartanFB @NavalAcademy @cubuffs @UCLAFootball pic.twitter.com/dAm39SQqim

— I'm Over The Hill (@grognd) October 24, 2014
Quessenberry was a walk-on at San Jose State in 2008 who later earned a scholarship and became a fourth-round draft pick. So what's the connection with Colorado, UCLA and Navy? Colorado head coach Mike MacIntyre was coaching at San Jose State when Quessenberry was a student athlete, and the Buffs' opponent last weekend was UCLA – where Quessenberry's younger brother Scott is an offensive lineman.
In what seemed like fate, Quessenberry's alma mater San Jose State played Navy last weekend. It just so happens Quessenberry's other younger brother, Paul, is a defensive end for Navy, so both of those teams joined in the helmet sticker support.
WVU's Mountaineer Nation Day
After making our "miss" list last week, West Virginia University lands in our hit column this week….
WVU thinks it put together the most expansive watch party in college football last weekend with its third-annual Mountaineer Nation Day. In an attempt to unite its global fan base, WVU heavily leveraged its social media presence to promote the event this year with hype videos and giveaways.
The Mountaineer is heading to Stillwater for Mountaineer Nation Day. What will you be doing on  #WVUMND? https://t.co/IQuENx9YpW

— WVU Sports (@WVUSports) October 23, 2014
WVU's efforts were rewarded with its largest Mountaineer Nation Day, which it believes is the largest watch party in college football: 341 watch parties registered by fans from 13 countries, 38 states and Washington, D.C. It was nearly 100 more parties than were registered last year.
THE MISS
Michigan plants stake in Michigan State field
Who doesn't love a good in-state rivalry game? It's not uncommon for fans to get a little carried away, and there's a history between Michigan and Michigan State of doing things like painting the block "M" on Michigan's campus Michigan State green:
The block 'M' on Michigan's campus has been painted green. pic.twitter.com/lGFvnXeVbv

— Alejandro Zúñiga (@ByAZuniga) October 22, 2014
And last year Sparty got a Michigan-inspired makeover:
https://twitter.com/Dagger_Haddy/status/325534975644561409
While defacing someone else's property is a criminal offense, most take a "fans will be fans" type attitude toward acts of this magnitude. However, it feels different when the student athletes playing in the game get into the mix. Before last weekend's game in Spartan Stadium, linebacker Joe Bolden drove a stake into the turf in front of Michigan State players and coaches.
Here you have it. The stake that now is in rivalry lore. RT @zimme1me: @joerexrode pic.twitter.com/SQQzqDPMZr

— Mike Wilson (@ByMikeWilson) October 26, 2014
Michigan State coach Mark Dantonio was none too pleased:
"Them putting a spear in a field before the game is not a product of their team but their program." – Dantonio on the UofM Pregame spear.

— Rico Beard (@RicoBeard) October 25, 2014
Michigan head coach Brady Hoke did his best to turn around this miss, however. He called Dantonio to apologize and publicly said in a statement, "As the leader of our football program, I take full responsibility for the actions of our team."
Hoke said the stake was presented to the team as a symbol during a motivational discussion the night before the game and that it was never meant to be directed at Michigan State in any way.
Kudos to Hoke for calling up Dantonio and making a public statement swiftly to put an end to the issue.