October 21, 2014
CFB continues to stand and deliver, keeping it interesting more than halfway through the season. From couch-burning to superheros to tear-jerkers, we've got the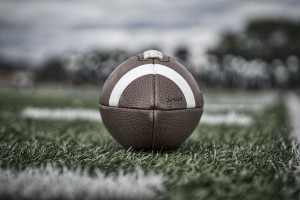 good, the bad and the ugly for Week 8. We'll fire away with the good stuff, first:
THE HITS
Michigan State players get boost from "Batman" Ben Affleck  
Actor Ben Affleck is in the midst of filming "Batman vs. Superman" in East Lansing and took his superhero training to the Michigan State football weight room. After Affleck finished pumping some iron, MSU coach Mark Dantonio asked him to come pump up his Spartans players for their upcoming game against Indiana. (Pretty cool, Coach.)
Ben Affleck, who is on campus shooting scenes for Batman v Superman, addressed MSU's football team prior to practice. pic.twitter.com/QxrL8LLwlG

— Spartan Football (@MSU_Football) October 16, 2014
Ben Affleck just lifting some weights with the MSU football team and giving pump up speeches http://t.co/EUnB5WpKJw pic.twitter.com/v284GgADf3

— Kmarko (@Kmarkobarstool) October 17, 2014
Though we don't have a video like we did from Matthew McConaughey's talk with the Longhorns, USA Today reports Affleck opened with "I'm Batman." Whatever Affleck said, it worked—Michigan State beat Indiana 56-17 Saturday. (The Spartans are the favorite to win the National Championship according to one outlet, so that probably helped, too.)
Indiana University's #1MillU campaign
Indiana may not have secured a superhero visit nor a win for its record in Week 8, but the Hoosiers are still walking away with a hit from us. The university's One Million Fan Challenge invites fans to use the hashtag #1MillU on Twitter and Instagram at every Indiana Hoosiers event this year for the chance to win and unlock prizes.
https://twitter.com/jillianwarner_3/status/523623243971051520
#IUHomecoming #IUSelfie #1MillIU #GoIU pic.twitter.com/EZpMDaMC07

— Indiana Hoosiers (@IUHoosiers) October 18, 2014
The microsite shows a total IU Athletics event attendance of 217,000 and lists prizes available after specific attendance markers:
We're applauding this campaign not only for encouraging social media usage among Indiana's fan base, but for encouraging attendance by uniting IU sporting events.
Ohio State's big donation to Coach 2 Cure MD
The Buckeyes gave back in a big way, donating $10,000 to Coach to Cure MD research. The Ohio State football program presented the check to close friends of the program Jacob and Noah Studebaker, two young men with Duchenne muscular dystrophy. Check out the heart-warming video:
Buckeyes Give Backhttps://t.co/E9zgCAOx0m

— Urban Meyer (@OSUCoachMeyer) October 19, 2014
At the Cincinnati game earlier this month, the brothers served as honorary captains during the coin toss. Following the game that helped raise awareness for Duchenne MD, Jacob's favorite player Jeff Heuerman presented him with the game ball.
Great stuff from Urban Meyer and Co. For more information on Duchenne muscular dystrophy, visit coachtocuremd.org.
Stanford and Navy focus on the future for recruiting
Programs' recruiting techniques are always especially fascinating. While we're in the thick of college football season, keep in mind coaches are wearing two hats: coaching on the field and recruiting off. We loved the moves we saw from Stanford and Navy in Week 8:
Excellent mailer sent to recruits by Stanford. Hits on success in football, academics and after football. pic.twitter.com/Ph1LwuapjM

— Tom VanHaaren (@TomVH) October 14, 2014
#NavyFootball #NotAbout4YearsItsAbout40 pic.twitter.com/rBo4xxaafC

— Ken Niumatalolo (@NAVYCoachKen) October 16, 2014
Appealing to recruits' futures beyond their four years and football is brilliant. The focus on careers, salaries and aspects outside of the gridiron is something we're happy to write home about.
THE MISSES
Iowa State vs. Texas broadcast left off air during first half
Texas' close-clinched 48-45 Iowa State win was action-packed from the beginning on Saturday. But due to technical difficulties, Cyclones.tv customers didn't get to see that for themselves. The Ames Tribune reports the video broadcast was down for most of the first half due to a transmission issue. While sound was still available during that time, every football fan knows that it's just not the same. Sometimes you have to see it to believe it.
West Virginia fans riot after Baylor upset
Upsets make people do crazy things—like burn couches. At least that was the case for West Virginia fans after the Mountaineers' 41-27 win over the Baylor Bears Saturday. While the couch burning is a tradition for Mountaineers fans, this time they gathered for street parties which turned into riots, setting fires, pushing over streetlights and throwing bottles and rocks at public safety officials. Disgusting.
https://twitter.com/kelsey_mitch/status/523680522867081216
Second college riot is happening, this time at West Virginia University via @banjo #WVU http://t.co/F37tXiG9vv pic.twitter.com/ia1ucyBn14

— Kevin Lainez (@KevinL007) October 19, 2014
BREAKING: Police in riot gear in Morgantown, WV. People rioting after WVU win vs Baylor. Pic from twitter pic.twitter.com/jrK8MQvlCD

— Dave Bondy (@DaveBondyTV) October 19, 2014
When crowds failed to disperse after numerous warnings, officials resorted to using tear gas. The damage done to Morgantown is still being assessed while university and law enforcement officials are working to identify individuals involved to both press charges and arrest.
Arizona State discourages fans from wearing face paint after blackface scandal   
"Blackout" games aren't a new concept, but teams still seem to be in the dark about it. In Week 3, Texas Tech made our "misses" for insensitively combining its blackout with the "Celebrate Cotton" game. Now, weeks later, we've got another blackout blunder.
Arizona State celebrated its blackout game versus UCLA late last month. (The game you may recall the social media staff throwing shade at Drake for because of his same-night concert). For blackouts, fans typically dress in black clothing. ASU fans donned black face paint.
Arizona St. to students: Stop wearing blackface to "Black Out" games: http://t.co/bFUVvfh7fx Oh ASU… pic.twitter.com/HocuWTqeq3

— College Sports Only (@OfficialCSO) October 17, 2014
#ASU students @ the #UCLAvsASU "blackout" game raise questions RE: racial insensitivity. Pic: @RobSchumacher1 #NCAA pic.twitter.com/8s0CGhIeu2

— Chris Williams (@chriswnews) October 17, 2014
What's the big deal? Black face paint resembles blackface, a racist practice white actors used to stereotype African-Americans back in the 19th century. Leaders of today's African-American community not only took notice of the Sun Devil fans' faces, they took offense. The Valley's African-American community and the Black African Coalition at ASU called for a ban on black face paint because of its hurtful implications. Prior to the Stanford game, ASU officials released a "Home Field Message To Fans" that read:
"As an inclusive and forward-thinking university, it is important for us to foster an environment in which everyone feels safe and accepted. Therefore, we discourage the use of face paint at any event, whether the theme is black, maroon, gold or white, and ask our fans to show their Sun Devil Pride in other ways."
According to The Republic, students were confused by the announcement, unsure if this was a ban or if they would be reprimanded for showing up in any color of face paint. The students who wore black face paint to the UCLA game say they meant no harm, and many are outraged with the university's seemingly knee-jerk reaction. While it's a hot area of debate among Sun Devils fans, the Black African Coalition is set to move forward with a student government bill permanently banning blackface at football games, making their case at the Nov.15 senate meeting.