October 14, 2014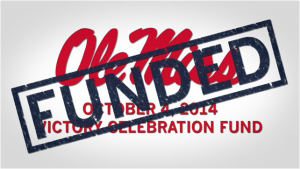 Those teams from Mississippi continue to dominate the headlines, even here on our weekly roundup. From the head coach who sported stylish footwear to homecoming t-shirts in the opposing team's color, there were plenty of hits and misses around college football in Week 7. Here's are our thoughts on the best and the worst….
THE HITS
Ole Miss fans raise money to replace goal posts and pay fine
Following the Rebels big win over Alabama in Week 6 fans stormed the field and took down both goal posts. If you read our Week 6 post, you know athletic director Ross Bjork asked those carrying the goal posts around town to save him a piece. As it turns out, the athletic department managed to snag part of the goal post, and they turned it into a fantastic fundraising opportunity.
The on-field celebration after the game cost the Rebels a $50,000 fine, and the cost to replace both goal posts was estimated at $25,000. After receiving requests from fans who wanted to contribute to cover those costs, the athletic department created an online giving platform specifically for this situation. Much like the fundraising projects you see on sites like GoFundMe and Kickstarter, the athletic department offered incentives to those who donated:
$5 – Thank you letter from athletic director Ross Bjork
$25 – An exclusive image for your computer's desktop image
$250 – Commemorative print celebrating the Oct. 4, 2014 victory over Alabama
$500 – 3″ section of goal post, split in the middle for easy mounting
$1,000 – 6″ section of goal post, split in the middle for easy mounting
Ole Miss supporters quickly raised and surpassed the $75,000 goal. As of today, the fundraising website indicates $105,597 has been raised. Ole Miss previously indicated any funds above and beyond the amount needed to pay the fine and replace the goal posts would be used for other stadium improvement projects.
Dan Mullen's Stark Vegas is showing….
"Your Vegas is showing" might not be as popular a tourism slogan as "What happens in Vegas, stays in Vegas," but it aptly describes Dan Mullen and his attire last Saturday.
Our coaches shoes are cooler than yours. #StarkVegas pic.twitter.com/GDwEcTxcz9

— FWtCT (@mstatesports) October 11, 2014
We love that Mullen wore new kicks to match his players' new gear:
When #StarkVegas is on your cleats, every step is for your city.

Now put them in the end zone. #teamadidas pic.twitter.com/W3uX4FMZA5

— adidas Football US (@adidasFballUS) October 10, 2014
Golf-themed halftime show in Madison
What do Wisconsin and Illinois have in common aside from having played football against one another last Saturday?
PGA Tour golfer Steve Stricker, who is an Illinois alum but a Wisconsin native and current Madison resident. His wife Nikki is a former Badger women's golfer, and the two have a history of donating to both programs.
So, who better to put on a little halftime show for the crowd than Stricker clad in a Badger shirt and Illini hat?
Quite a view for @stevestricker at halftime of #Badgers–#Illini game pic.twitter.com/4gaqRoo0oI

— Wisconsin Football (@BadgerFootball) October 11, 2014
The goal was for Stricker to hit the W at midfield. Although he failed to do so, the crowd seemed quite entertained.
The Pride of the Sunshine dedicates its show to UF Health Shands Children's Hospital
The University of Florida Fightin' Gator Marching Band, also known as The Pride of the Sunshine, made us alums proud last Saturday with a show dedicated to the patients of UF Health Shands Children's Hospital. Both Allison and I are Gator alums, and she was there this weekend to experience the show firsthand. Videos of patients appeared on the video board, and the children were asked their favorite song. The band then proceeded to play the requested songs, complete with formations like this one for "Bingo":
https://twitter.com/kamelia_smart/status/521122848744939521
Behind the scenes with Texas A&M 
While Allison was in Gainesville cheering on our alma mater, I took my annual pilgrimage to College Station, Texas to watch the Texas A&M Aggies. While there, I learned about a video circulating that details the work athletic departments put into alternate uniforms and helmets, such as the ones worn by Texas A&M the previous week against Mississippi State. Not only does the equipment staff have to ensure every helmet is fit for each individual player, they add facemasks and decals by hand, and oftentimes they're attempting to keep new styles under wraps. That's why equipment manager Matt Watson took his work home with him to prepare for the Mississippi State game:
Not only does this video make you appreciate the work that goes into alternate uniforms and helmets, it's a great behind-the-scenes feature. As I detailed in my Final Four feature last March, fan engagement on social media can be greatly enhanced by content that makes fans feel as though they're inside the program.
This video was part of a television show called "The Pulse: Texas A&M Football" that airs every Wednesday at 4 p.m. on FOX Sports Southwest, 6:30 p.m. on KBTX-TV and 6:30 p.m. Thursday on CW Aggieland.
THE MISSES
USF's purple shirt blunder
USF's primary colors are green and gold, but another approved color happens to be purple. That's why a student-led committee printed up 1,200 purple shirts to promote Homecoming. The only problem? USF's homecoming opponent was East Carolina, whose colors are purple and gold.
USF Students Order Shirts With Opposing Team's Colors For Homecoming Game… http://t.co/AwgKIHco11 pic.twitter.com/oAMAM6STLk

— 560 WQAM (@560WQAM) October 8, 2014
According to The Oracle, USF's student newspaper, the 1,200 purple t-shirts were ordered with $5,600 from student Activity and Service fees. Only 200 shirts were believed to be passed out before the mistake was caught. Another 1,000 shirts were ordered in green, costing an additional $4,200, funded by the Activity and Service fee.
Miami has an attendance problem
According to the official tallies, Miami averaged 50,000 fans per game last year. Unfortunately, the Hurricanes play in a stadium that seats over 75,000. Reported attendance also happens to be tickets sold, not actual bodies in the stadium.
Photos taken from last weekend's game against Cincinnati were brutal:
The traditional 5-minutes-till-kickoff crowd shot at Miami football. pic.twitter.com/vWPW6qYCpS

— Tim Reynolds (@ByTimReynolds) October 11, 2014
The new UM Hall of fame class was just introduced in front of this pic.twitter.com/alqIeP64r8

— Adam Clarke (@aclarke90) October 11, 2014
Those photos were taken five minutes before the game and at halftime, respectively, times when fans often aren't in their seats. Announced attendance was 43,953, but this photo was the only one we could find that showed a greater proportion of seats filled during the game:
https://twitter.com/LottoMoney_/status/521008491356385280
Miami's attendance problem is well documented and nothing new. Not only does the team play in a large NFL stadium, it also plays 20 miles from campus. Nonetheless, we don't envy Miami's athletic department as photos like this continue to circulate this season.
North Carolina State coach takes a shot at ACC commissioner
North Carolina State head coach Dave Doeren has a bone to pick with the ACC office over his team's scheduling this season. Unfortunately, he decided to air his grievances publicly on his weekly radio show, taking aim at ACC Commissioner John Swofford:
"You'd never know that somebody that graduated from the school down the street is the commissioner," Dave Doeren said, referencing Swofford, a North Carolina alum and also its former athletics director. "I mean, you would never know that with our schedule."
Doeren later said it was only a joke, but it's not the first time Swofford has been accused of favoring UNC or the so-called basketball schools over the football schools. NC State has a seemingly legitimate gripe, having faced Clemson and FSU in consecutive weeks and playing nine straight weeks before its first bye week.
Nonetheless, you don't want head coaches taking shots at your conference commissioner  unnecessarily. In a society where images, videos and sound clips quickly make the rounds on social media, and are often shared out of context, coaches and others representing athletic departments need to be especially careful.