April 24, 2014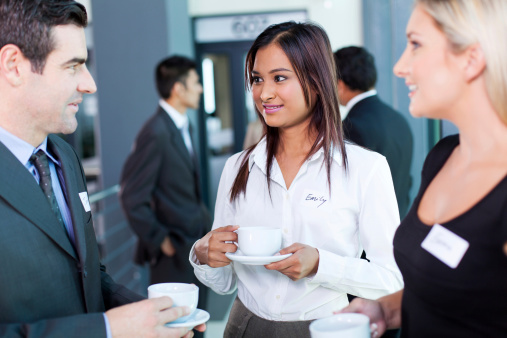 Conferences can be a great place to network and get up to speed on best practices within your industry, but getting the most out of attending a conference or event is about more than just showing up. Once you've registered for the conference, what can you do to prepare?
Look at the conference agenda and find out who will be speaking
Especially for larger conferences with multiple panels, I always review the conference agenda in advance to plot my plan of attack. First, I circle any panelists I've met previously, and I highlight any panelists I'd like to meet.
For panelists I've already met, I generally send them an email two to four weeks before the conference. If it's someone I've only met once and had little contact with since, I'll remind them in the email how we previously met. I let each of them know I will be attending the conference and look forward to seeing them again. I always tell students in my networking lectures: make it easy for people to remember you.
You can stop there. Letting them know you'll be there puts you on their radar. Maybe now they'll look for you in the crowd or during lunch or happy hour. They're also more likely to recognize and remember you if you approach them at the conference.
You can also go one step further. Is there someone you'd like to spend more time with? Consider asking them to have coffee before or after their panel if your schedule permits.
After I've contacted the people I'd like to reconnect with, I also reach out to the panelists I've highlighted as people I'd like to meet. In my emails to these people who I've never had any interaction with, I introduce myself and tell them a little about my background. I note that I'll be at the conference and would love to meet them. If the conference has a networking happy hour, I'll ask if they're planning to attend, that way I know if approaching them immediately after the panel is my only opportunity to meet them.
Now I'm on these panelists' radars. If I approach them after their panel or at happy hour, they'll have some background already on who I am. They'll be expecting to run into me. Maybe they'll even suggest we designate a time or place to meetup.
I think it's important to both foster relationships you already have with people by reaching out to the panelists you've met previously and also growing your network by attempting to connect with panelists you've never met. The same goes for fellow attendees if the conference provides an advance list. Try and strike a balance by setting aside time for both old and new connections.
Are you traveling for the conference?
If you're traveling out of town for the conference, think about whether there are people you've previously met who live there that you might want to reconnect with or if there's anyone else you'd like to meet who lives in the city. I rarely travel to another city without setting up meetings with people outside of the conference. You're already paying to travel for the event, so you might as well make the most of it while you're in town.
I'd suggest giving people at least a couple weeks' notice, if possible. Email them and let them know who you are (if you haven't met them), that you'll be in town and why you'd like to meet them. Ask if they have time to grab coffee or a meal.
Use social media to network in advance
If you interact with people in the industry who you think might be attending the event, tweet at them or send them a quick message on LinkedIn. Ask if they'll be at the conference and let them know you'll be attending. This is another way to put yourself on someone's radar so they're more likely to spot you across the room or find you during happy hour.
Most conferences have dedicated hashtags for the event on Twitter. Check out the activity under the hashtag in the weeks leading up to the event to find out who else is attending. I always send out at least one tweet with the conference hashtag saying I'm looking forward to attending the event. Don't forget that there might be people who will notice you're attending and want to seek you out.
Don't forget your business cards
I never cease to be amazed by how many people I meet at conferences and events who forgot to bring business cards. I always have a couple of dozen in my purse, a stack in my laptop bag and some extras in my suitcase when I travel. Keeping cards in so many places means I rarely run out while at an event, and even if I forgot to replenish one source I still have more in one of my other storage places.
There are other things you can do to prepare such as reading the journal article you know a certain panelist is going to discuss, but these are the steps I take before every conference to ensure I take advantage of every opportunity to expand my network and build relationships.