November 2, 2017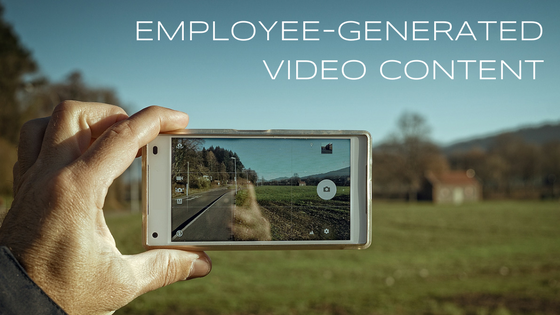 You don't need a Hollywood movie studio to be a B2B video marketer. In fact, you already have a team of videographers at your disposal: your employees. And they already have access to a high-powered video camera in their purse or pocket: their smartphone.
After all, the best camera is the one you have with you.
So why should you care about employee-generated video content? Glad you asked.
Why you should care about employee-generated video content
Sure, the marketing department is in charge of promoting your brand and driving sales, but your employees who are working "in the field" are the lifeblood of your business.
Think of your subject-matter experts, the employees who interact with your clients, the people who actually perform the services your company provides. No one understands your brand and messaging better than these people.
Why? Because these employees have direct conversations with your customer, they understand their pain points and they know what questions clients (and prospects) want answered because they get asked them over and over again.
Think about these folks in your organization:
Engineers assessing job sites
Pilots flying drones to collect data
Designers using virtual reality to develop 3D models
Project managers coordinating the construction of a building
Researchers analyzing samples, planting trees or conducting studies
Developers creating apps or coding solutions to complex problems
These people are getting their hands dirty, creating cool stuff and doing work that is often visually engaging. If you encourage them to capture some of that on camera, you'll have video showcasing your company's abilities and expertise (i.e., video marketing content).
You have boots (and cameras) on the ground — use them!
How to empower your employees to capture video in the field with their phone
Like anything, motivating employees to get on board with a new initiative takes time (and sometimes a little incentive). But you'll likely find that employees are passionate and proud of the work they do, and are happy to share it with others.
As you develop buy-in, you can equip your employees with these tips for capturing video on their phone effectively:
Find the right story to tell — Are you working on a new project? Is this an educational moment that a prospective client may benefit from? Can you tell a story that highlights the company's expertise or a unique service offering? Look for moments that tell an interesting story, and when you identify one, whip out your phone!
Be authentic — Don't worry about fancy camera movements or being "salesy" with the video you shoot. Just capture a few simple clips that show off the work you're doing. If there's interesting audio or ambient sound, let us hear it!
Clean your camera lens — We're constantly grabbing our phones at all angles, and one fingerprint smudge on the camera lens can dramatically affect the quality of your video. Make a habit of wiping your lens clean before pressing record.
Always shoot landscape (horizontal) — Turn your camera sideways (landscape orientation) when filming so it will fit nicely on any screen.
Don't use zoom — Zooming while filming can create shakiness and decrease picture quality. Instead, "zoom" with your feet and get close to your subject when safe/possible. (And remember to keep a steady hand so your video isn't shaky.)
Use the exposure lock — In video mode, tap your screen and hold it until the AE/AF box appears. Once it does, your camera's focus is locked. This will keep your video sharp even if your subject moves around.
Turn on airplane mode — This way no phone calls, texts or notifications can interrupt while you're filming.
(Tip: Download these tips as a convenient infographic to share with employees below!)

Cool, so what do I do with it?
Once you start collecting interesting video from your employees, there are lot of ways you can utilize it, for example:
Consider if it could serve as good b-roll footage for a case study or testimonial video
If it's a behind-the-scenes look at your company culture, maybe it could be a fun social media share
If the employee narrates the video and is explaining an interesting aspect of their job, maybe it's suitable for your internal employee newsletter or intranet
No matter how you decide to leverage your employee-generated video content, remember: it's video you otherwise wouldn't have had at your disposal. Plus, you didn't have to pay a videographer to shoot it!